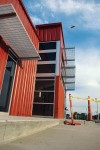 As the leaves begin to fall and the weather starts cooling, the risk of catching the influenza virus increases.
Local News
Crime & Courts
Uniquely Yours Stability Support Inc. will sponsor its 1st Annual Winter Coat Giveaway from 11 a.m. to 2 p.m. Saturday in its alley access at …
Inside fremonttribune.com
Nebraska native and renowned screenwriting instructo…

Hundreds of people spent Saturday morning at Hopkins…

Tour this week's featured home.

See which pets are available for adoption this week.
HOOPER -- Kelly Wakeley recorded eight kills to spark Lyons-Decatur to a 3-0 win over Logan View on Tuesday night in prep volleyball.
Recent videos
×
Judge scolds domestic violence victim, sends her to jail
Yankees fan epically fails to snag foul ball…three times
One time happens, two is bad but a three-time failure? Ouch.
Vernon A. Hahn, 57, of Dell Rapids, S.D., died Oct. 2, 2015, near Smithfield, S.D.
Our roads, highways, bridges and transit systems are in terrible shape in many parts of the U.S., and they're getting worse. There's a solutio…
LINCOLN, Neb. (AP) — The University of Nebraska's new research park will open to the public Friday with promises that it will foster new partn…
COLUMBIA, S.C. (AP) — South Carolina's capital city had too much water. Now, officials are racing to make sure it has enough.