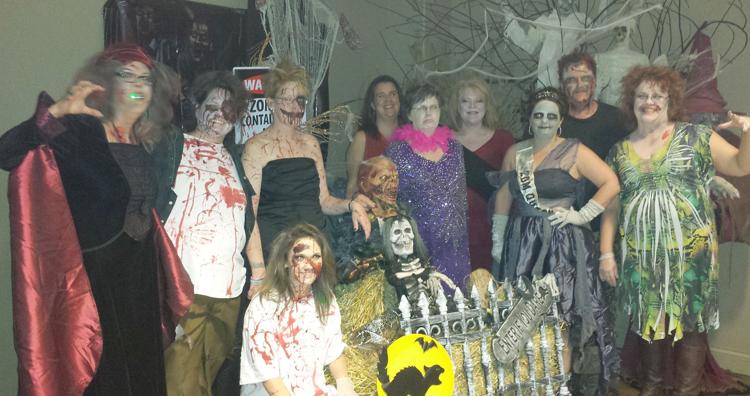 Susan Larson will tell you that homelessness is a lot scarier than a Zombie Prom.
So the volunteer from Ames hopes area residents will don some Zombie-like attire — or some other costume — and attend a party designed to help raise funds for Uniquely Yours Stability Support.
UYSS is a Fremont-based organization that works to prevent homelessness or help get people out of that situation.
And this month, UYSS is hosting a fundraising Zombie Prom — complete with music, food and a costume contest.
Area residents age 18 and older are invited to the party set from 8 p.m. to midnight Oct. 27, at The Gathering, 750 N. Clarmar Ave., in Fremont.
Advance tickets are $7 each or $35 for a book of five and are available at UYSS, 240 N. Main St., Fremont. At the door of The Gathering, tickets will cost $10 for individuals or $15 for a pair or $8 for a student with an ID.
Those who attend can have their faces painted by professional artists between 7-8 p.m. Cost is $3 per face. A deejay will play Halloween-theme music for dancing. Attendees can munch on tombstone brownies, zombie-brain cupcakes and severed finger hot dogs in buns with all the fixings. There will be a cash bar.
A Zombie King and Queen will be crowned. Contest winners will be chosen in the scariest, cutest and best costume categories.
"It's a whole bunch of fun," Larson said.
What's more, all proceeds raised will benefit UYSS, which helps people in various ways.
"There are a lot of great agencies that help folks, but everybody has limitations on what they can do," said Larson, a UYSS board member. "Uniquely Yours attempts to bridge a gap that otherwise may be unmet."
The agency has provided gasoline vouchers or tires to help people get to job interviews. It can provide an outfit the person can wear to the interview.
If people have proof of getting the job, they can get up to four more outfits so they have five days of work clothes.
Larson also cites a situation of someone being hired for a job, but needing a pair of steel-toed boots. UYSS can work with a service partner to get those boots so the person can take the job, go to work, earn an income and make a difference.
The organization also offers parenting, budgeting and job interview classes. There are one-hour workshops in nutrition and basic computer skills. It has computers so people can get online and apply for jobs and a community closet with adult and children's clothing and blankets. It has reading glasses.
It will have a coat drive starting in November.
In the meantime, Larson hopes area residents will attend the Zombie Prom.
"Have your Halloween party at our place," she said. "We have the decorations. Just bring your friends. We have security at the door. It's safe. It's fun."
More information on UYSS is available at 402-727-UYSS (8977).