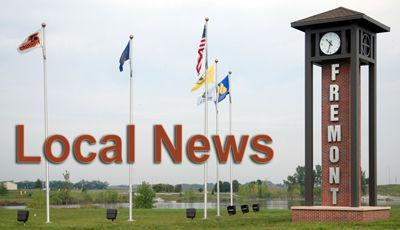 A new idea has sprung up for a proposed fountain at John C. Fremont City Park.
And that idea could make a big splash with visitors to the park on Broad Street.
Years ago, the park had a fountain, which eventually fell into disrepair and was dismantled.
Now, plans are to have a splash pad with a fountain-like feature in the center, which can be attractive and interactive without the maintenance and safety issues of a traditional fountain.
Splash pad plans were discussed at the Fremont Parks and Recreation board meeting on Tuesday night.
Last fall, Don Cunningham, the John C. Fremont Days board president, approached the parks board about having a new fountain built in the downtown park and a grassroots effort challenging 1,000 local residents to contribute $20 each.
The proposed fountain could have benches, landscaping and eventually a splash pad, he said.
With $90,000 in the city budget for a splash pad, city personnel and a parks board member recently proposed the idea of having a splash pad made to look like a fountain in collaboration with Friends of the Fremont Area Parks, John C. Fremont Days and the city.
"(Cunningham) was very excited and told us he saw something like that in Ohio where his son was living and thought it was a great idea — that we could make it something the kids could use to cool off, but at the same time give it a fountain look," said Kim Koski, park and recreation director.
The pad can have taller geysers (vertical columns of water) and gushers in the middle with others on the outer portions.
"We can make it whatever shape we want," Koski said. "We can vary the spray heights and patterns."
Lights can be added on the ground so the pad can be illuminated at night. A timer could be set to light up the pad for an hour after dark. Benches and landscaping can be added.
A touch pad can be included, which children can turn on during the day so they can play on the handicapped accessible pad.
"It will be interactive," said Dian Christensen-Hillis, parks board member, who also met with Cunningham.
Koski said the splash pad wouldn't pose some of the safety and maintenance issues of a fountain.
She told the Tribune that a traditional fountain would be a concrete structure, perhaps 3 feet tall with maybe 6 inches of standing water in it.
A splash pad would consist of a slab of concrete with geysers and gushers, flush with the ground, with one-time use water and no standing water.
Once the water has been used, it will go to a drain.
Koski said someone could slip and fall into the fountain, which could cause a possible drowning even in 6 inches of water.
"You just have to look out for that safety factor," she said.
Putting a fence over the fountain to try to avoid problems would detract from the structure's eye-appeal.
A fountain-like splash pad would have fewer maintenance issues.
For instance, the splash pad could be power washed versus someone having to scoop out leaves and garbage floating in the water in a traditional fountain. Water wouldn't need to be treated.
Koski also told the board that splash pad companies don't charge to make a design.
Christensen-Hillis said the park board would be informed on the project with design ideas being sought.
"I think it's going to be a real positive asset to the downtown," Christensen-Hillis said.
On Wednesday, Cunningham expressed his enthusiasm for the project.
"People can use it for whatever they need — if they want to sit and enjoy the sounds of water running or take a break from a hot day or if they want to go someplace where they can just sit and think about life," Cunningham said. "It's going to be whatever anybody needs it to be."
Koski noted that the splash pad's conceptual design is in the early phases. Cunningham would agree.
"I think the design is still in process, but it sounds like it's really going to be fun and interesting," he told the Tribune. "I just can't wait for it to happen. I'm so pleased that the city has decided to put it in and I'll be the first one out there helping out with the first spade-ful to try to get that thing started as soon as the ground thaws."
Christensen-Hillis described the splash pad as a community project and added:
"I can see a senior citizen coming in and sitting on a park bench and enjoying the activity of young ones running through the water or a family picnicking in the park while the kids are running through the spray features."
Cunningham said funds contributed toward the traditional fountain may be returned. People may ask for their funds back or the money could be put toward other features the city might not be able to provide for the project, he said.
In other business, Nate Schwanke, recreation superintendent, talked about the big splash some holiday programs made with local children.
More than 150 children and youth attended the city-sponsored outing to see the movie "Ferdinand" at Main Street 7 Theatres in Fremont Mall.
"It was awesome," Schwanke said.
The city also hosted three free-skate events for students in kindergarten through 12th grade at Sidner Ice Arena. The first on Dec. 22 had 254 participants. The Dec. 29 had 289 participants and there were 243 on Tuesday.
"The numbers are way up from last year," Schwanke said.
Other free-skate events are set for Jan. 15 and Feb. 16.
"Hopefully, we can have similar numbers," Schwanke said.
Schwanke believes very cold temperatures probably kept some registered children from participating in a city bowling activity. However, he noted the upswing in registrations.
"A lot of times you'll see with the registration process that people will wait until the last minute, but this time we filled bowling and movie in the first two days. That was awesome to see," he said.
Schwanke also said the Fremont Parks and Recreation's co-ed adult volleyball started Tuesday night with seven teams — two more than the previous year.