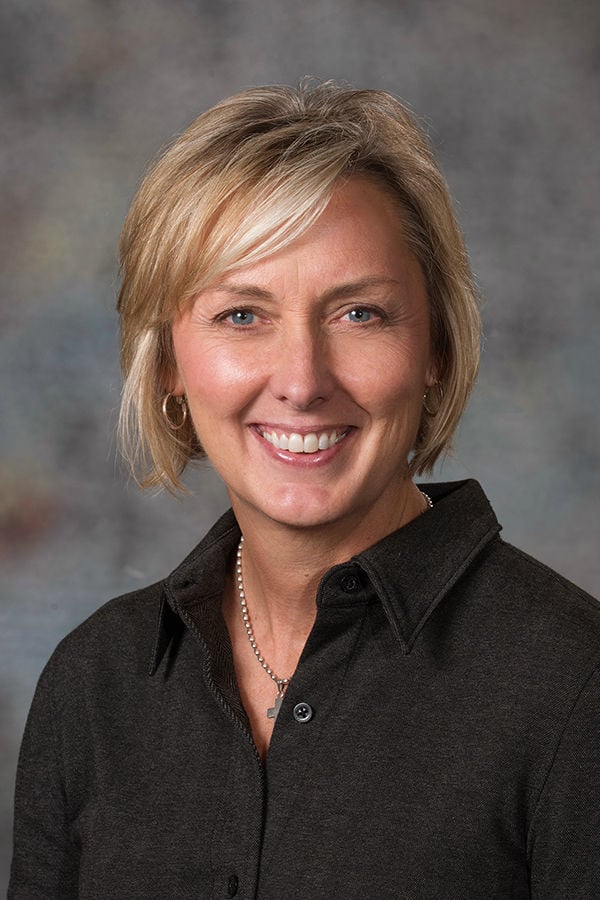 A bill moving through the state legislature would put a social worker in each of Nebraska's 17 Educational Service Units.
LB998, introduced by Fremont's Sen. Lynne Walz, would create the "Collaborative School Behavioral and Mental Health Program." That program would provide each ESU with a social worker, "to train teachers and other school personnel" and "to work with parents, schools, behavioral and mental health care providers, and other community resources in order to provide timely, effective and family-centered services," according to the text of the bill.
"I had so many people contact me while I was out campaigning about the need for behavioral mental health for kids in schools," Walz told the Tribune. "There is a big shortages of services for that, not only in urban areas, but especially in rural areas because they are so far removed from any resources for kids who need that kind of help."
The bill was just passed in Select File on Tuesday, with 29 yes votes, eight no votes. Ten senators were present but did not vote, and two were excused and did not vote. It has been moved to a final reading.
The new bill could help address challenges in providing mental health resources to students in the 16 school districts of Educational Service Unit #2, according to ESU 2 Administrator Ted DeTurk and Director of Student Services Daniel Bombeck.
"You're asking a group of people, the teachers in general, who went to school to be educators and to focus on teaching and learning to now have an understanding of bipolar, to now have an understanding of depression," DeTurk said. "We don't have that skill set. That's why I think [LB998] is so important, to be able to bring some experts in the field as a resource for us."
Bombeck, representing ESU 2, gave a verbal testimony in favor of the bill during a February meeting of the legislature's education committee, according to a committee report of the meeting. From the ESU system, he was not alone. Representatives from ESU 3, ESU 13 and the ESU Coordinating Council, which coordinates the activities of all 17 ESUs, are all listed as proponents who gave verbal testimony.
In practice, the new program would allow schools who have identified students facing behavioral or mental health issues to notify a social worker assigned to the ESU. That social worker can connect that student and their families to the appropriate resources in their communities, whether it be counseling or other services provided by a local non-profit.
"Our goal is that the social worker will also be able to provide preventative education to families and students in the school system," Walz said.
The program will be privately funded without taxpayer dollars and is set to last three years, Walz added. At that point, the legislature will assess the program's efficacy and decide its future.
"We have not secured all the funds that we need to yet, but I think that donors are waiting just to make sure the bill passed," Walz said. "As soon as we get through session, we will go out and aggressively start looking for private donations."
ESU 2 previously looked at its mental health needs through the creation of its independent school several years ago. That program is geared toward students who have had behavioral issues that may be interrupting education for other students. The independent school is a separate educational program that aims to address those behavioral issues without interrupting student learning.
But that program is mostly reactive, DeTurk said. Currently, teachers' options in addressing students' behavioral and mental health issues are mostly reactive—such as through law enforcement or Health and Human Services.
The hope is that a specially assigned social worker could help students proactively, by linking them to the appropriate services that could address personal issues before they translate into behavioral issues. That's especially important because students facing behavioral issues are often dealing with some underlying trauma that could be worked through in counseling or other resources, Bombeck said.
"Hopefully, what we can do is move through a process where we're providing the opportunity for students to stay at their own school and deal with the underlying issue," Bombeck said. "What this bill does is helps the student get at the underlying issue or concern, whereas right now, we're treating the symptoms, not the issue."
It would also give each ESU a mental health professional who can help Nebraska's educators navigate the state's mental health system, and would know how to connect students to resources that can benefit whole families.
"I know people say, 'you already have a counselor'—those folks are educated as an educational counselor," DeTurk said. "We're talking about students whose needs are greater than that."
The program's three-year term does raise questions about sustainability, DeTurk said. For it to continue beyond that, the ESUs and the state legislature would need to see success. That could be reflected in a number of metrics that the ESU might look at—the number of office referrals, behavior incidents or suspensions, for instance.
If the schools decide to move forward, the next question will be funding. Success could lead to continued private funding.
"If that doesn't work, we as schools will need to get creative," DeTurk said.
Additionally, some teachers have expressed concerns about how any counseling services could affect time in the classroom, DeTurk said.
Walz also acknowledged that the bill won't address all of Nebraska's schools' mental health needs.
"It's going to really help in rural areas," she said. "In urban areas, there's probably a need for more social workers in the school system."
Sen. Lydia Brasch, whose district includes parts of ESU 2 and who voted against the bill in select file, declined to comment on her concerns about the bill.
To become law, the bill must now be voted on after a final reading, and then be signed off by the governor.