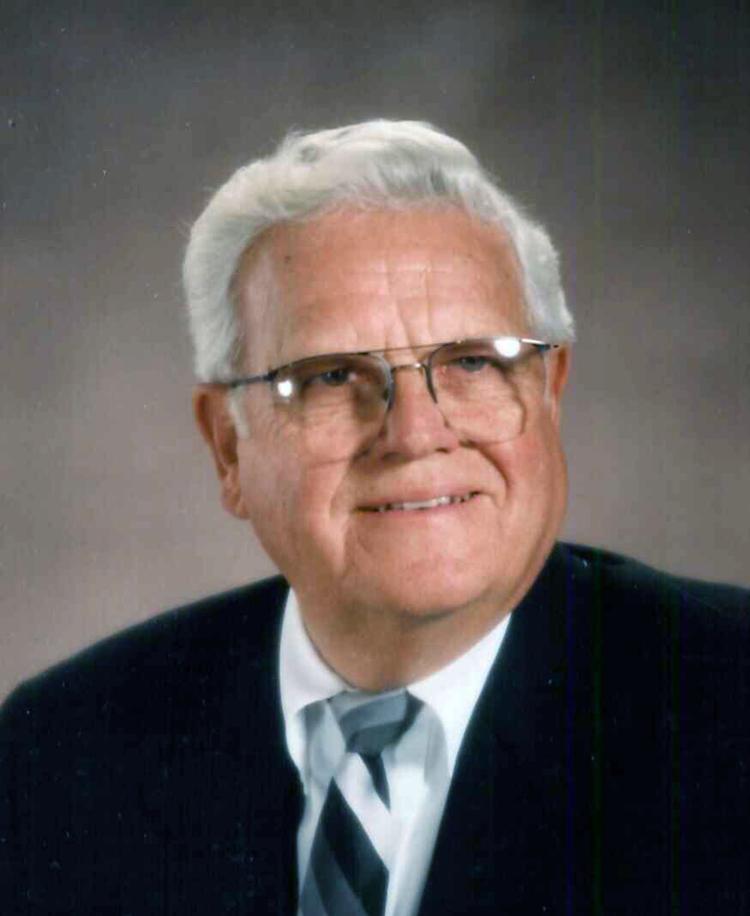 Ron Kranz was a little late for his interview with Jim Moore.
Actually, he was about a week late.
Kranz was applying for a job at First State Bank and through a miscommunication thought he was coming just after the first of the year in 1980.
Moore, the bank president, thought his interviewee was coming the Monday after Christmas. It might have been a less-than-desirable situation for Kranz.
But Kranz would learn that Moore was a man who gave people second chances — whether it was an employee or a customer. Moore interviewed Kranz and hired him.
Now, Kranz and other Fremont area residents are remembering Moore as a mentor, father figure, encourager, promoter of education and community leader.
James Moore Jr. died Monday at Nye Legacy. He was 90 and his funeral is set for 11 a.m. Thursday at The Presbyterian Church in Fremont.
Moore, who was involved in banking since 1947, moved to Fremont as the first employee of the newly chartered First State Bank in 1956 and promoted to president in 1968. He became chairman of the board in 1987, when he and 10 Fremont businessmen purchased the bank. He retired as chief executive officer in 1992. Moore and his wife, Maria, have six daughters, 14 grandchildren and four great-grandchildren.
Ron Weaklend, senior vice president at First State Bank, said Moore would want to be remembered — first and foremost — as a husband, dad and grandpa.
Kranz, whose own dad had a stroke, described Moore as a father figure. Weaklend called Moore a mentor.
"Jim was one of those older guys that a young man needs in his life — when your dad's not around — so he was not only my boss and co-worker, but he was also one of those mentors that young guys need," Weaklend said.
Linda Chapman, who worked at First State Bank for 37 years, remembers Moore's encouragement.
"He encouraged me as a young supervisor and was so supportive of decisions I would make and was very helpful in that regard," said Chapman, who began as a branch manager and went on to become a senior vice president. "He gave me many opportunities to grow in my job."
Chapman and Kranz remembered the importance Moore placed on having employees participate in educational opportunities that would help them become more knowledgeable about banking.
"He encouraged further education both in banking and general education — not just with me, but with our staff and I think that was wonderful," Chapman said.
Moore helped the bank grow.
"Truly, he set the foundation for what First State Bank and Trust is today," said Chuck Johannsen, president.
Johannsen said there are a number of existing businesses that Moore helped get started with financing of those entities.
Kranz noted Moore's ability to work well with employees and customers.
"He was great at being able to look for the good things in people," Kranz said.
Weaklend pointed out another of Moore's strengths.
"Jim treated everybody equally," Weaklend said. "It didn't matter what stage of life you were at or what personal achievements you'd accomplished in life. He just always treated everybody as an equal."
Many remember Moore for his extensive community involvement and for encouraging employees to be involved.
Moore was chairman of the YMCA Foundation, Fremont Area United Way and Fremont Industrial Foundation. He served on numerous boards. Kranz said Moore continued attending Fremont Area Chamber of Commerce events even after retiring.
Weaklend appreciates Moore's involvement with the Fremont Family YMCA and the Y foundation.
"I had three young boys and the Y was near and dear to me," Weaklend said. "And without Jim and people like him the Y wouldn't be what it is today."
Looking back, Kranz — who retired as bank president in 2012 — has many good memories of Moore and appreciated his mentor's understanding attitude during that scheduling miscue many years ago.
"He didn't just write me off as somebody who wasn't very punctual," Kranz said. "We always got along. He treated people at the bank like family. He was a good guy."