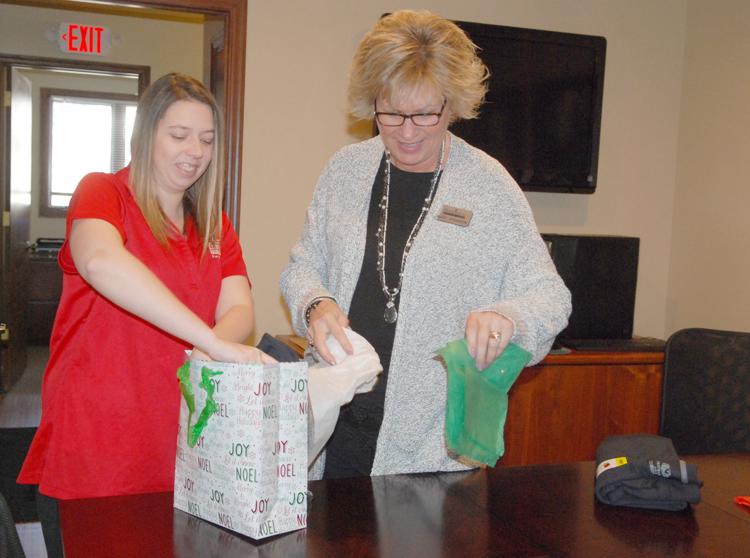 They don't ask for much.
Sometimes all the seniors say they want is toilet paper, boxes of Jell-O or small cans of vegetables.
People like Mary Atkinson find that very sad — especially when the seniors are asking for these as Christmas gifts.
So Atkinson and other staffers then try to add some other special items as gifts given through the "Be a Santa to a Senior" program.
Once again this year, Home Instead Senior Care in Fremont is hosting a program in which area residents can buy Christmas gifts for about 300 seniors who otherwise might not get one.
The seniors' names and what they'd like for Christmas are placed on ornament-type tags and hung on trees or wreaths at businesses in Fremont, Wahoo and Blair.
In Fremont, participating businesses are: Fremont Mall, 860 E. 23rd St.; Wise Olde Owl, 433 N. Main St., downtown; and First State Bank and Trust, 1965 E. Military Ave.
Shoppers select a tag or tags, buy the gifts and then bring them to the participating business or the Home Instead office.
"We prefer that it (the gift or gifts) are not wrapped," said Atkinson, the client care coordinator. "We want to make sure that everything that's on the tag gets purchased. So if they're not able to purchase everything on the tag, we will then supplement it."
That way, the seniors can get pretty much everything they've requested.
"We also get monetary donations from either a facility or a church organization and we'll use that money to buy extra gifts for those tags that don't get chosen," Atkinson said.
Carly Norton, administrative assistant, pointed out how sad it is when some seniors ask for things like toilet paper, tissues, paper towels or canned food items.
"It breaks your heart," Atkinson agreed.
In those cases, Home Instead will supplement the gift requests.
"We'll give them a lap blanket, a pair of slippers or perfume, if it's a woman, so they can get something they didn't expect, which is really what Christmas is all about. It shouldn't be just about what you need," Atkinson said.
After gifts are collected, Home Instead staffers wrap them and members of the public are invited to help. A wrapping party will start at 2 p.m. Dec. 20 at the Fremont Friendship Center.
Once the gifts are wrapped, they then will be taken to the different facilities so they can be distributed in time for Christmas.
"Christmas is about giving," Atkinson said. "Some of them (the seniors) don't have families — so to be able to do something for them to brighten their day and make their holiday season a little brighter is what the program is all about."
Gift recipients typically live in some type of long-term care facility. Some recipients' names come from the Fremont Friendship Center or from Gifford and Stanton Towers.
Many gift-givers will choose a tag with the same name of a loved one they've lost.
"If their mom's name was Doris and she has passed, they're purchasing a gift for this person in their mom's honor," Atkinson said.
For some families, "Be a Santa to a Senior" has become a tradition. They wait until one of the trees goes up, then take their children and let them select the tags.
Last year, a woman and her daughter walked into the Home Instead Senior Care office and asked about being a Santa to a senior.
"It was toward the end of the program and we only had five or six tags left and they took them all and bought everything that was on every tag for those five or six people," Atkinson said.
To Atkinson, it was a heart-warming moment.
"It did touch my heart," she said. "I thought they wanted one tag and they said, 'No, we'll take all you have.'"
And already, the woman has contacted Home Instead to see when this year's program would start.