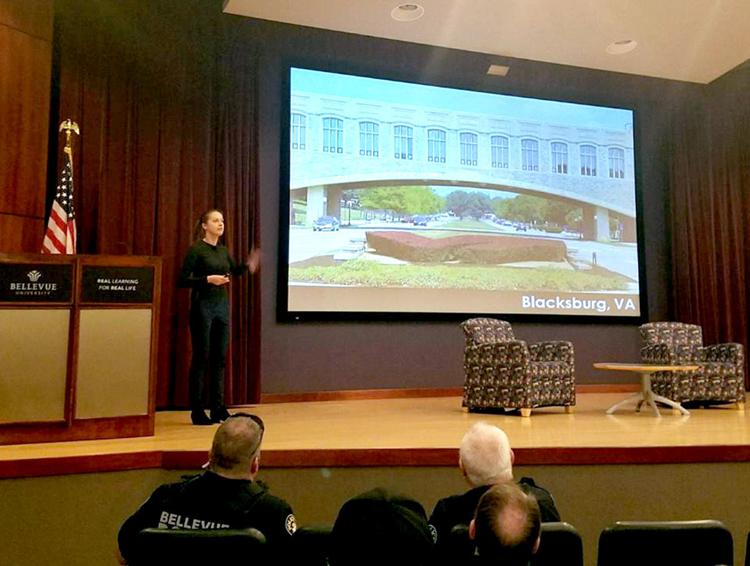 After a gunman opened fire and killed 17 people at Stoneman Douglas High School in Parkland Florida, the national conversation has again returned to the issues of gun laws and school safety.
In Fremont, education leaders say they haven't made significant changes to their protocols in direct response to the Parkland shooting. That's because they've spent the last few years beefing up their security standards and protocols as part of an increasingly hardened outlook that has ramped up in the wake of other shootings.
"Twenty years ago, when we would have a police car in front of a school, I would get a half-dozen phone calls," said Mark Shepard, superintendent of Fremont Public Schools. "Today the expectation is that we have police cars in front of our buildings."
The state allotted more resources to school safety in Nebraska after 2014 legislation that created the school security director position within the Nebraska Department of Education (NDE) in 2014, according to the current security director Jolene Palmer.
That law also required schools to submit their safety plans for review and receive an NDE safety assessment. By the end of the year, about 425 of 1130 school buildings will have completed their assessment, Palmer said. The Department hopes that all assessments will be complete by August 31 of 2019.
After Parkland, NDE plans to stay on course and continue issuing its assessments of schools' safety programs.
"We've actually been doing things proactively to begin with," she said. "We continue to encourage schools to lock their doors, both externally and internally, throughout the school day, all day. We encourage schools to put an adult staff member at any point of entry where students are coming and going. We continue to encourage school districts to identify their visitors, know where they're going."
NDE recommends that schools follow the standard response protocol laid out by the I Love U Guys Foundation, which was started in response to a 2006 school shooting. The protocol provides all schools with "a uniform classroom response" to incidents ranging from shootings to extreme weather.
NDE has also recently started conducting voluntary threat assessment training, which emphasizes prevention of incidents.
"Some of the data we're receiving is that we're very crisis-oriented right now," Palmer said. "And we want to move that more into prevention and being prepared."
About a third of Nebraska's school districts have participated since the assessments started last month, Palmer said.
Fremont Public Schools' (FPS) buildings have received their security assessments from NDE, Shepard said. But the district has instituted a number of safety initiatives on its own. It conducts separate annual audits through its insurance carrier, EMC Insurance, and has participated in various training and conferences about school safety.
Additionally, FPS partners with the city—it has a satellite police station in its middle school building and a student resource officer in its high school. And it's currently creating a new position, the Coordinator of District Security Services, whose sole responsibility will be security. That position should be filled by mid-summer, and has been in conception since before Parkland, Shepard said.
In 2000 and 2010, the city passed bond issues that put controlled access doors—monitored by office staff—in every building in the district.
"Over the last 20 years, we've learned a lot about school safety," said FPS Director of Student Services and Business Affairs Brad Dahl. "Traditionally, schools have been soft targets. We haven't had a lot of barriers to try to slow something tragic from happening. We've learned that we've had to become more hard targets. We had to change our facilities, we had to make them more difficult to get into."
After Parkland, the emphasis is on communication, Shepard said.
"I think the main thing in the wake of Parkland is just reinforcing to our teachers, our students and our community that we need to continue to be vigilant," Shepard said. "That if we see something, hear something, read something on social media, we act on it and that we follow our procedures."
Over at Archbishop Bergan's schools, Principal Dan Koenig also says they've taken a proactive response to safety prior to Parkland. While private schools are not required to receive a safety assessment under the 2014 law, he had a safety audit done last year by a local risk assessment group.
"I honestly think that every business, every school, every church organization, banks, whoever—they need to all be going through a security assessment like this," Koenig said.
The emphasis now after Parkland is to "keep doing what we're doing," Koenig said.
"You're going to try to do everything to keep kids safe," Koenig said. "But you have to have a staff that is going to jump in front of horrible things to protect kids and I honestly believe that our staff is that way. They have that feeling in their heart."
Meanwhile, Stoneman Douglas High School student activists have taken the national stage, forcing a conversation on gun laws and school safety back into the spotlight. President Donald Trump recently participated in that conversation, suggesting that teachers be armed while in school to help prevent attacks. The suggestion made headlines and highlighted the divisive nature of the gun control debate.
In Nebraska, Gov. Pete Ricketts has said that he is "not opposed" to arming teachers in schools and some state lawmakers have signaled support for the idea. But the Nebraska State Education Association, a teacher's union, has spoken out against the proposal.
In Fremont, educational leaders were more hesitant to offer firm opinions, choosing instead to let the issue play out. Palmer of the NDE told the Tribune that the State Board of Education has not offered its official stance on the issue, but added that "they're working on something."
Shepard said that FPS has a security plan that focuses on "deterrents"—locked doors, police cars out front, police officers inside and anything that can make it more difficult for an intruder to move through the building.
"Obviously, armed individuals within the building would be another deterrent," Shepard said.
But Shepard and Dahl said they would "evaluate it and study" the concept—its cost, training and liabilities—if it were to come up in the state legislature.
Koenig declined to comment on the issue, but he said that if legislators do move to make substantive changes to policy, he hopes they consider the funding implications.
"We've made investments in safety here, but it's cost us—that's money you're not able to use in the classroom," Koenig said. "If they're making decisions on school safety, and they want things to happen, they've got to keep funding in mind."
Meanwhile, the Fremont Police Department had officers attend a Feb. 28 seminar called "The State of Security In The Heartland And Beyond," which included a security presentation by Kristina Anderson, a survivor of the 2007 Virginia Tech shooting.
"We always look for active shooter-type training, a lot of it for strategic purposes, but this one in particular caught our interest because one, obviously after the most recent shooting, and it also caught our attention because it was from somebody who's actually lived through the experience and could offer some insight there," said Lieutenant Kurt Bottorff, who attended the seminar.
FPD does active shooting training every year and is always analyzing its strategies after incidents like Parkland. Bottorff added that School Resource Officers allow them to stay in tune with schools and that FPD has spoken to other local institutions like churches about safety.
"Talk to your children, talk to them about what to do if something were to happen in a given area," he said. "Communicate, communicate, communicate and always be reporting any types of threats that you feel might be of interest to the police."