Editor's note: The Fremont Tribune is publishing a series, "20 Under 40," that shares stories of young professionals in Fremont under the age of 40. The series will highlight one individual on Page C1 every weekend until November 21. "20 Under 40" is sponsored in part by RTG Medical and the Fremont Chamber of Commerce.
In the 14 years she's been with Nye Health Services, Kristin Harris has held various leadership positions across its campuses, a step up from her previous nursing roles.
"Most people go into nursing to help people, to be in that hands-on support role," she said. "And I don't think that it's always something that people think of right away, but if they keep working hard, there are lots of opportunities for growth in our industry, especially in long-term care."
Currently, Harris is vice president of operations with the company, having worked for Nye Square and Nye Legacy in Fremont prior to taking a position at the home office two-and-a-half years ago.
A self-proclaimed "Arlington girl," Harris was born and raised there.
"My parents still live in Arlington with most of my family," she said. "And I was raised on a small farm north of town with lots of animals and lots of love."
On the farm, Harris said she was raised to be extremely family-oriented, as well as people-oriented.
"Being raised in a small town with most of your family in that community, there's a lot of support," she said. "And I loved being able to be with our family and friends regularly and know that there was just kind of that unconditional support at all times."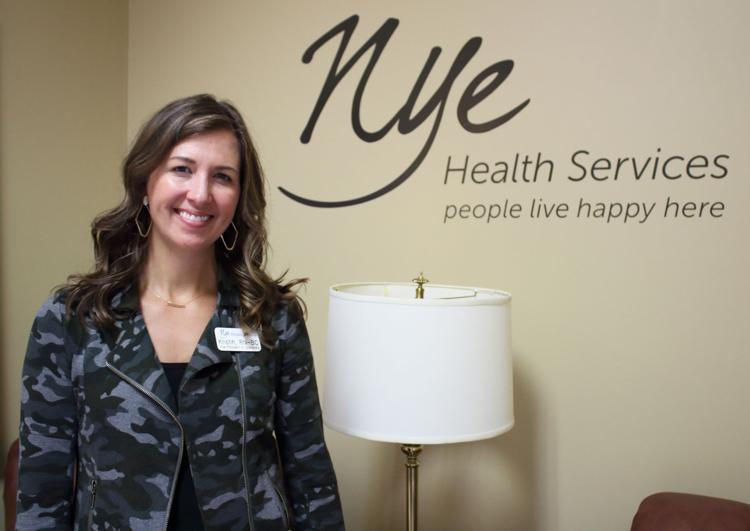 At Arlington High School, Harris took part in multiple sports, including volleyball, basketball, track and cheerleading, as well as swing choir, student council and Future Business Leaders of America, which she said prepared her the most for the future.
"We went to conferences and competitions, and you were exposed to a lot of things that in a day-to-day small town you don't get exposed to," she said.
Additionally, Harris said her time on the cheerleading squad impacted her life as well.
"Cheerleading was something that helped me learn how to engage large crowds of people and get people excited about things and not settle when people wouldn't stand up in the crowd," she said. "That was also something that I think helped, just being who I am and how I do things."
In 1999, Harris graduated from high school and started with the nursing program at Midland University.
"My youngest brother had been diagnosed with cancer, and so because of that, because of how close our family was, I knew I didn't want to go very far away from them when I went to college," she said. "And Midland had an excellent nursing program that I was really excited to be a part of, so that's what made my selection for Fremont."
With Midland's smaller size, Harris said she felt right at home, as she felt like the program was more personalized to help her grow.
"I had a professor that was extremely supportive of me and really encouraged me to do things that I probably wouldn't have done otherwise," she said. "And I earned a couple of awards because of it, which was really exciting."
While at Midland, Harris was a member of Phi Omega and took part in dance and the student ambassadors. She also held several positions, including working for Dr. Thomas McKnight's office and the newborn intensive care unit for a children's hospital.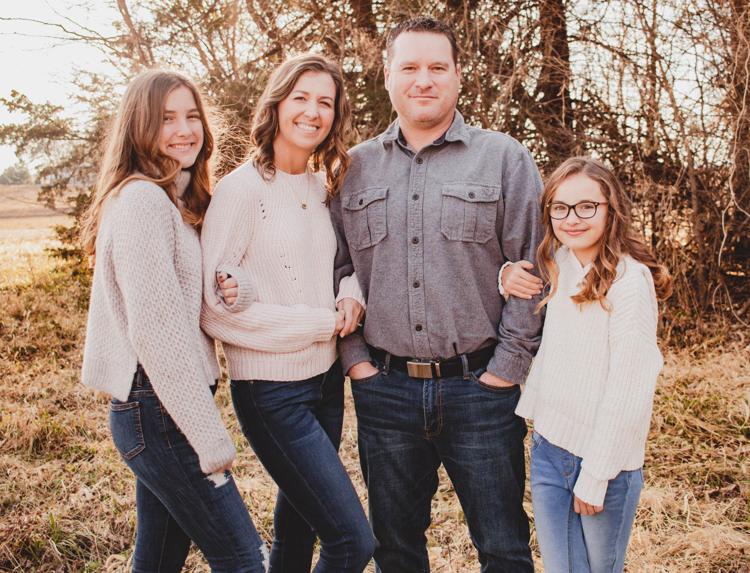 Harris also got an early taste of Nye Health, where she worked as a certified medical assistant and a medication aide.
"When I worked for Nye Health Services in college, Russ Peterson, our owner, was very actively involved," she said. "And I was super blessed to watch his management style and how invested and sincere he was in advocating for our residents and our team members."
With her early positions, Harris said she learned many areas of specialty that come with being a nurse.
"It's not a one-stop shop, and so that was probably one of the biggest things — there's a lot of diversity in healthcare and in the nursing profession specifically," she said. "But I think it also, at an early age being able to have hands-on experience with multitasking, with critical thinking, with triaging things, those opportunities I think made a huge difference in my skills when I became a nurse."
The year 2003 saw three major events for Harris: her graduation from Midland, her marriage to JB Harris and their move to South Dakota, where she worked as an inpatient mental health nurse, a field she said she was passionate about.
"When I was in college, there was a huge stigma toward mental health, and a lot of funding was being eliminated, a lot of resources were being eliminated for mental health," she said. "And I was a huge advocate for those resources and the things that our mental health patients need in order to heal."
As a nurse there, Harris said she worked with patients dealing with mood instabilities, suicidal ideations and active psychosis.
"It taught me so much on how to communicate with people effectively and how to provide support that is effective for the individual and personalize that communication and that support in order to assist them through that situation that they're dealing with," she said.
Harris held the role for about a year-and-a-half before deciding to move to live in Elkhorn.
"It was just a little too far away from family," she said. "And we moved back to Nebraska and came back and I was a nursing supervisor, I was a charge nurse for a long-term care facility."
After nine months in that role, Harris was promoted to director of nursing, where she was responsible for all operations of the nursing department, including financials, family and resident satisfaction, and staffing.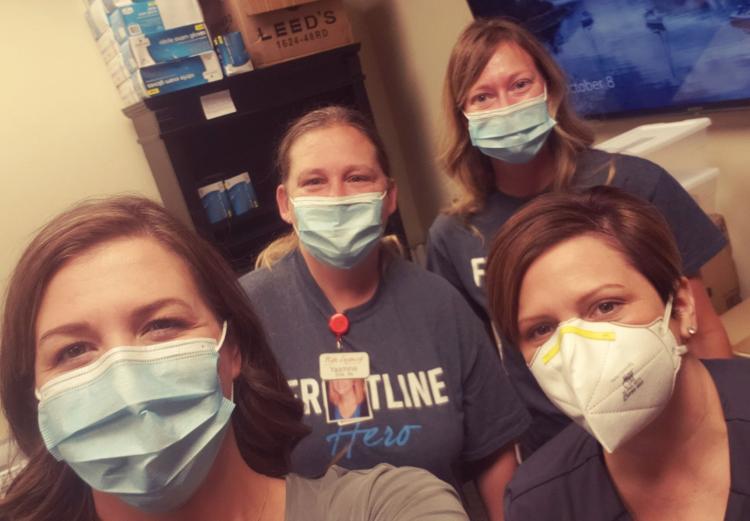 With this being Harris' first big management role, she said she dealt with a blend of personalities from different backgrounds, at the facility just outside of Omaha.
"Learning how to navigate that team as one and create unity around the initiatives and priorities that we had in place, the things that were critical items that we needed to focus on, and getting everybody united around that was something that that position taught me how to do," she said. "And it was excellent, I had a really supportive upper management that gave me a lot of opportunity and supported me through that, taught me a lot."
After holding the position for about two years, Harris made the jump back to Nye Health in 2006, with the company's culture being a huge part of her decision.
"Obviously, the team members, the people that I was going to be able to work with were the type of people that I wanted to work with every day," she said. "They're your work family."
Around that time, Harris also gave birth to her first daughter, Liliana, now 14. She and her husband also have a 10-year-old daughter, Aurora.
Harris worked as a nursing director for Nye Square, the company's assisted and independent living campus. She said she had about the same responsibilities as her last position, but worked more with communication and transition management of its residents.
"A lot of it was assisting them through transitions of care and the changes in their clinical needs, helping residents and families transition from an independent living service line to assisted living," Harris said.
Harris worked at Nye Square for six years, taking a position as executive director for the last four. She then transitioned to becoming the executive director for Nye Legacy, the company's skilled, short-term rehab campus.
"I have always been blessed with very good leaders that work with me to accomplish the things that we need to," she said. "It makes it very manageable."
After working five-and-a-half years at Nye Legacy, Harris took her most current position, VP of operations for the home office, in 2018.
"So this position is responsible for all operations of all seven of our campuses, as well as our home health and home care service line," she said. "So it's the same responsibilities, just on a much larger scale."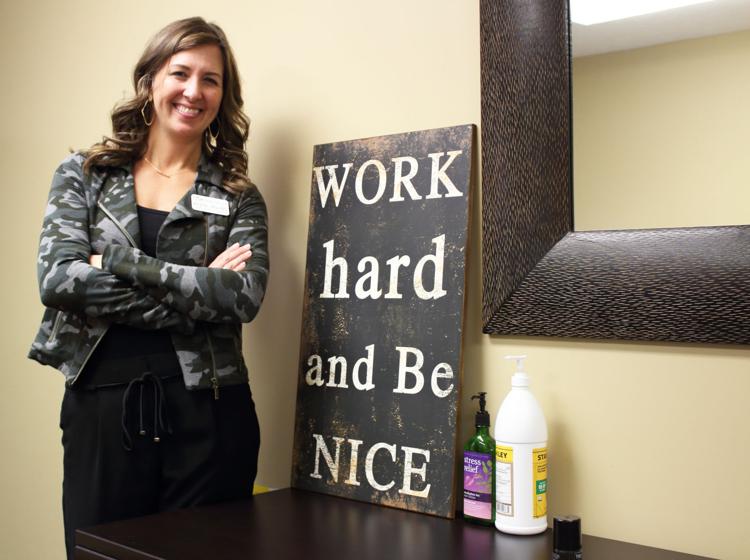 Ron Gross, president of Nye Health, has been with the company for eight years, joining while Harris worked as an executive director for Nye Square.
"I recognized early on that this is someone that is a huge talent in this industry and has the opportunity to really grow in responsibility, and she has certainly done that everywhere that she's been," he said. "Everything that she's touched as it relates to Nye, she has done a fantastic job."
Gross said Nye Health focuses on what it calls the "triangle of success," which includes the residents and their families, its 725 team members and financial viability.
"As it relates to Kristin, she understands all three of those pieces very well," he said. "She approaches each and every day, even now, as if those residents are her grandmas and grandpas. She is so clinical, she's so passionate, she's so committed that that is our focus and that's why we're there, that's why we do what we do each and every day."
But along with that triangle, Gross said Harris is also extremely talented in working with other team members with her clinical expertise and emotional intelligence.
"When she was the executive director at those campuses, her teams absolutely cherished the time with her," he said. "She developed those individuals, she helped them grow, she helped them understand the Nye way and how we approach things as an organization and did a fabulous job with everyone that she touched at that campus."
Gross also showed his appreciation for Harris and her work with the team during the COVID-19 pandemic.
"What she's done during this pandemic has been phenomenal, because she leads meetings every day that deal with CMS guidelines, ICAP, to make sure that we have policies and procedures in place during COVID," he said. "It has been spectacular."
Harris said she's enjoyed working with the Nye Health team, which she said works hard and plays hard.
"The culture of the company prioritizes our people, our mission vision values, the things that are important to us and who we are and kind of the heartbeat of our company, what should be beating through all of us is our people," she said. "And I would say that that is my favorite part, as we're a very fun group."
In her positions at Nye Health, Harris said she's been able to grow in her emotional intelligence and effective communication skills.
"I think it is such an underrated skill, but needs to be talked about so much more because someone's ability to influence a team is how you create success," she said. "And I think that that is something that this company has really taught me and supported my growth in to get to that level of influence."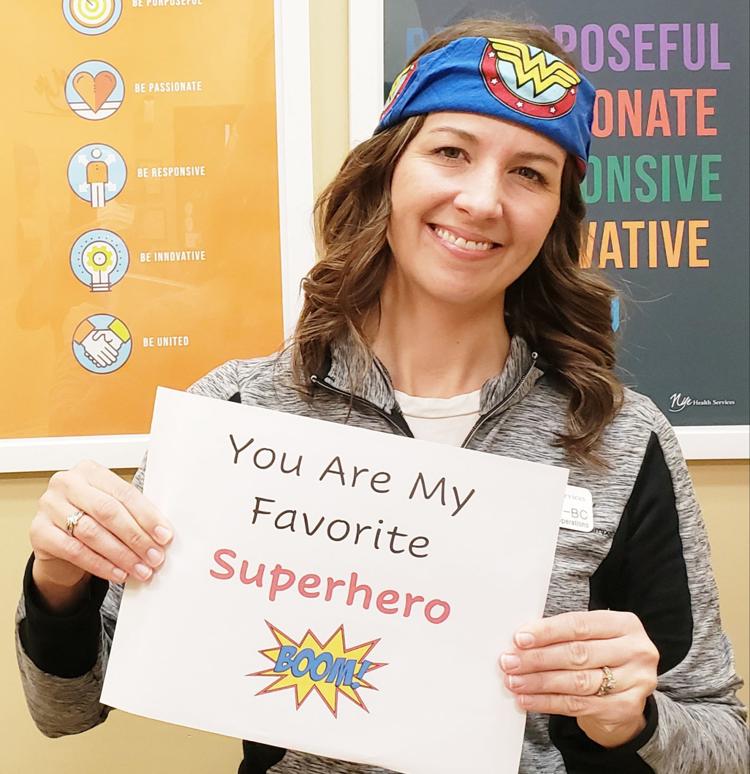 Gross said Nye Health needs leaders who take care of and give opportunities to their teams, but also understand what the company needs financially to continue giving those opportunities, something he said Harris has excelled in.
"I kind of look at Kristin and say, 'She's the total package,'" he said. "She's someone that comes into this position and gets very clinical. You need that clinical mindset, but you also need someone that understands the financials, you need someone that understands what goes into those financials."
As she's held multiple roles in her 20-year career, Harris said she's seen multiple opportunities for her to grow into leadership roles.
"So one of the things that I've done in the past, like frequently, is spoken to the students at Midland in the nursing program and different organizations about needing to incorporate more leadership skills into the programing because there's such a need for that," she said.
Harris' leadership skills have extended to the Fremont community, as she has been a chamber diplomat for the Fremont Area Chamber of Commerce and has given multiple presentations for organizations.
"I always tell everyone my girls think I have the best job in the world, because who wouldn't want to work with grandmas and grandpas every day for their job?" she said. "So I'd love for everyone to go into long-term care, but honestly, I just want people to choose healthcare as an industry and as a career path."
Coming from the small town of Arlington, Harris said Fremont still has that same feel, as it feels personalized for her.
"But it's big enough that it offers a lot more diversity, and I would say that the people and the engagement is what I love the most," she said. "In Fremont, it feels like you have a voice. People listen in this community."
Gross said with Harris' most recent promotion, she has shown incredible talent to lead the company and that she is wise beyond her years in her passion for helping others.
"This is an absolute pro who is extremely passionate and committed to the calling of Nye Health Services and whether she is under 40 or 60 or whatever, age is not something that I ever considered as we moved her and advanced her," he said. "It was all about her effectiveness and her ability to get people in this organization to do what we needed to do to ensure that we took care of that triangle every single day."
With 14 years at the organization, Harris said she always says she was "grown by Nye."
"I'm very thankful that I get to work for Nye Health Services as an organization and work for people," she said. "We're a family-owned business, and being someone that is so family-oriented, I've been very, very fortunate to work for this organization."
The business news you need
With a weekly newsletter looking back at local history.