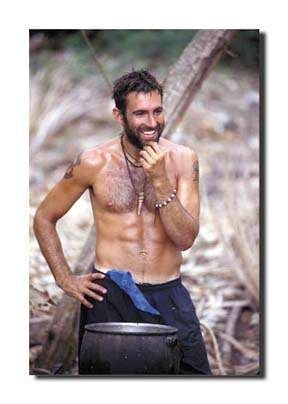 "I definitely played the game," said John Carroll, eighth castoff of the CBS series "Survivor."
Indeed, no one who has viewed the fourth season of the program, which airs at 7 p.m. each Thursday, can deny Carroll's statement.
Whether he was starting fires, mending toes, creating and dissolving alliances or healing his sea urchin wound with unconventional methods -- asking tribe member Kathy Vavrick-O'Brien to urinate on his hand to alleviate the pain and act as a disinfectant -- Carroll kept his focus on the prize.
"I was there to win a million dollars," he said during a Thursday phone interview with the Tribune.
Perhaps he was too focused, emerging as a leader with a systematic plan for eliminating the other contestants.
Ironically, on the very episode in which Carroll blew another player a "kiss-of-death" good-bye, he was voted out himself.
Undeniably, he was ruthless and arrogant.
Carroll said when he ran into Survivor executive producer, Mark Burnett, about a week ago, Burnett said, "We ripped you to shreds."
"Of course I said and did everything they showed," said Carroll. "But my experience there was much more three dimensional."
Carroll said while he isn't really "a person of regret," he wished he could have interacted with other players better, especially Gabriel Cade, the first player Carroll arranged to have voted out.
Still, Carroll said he bears no ill will toward the producers and eagerly anticipates each episode.
"I know the outcomes, but I don't know how things unfolded," he said. "I'm really excited to see how they cut episodes and everything that happens to the dynamics of the tribe."
While it seems "Survivor" contestants often work their way into Hollywood films or onto the pages of Playboy magazine, Carroll, an Omaha native who attended Midland Lutheran College for two years, said he has no plans to leave Nebraska but does want to use his celebrity status in another way.
"Some people are going to L.A., but I want to become more politically active," he said.
Carroll, who is gay and was outed nationally by cast member Rob Mariano on the program, said he was the victim of a hate crime before appearing on "Survivor." Carroll said he wants to use the show as a platform to campaign against such cruelty.
Since the season began airing, Carroll's focus has shifted to fund-raising. On the night of the show's premiere, Carroll helped raise $4,000 for the Nebraska AIDS Project. Additionally, he arranged a benefit for the Nebraska AIDS Project that will take place at Omaha's Oak View Mall June 14 -16. All of this season's "Survivor" contestants will be in attendance.
Carroll also received a nomination for grand marshal of the Omaha's Gay Pride Parade in June. He intends to give a speech.
In addition to being an advocate for gay and lesbian rights and AIDS awareness, Carroll said he also invests his efforts in a program called "The Elephant Sanctuary," an organization that rescues retired elephants from zoos and circuses and places them at a refuge.
Carroll's final words on the program included him wishing he could have done a little better, but Carroll said he was still pleased to become a member of the jury.
"I have a 1-in-7 responsibility to give someone a million dollars," he said. "That's something I take very seriously."
While Carroll didn't win the million dollars, every contestant on "Survivor" does receive a cash prize, depending on how long he or she stays in the game. And Carroll has big plans for his money.
"Well, I haven't been working since I left law school to prepare for the show, so now I've got a lot of bills to pay."
Be the first to know
Get local news delivered to your inbox!