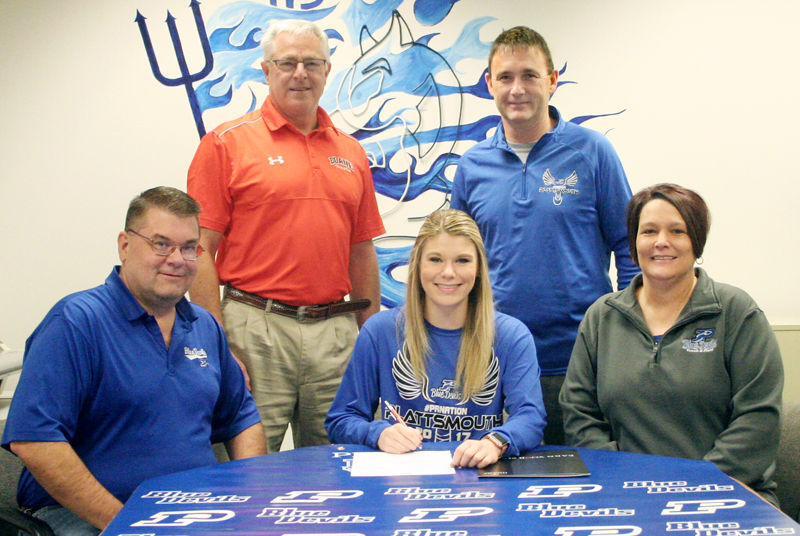 PLATTSMOUTH – Haley Miller has soared into the track and field spotlight with numerous successful leaps over the past few seasons.
Her hard work paid off Tuesday morning in the form of a scholarship to Doane University.
Miller signed a letter of intent to compete for Doane's track and field program. The Plattsmouth senior has participated in each of the past three state meets and has earned multiple honors in both long jump and triple jump contests. She said she was happy to have an opportunity to continue her career for the Tigers.
"The track program is stellar, and that was one thing that attracted me," Miller said. "There are so many good coaches there and they all do a great job of helping people reach their potential. The school's academic programs are really good too. I think I'm going to enjoy going there both for school and track."
Doane head track and field coach Ed Fye said he met Miller at several of the university's recent track and field camps. He said it was apparent that Miller had both the proper leaping technique and the type of competitive spirit to do well at the collegiate level. He said he was also impressed with the content of her character.
"It's important to have people with good character in your program, because that's what makes a team successful," Fye said. "Even though people might think track is an individual sport, it's definitely a team thing when you get into meets and have everyone working together for a common goal.
"That's why having someone like Haley is a big deal. Her attitude is contagious and it affects everyone else on the team in a positive way. She can help us be successful when it comes to all of our team goals."
Miller earned third place in the state triple jump event as a freshman and hauled in a fifth-place medal as a sophomore. She then booked a pair of fourth-place medals during her trip to Omaha Burke Stadium last season. She soared 16 feet, 8 inches in the long jump and posted a 35-6 mark in the triple jump. Miller became the first Plattsmouth girl to win two field medals in a state meet since 2009.
Miller is planning to major in biology at Doane and is hoping to add a second major in chemistry. She would like to minor in a leadership program the school offers.
Miller said she is thrilled to know where she will be attending classes in the future.
"It's just now sinking in that this is all real," Miller said. "It's like a huge weight has been lifted off my shoulders. I'm very excited about getting a chance to go to Doane."