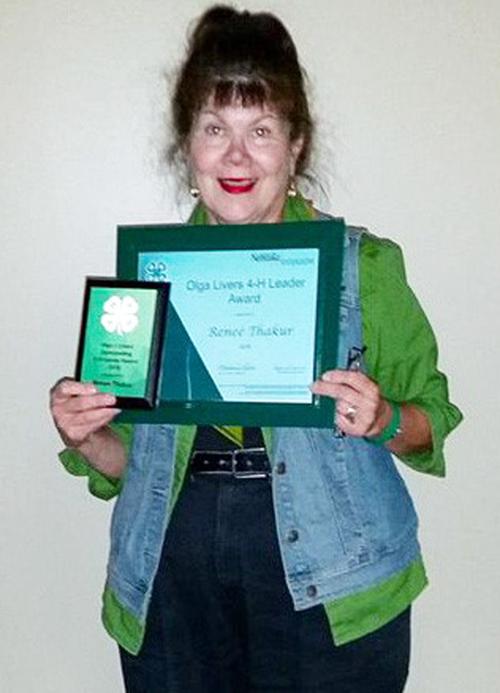 LINCOLN – A Cass County woman has been recognized in a new statewide awards program honoring the contributions of 4-H volunteers.
The Nebraska 4-H Volunteer Recognition Awards program was developed this year to honor adult and youth volunteers, as well as multi-generational families, who have provided meaningful contributions to Nebraska 4-H, according to a spokeswoman.
One Outstanding Adult Volunteer Award winner was chosen for each of the state's 11 Nebraska Extension Engagement Zones. One statewide winner was selected in each of the youth volunteer and multi-generational family categories.
"All across the state, Nebraska 4-H volunteers do incredible work to provide opportunities for our youth," said Jill Goedeken, 4-H youth development extension educator. "These volunteers generously give their time, energy and creativity to help develop the next generation of leaders, and we are thrilled to be able to recognize their contributions."
An in-person recognition ceremony will take place at the 2021 Nebraska State Fair.
Among those who were inaugural award winners was Renee Thakur of rural Cass County, winner of Engagement Zone 11.
Officials of 4-H described Thakur as a dedicated volunteer in Cass County and the surrounding area for many years helping school enrichment and 4-H workshops, as well as assisting with sewing workshops in Johnson and Pawnee counties.
In recent years, Thakur has helped with First Lego League competitions in Otoe County.
She is enthusiastic, consistent and willing to help wherever needed, according to 4-H officials.
"I was shocked and surprised," Thakur said upon learning of her award. "It was a nice surprise."
Thakur began her long association with 4-H by teaching elementary students proper hand washing, she said. Eventually, Thakur became assistant leader and then leader of the Weeping Water Whiz Kids 4-H club.
She also volunteers at the entry day at both the Nebraska State Fair and the Cass County Fair for 4-H kids "static" exhibits, such as crafts and cooking exhibits.
Lauren Stohlmann, educator for Cass County Extension, said Thakur always lends a helping hand not just here, but in other southeast Nebraska counties.
"I was so glad when I heard she received this award," Stohlmann said. "She is deserving of the credit."