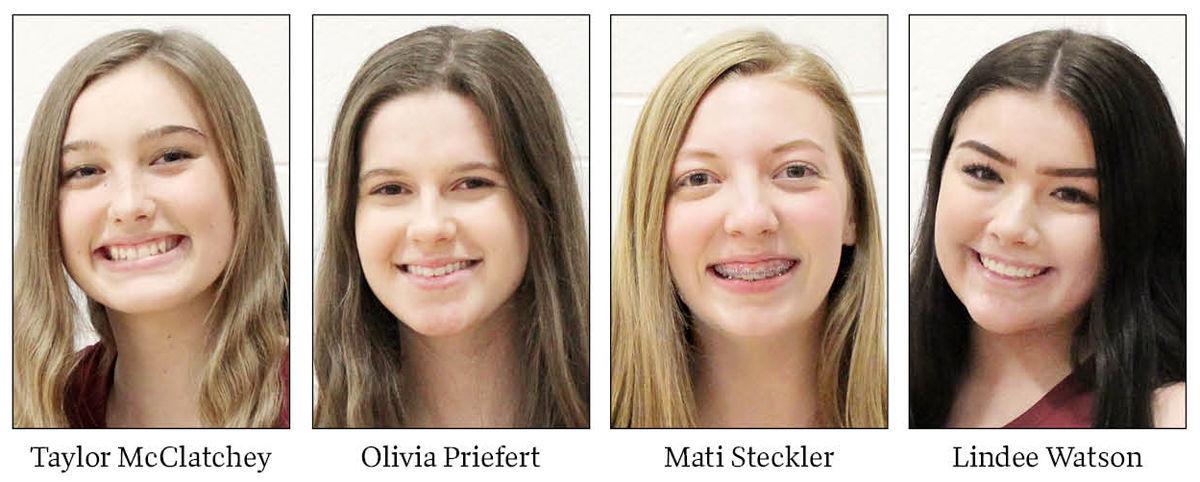 CONESTOGA – Four Conestoga students trusted that their digital media talents could help them take home the top prize in a Better Business Bureau contest.
The Cougars learned this past week that they had created a championship script with their cameras.
Taylor McClatchey, Olivia Priefert, Mati Steckler and Lindee Watson earned first place in the BBB's 2020 video contest for the Metro Omaha/Southwest Iowa region. They soared to the top of a field that included multiple entries from 13 schools in Nebraska, Iowa and Kansas.
Jeff Niebaum, senior communications specialist for the BBB in Nebraska, Iowa, South Dakota and Kansas, said agency officials were thrilled with the team's abilities to produce a quality video. The CHS quartet used a "Hotel Horror" storyline to showcase the subject of "Start With Trust" for viewers.
"The judges were really impressed with their creativity and the way this team delivered the message on the Better Business Bureau's mission and theme, which is to start with trust," Niebaum said. "The team did a great job."
Conestoga teacher Sean Trampe told students in his digital media class about the contest and encouraged them to participate in it. Students could enter projects either as individuals or in groups of two to four people. McClatchey, Priefert, Steckler and Watson felt their friendship could help them do well and they decided to submit a video as a team.
"I knew that this group of girls had a lot of creativity, and I'd seen some work that Olivia had done in the past, so I felt pretty confident that they could put together something impressive," Trampe said.
The BBB asked students in grades 9-12 to submit one video 60 seconds or less in length. The video had to show how the BBB helps consumers and businesses with matters of trust and integrity. The organization asked students to create their videos with a target audience of viewers ages 15-25. Videos also needed to feature the BBB logo and tell viewers to visit the agency's website.
Judges based 30 percent of their votes on the production quality of the video. Twenty percent of the final score was based on creativity of message and 30 percent reflected the representation of the BBB theme.
The final 20 percent of each judge's score came from the number of votes each video received when they were displayed on the BBB's website. The four Cougars received 8,071 votes for their video from Feb. 3-28.
Priefert said the team decided to use a "Hotel Horror" theme for the video. The Cougars showed how two friends could have avoided going to a horrible hotel if they had used the BBB's website before making their trip.
You have free articles remaining.
The opening scene shows McClatchey and Steckler standing in front of a weathered farmhouse wondering if they had made the right decision to stay there. Watson then appears next to them and explains how the BBB helps people with all types of choices. She then tells viewers about the BBB's website as illustrative graphics pop up next to her with information.
"Honestly it didn't take too long to put the idea together," Priefert said. "We knew what we wanted to do and where we should film it. The whole video was produced in about two hours."
Watson and Steckler both gave a large amount of credit to Priefert for the endeavor.
"We had watched some of the entries by others from the contest last year and we knew we could do better," Watson said. "Olivia came up with the idea for the script one morning and later that day we drove to a local old farmhouse and set up."
"She had this idea of what she wanted the video to be and she had a script prepared," Steckler said. "Then when we were actually filming the video, we expanded on her ideas to make the video what we all thought would show our message the best and hopefully win the competition.
"Olivia was also the one to edit the film. She did a really good job and was the reason that we ended up with the winning video. She took multiple takes of everything and chose the best ones to put in the final product."
The Cougars claimed first place in a contest that included many schools from across the region. High school students from The Career Center of Omaha Public Schools, Conestoga, Elkhorn, Logan-Magnolia (Iowa), Millard North, Millard West, Omaha Gross, Omaha Marian, Omaha Northwest, Omaha Westside, Papillion-La Vista South, St. John-Hudson (Kansas) and Tri-Center of Neola (Iowa) entered the event.
Niebaum said the BBB will be using Conestoga's video for a variety of promotional activities. Viewers will be able to see the video by going to the BBB's Facebook, Twitter and Instagram channels and searching @todaywithbbb. It is also available at www.bbbvideocontest.org/omaha-swiowa.
"We'll definitely be using it," Niebaum said. "We're going to promote it on all of our social media pages to all of our followers."
McClatchey, Priefert, Steckler and Watson earned a $500 prize for themselves and $2,000 worth of equipment for Conestoga High School. Priefert said the Cougars will be making purchases that help all journalism students in the CHS hallways.
"We're not quite sure what equipment we want to get yet, but we're thinking about a new lens that'll be good for sports photography," Priefert said. "Whatever we get it'll surely benefit the media classes."
Watson said the championship was even more special because of the current events surrounding the coronavirus. The news that they had earned first place created a happy headline for everyone in the Conestoga community.
"It was such an amazing experience, truly," Watson said. "Winning the contest really felt like a light in all the darkness. It's been really scary and everything seemed to be going downhill, so winning this contest really meant so much to us."
Be the first to know
Get local news delivered to your inbox!