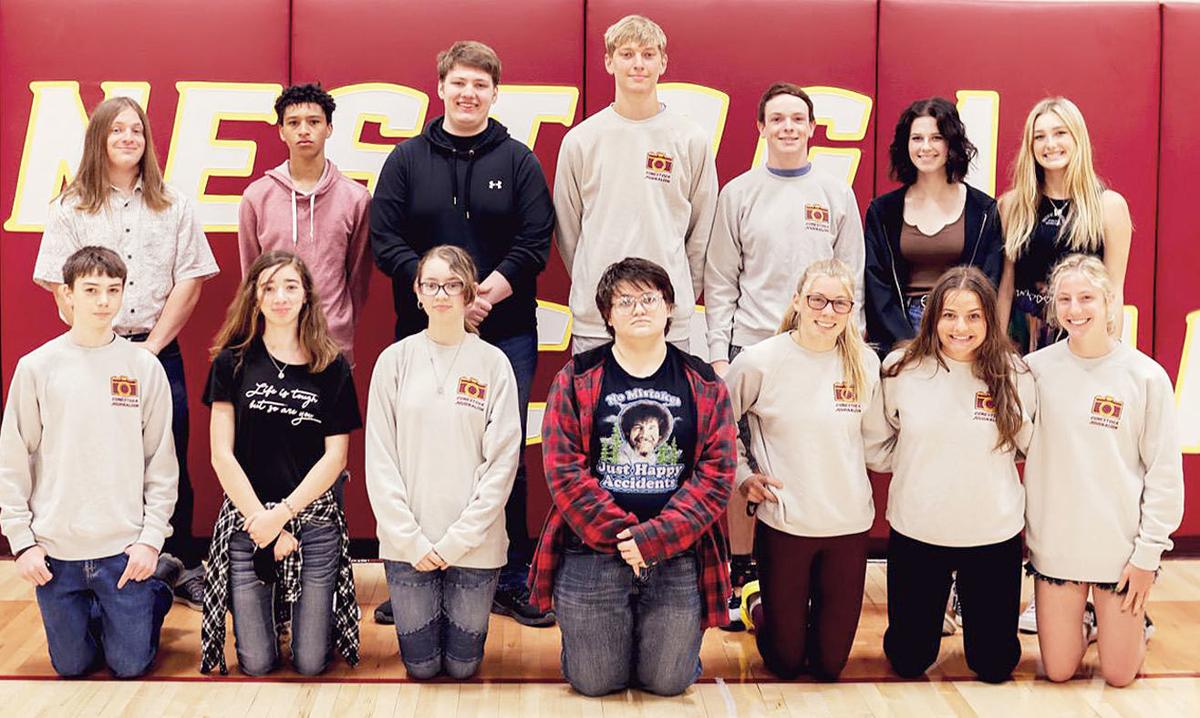 CONESTOGA – Conestoga students entered a winning journalism orbit on Friday with a galaxy-sized list of state accomplishments.
The Cougars captured third place at the Class C State Journalism Championships for their writing, photography, broadcasting and artistic talents. Conestoga collected awards in 13 categories and finished the state contest with 252 points. A total of 38 schools submitted entries for Class C events.
Conestoga journalism advisor Sean Trampe said he was pleased with the way the Cougars performed throughout the year. Olivia Priefert, Taylor McClatchey, Gabriel Turner-Hickey, Samarion Henry, Josh Lingafelter, Lucas Michel, Jagger Plevel, John McConnell, Jessica Poirier, Stephanie Poirier, Neil McKim, Danie Parriott, Makenzie Jones, Emory Trofholz and Ella Lewis submitted state material this year.
"I'm very proud of the students and their work throughout the school year," Trampe said. "At the beginning of the year, we made the decision to step up our efforts both in and out of class. This led to the creation of our school news website, The Prowl, and really became a great source of pride for our students.
"Their abilities grew tremendously through the year as they took ownership of their work and continually pushed themselves to create a lot of great content."
Each NSAA school with a registered journalism program could submit entries in 25 categories this year. Twelve categories required only one round of judging and did not involve a trip to the state journalism contest in Norfolk. The other 13 events featured a preliminary round and a second round of in-person evaluation.
The non-travel categories included info graphic, in-depth newspaper coverage, newspaper layout, photo/artistic illustration, sports/action photography, news/feature photography, yearbook layout, yearbook theme development, broadcast news story, broadcast sports story, broadcast feature story and broadcast public service announcement. Judges chose the top eight medalists and the placements of each student based solely on the initial round.
Students in the categories of advertising, newspaper column writing, editorial cartooning, editorial writing, entertainment review writing, headline writing, newspaper feature writing, newspaper news writing, newspaper sports feature writing, sports news writing, yearbook feature writing, yearbook sports feature writing and yearbook theme copy writing learned earlier in April that they had secured top-eight finishes.
Students in these categories traveled to Northeast Community College on April 26 for in-person contests. Judges in Norfolk determined medal placements in each event from the in-person evaluations. Conestoga students returned home that day and prepared for the announcement of all state winners on Friday.
Trampe said the Cougars were optimistic about their chances for a top-three team result entering the day. Their dreams came true after CHS students performed well during their trip to Norfolk. Five-time state champion Yutan (418 points) and Southern Valley (334) were the only schools that finished ahead of Conestoga.
"Going into the in-person state contest, we knew that we were going to be one of the top teams based on our number of qualifiers," Trampe said. "It was very unlikely that anyone was going to beat Yutan and their great program this year, but we knew if we had outstanding results we could finish in the top three.
"Our journalists really stepped up and performed well at the in-person contest to push us into that third-place spot. Finishing in the top three is an awesome accomplishment, but the best part of it is that our kids are already looking ahead to next year and working hard to bring home a state championship."
Priefert highlighted Conestoga's state experience with three gold medals. She earned state titles in the photo/artistic illustration, broadcast sports story and broadcast feature story categories. She said she was both humbled and happy when she learned about her three honors.
"I certainly wasn't expecting to win three state titles, so when awards were announced I was really surprised," Priefert said.
McClatchey said Priefert's work ethic had not gone unnoticed by other staff members. She said her classmate deserved the honor for her dedication and time with the program. Priefert served as photography editor for The Prowl this year and was one of three people on the yearbook staff. She also compiled many photography and videography projects at school.
"Seeing Liv with three first-place medals was so cool because she works so hard to do such a variety of things for us," McClatchey said.
McClatchey joined Priefert as a state champion journalist in the yearbook layout category. The Cougars dominated the contest with three medal-winning performances. McClatchey placed first, Trofholz earned second place and Parriott produced a fourth-place honor.
McClatchey worked on the yearbook this year and was involved in many media production projects. She credited Trofholz and Priefert for her success at state.
"As for the spreads that won, I owe so much to Emory for her work in design this year and to Liv for the photos," McClatchey said. "Journalism is such a team effort because everyone has their unique strengths."
McConnell added his name to Conestoga's championship lineup with a first-place finish in editorial writing. Michel pocketed a silver medal in sports news writing, and Trofholz, Parriott, McConnell, Henry and Jessica Poirier finished fourth in their categories.
Priefert and McClatchey said they were proud of the accomplishments of everyone on the journalism staff. They felt the Cougars would continue to reach starry orbits in future journalism contests.
"It was amazing to see this whole class grow throughout the year, and I think there are some very talented people there to step into my and Liv's roles," McClatchey said. "Especially our sophomore yearbook member Emory, who has done amazing in anything she takes on.
"I have no worries for the program in the future. It's only going to grow, thanks to the amazing underclassmen and Mr. Trampe's work in making everything the best that it can be."
"I've been in journalism for two years, and as an upperclassman it really is amazing to see how far the program has come," Priefert said. "Thanks to the hard work and competitiveness of the students in journalism and other media classes, we were able to finish in third place.
"I think this is an excellent starting point for the program, and with the talent and dedication of the students in journalism, I'm confident their success will only go up from here."
Conestoga State Journalism Results
Advertising: Neil McKim, 7th
Newspaper Column Writing: John McConnell, 4th, Makenzie Jones, 8th
Editorial Cartooning: Danie Parriott, 4th
Editorial Writing: John McConnell, 1st
Headline Writing: Lucas Michel, 5th
Newspaper Sports Feature Writing: Emory Trofholz, 4th, Danie Parriott, 7th
Sports News Writing: Lucas Michel, 2nd
In-depth Newspaper Coverage: Ella Lewis, Lucas Michel, Jagger Plevel and Stephanie Poirier, 8th
Photo/Artistic Illustration: Olivia Priefert, 1st
Yearbook Layout: Taylor McClatchey, 1st, Emory Trofholz, 2nd, Danie Parriott, 4th
Broadcast Sports Story: Olivia Priefert, 1st, Joshua Lingafelter and Gabriel Turner-Hickey, 8th
Broadcast Feature Story: Olivia Priefert, 1st
Broadcast Public Service Announcement: Jessica Poirier and Samarion Henry, 4th