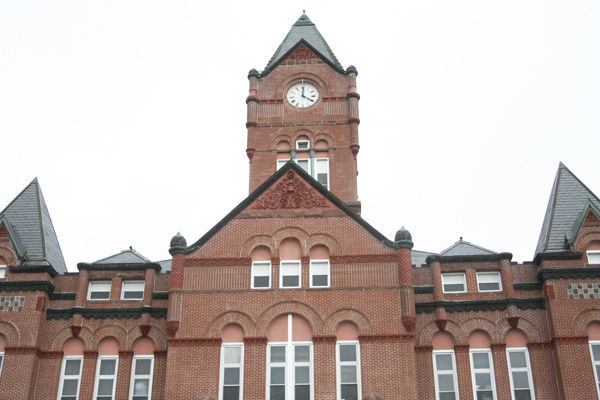 PLATTSMOUTH – A South Bend woman admitted Monday morning that she had been involved in a drunk-driving incident on the Platte River Bridge near Louisville.
Alicia Fenner, 30, appeared in Cass County District Court for a plea hearing. She pled guilty to a Class IIIA felony charge of driving under the influence of alcohol-third offense-.15+.
The state had originally charged her with a Class IIA felony of DUI-fourth offense-.15+. Prosecutors agreed to reduce the charge in exchange for her guilty plea. The state and defense will both recommend that Fenner's driver's license will be revoked for 15 years. There were no other terms of the plea agreement.
Deputy County Attorney Steven Sunde told the court a witness contacted emergency dispatchers about Fenner after they saw her in her car at 5:48 p.m. March 14. The witness said Fenner had struck a pole in the parking lot of the Runza restaurant in Springfield with her 2019 Audi sport-utility vehicle. The car then left the parking lot and went southbound on Highway 50 towards Louisville.
Sunde said a Nebraska State Patrol trooper encountered Fenner's car as it was crossing the Platte River Bridge. The trooper had to take evasive actions after her car swerved into the other lane of the highway. The trooper then watched Fenner drive on the shoulder of the highway before he was able to pull her over in Louisville.
The trooper reported that Fenner began crying and displayed slurred speech and other signs of alcohol use. He only conducted two field sobriety tests because she was not stable on her feet and had trouble walking to the patrol car. A preliminary breath test revealed a blood-alcohol content level of .275.
Sarpy County Jail staff administered a chemical breath test after Fenner arrived at the facility. The chemical breath test revealed a blood-alcohol content level of .242. The legal limit is .08.
The trooper transported her to Cass County Jail after she took the chemical breath test. He noted that Fenner had bought her car in September 2019 but had not yet put a new license plate on it.
Fenner had previously been convicted of DUI three times in Nebraska. Two convictions took place in August 2009 in Douglas County and the third happened in March 2012 in Plymouth County, Iowa.
Fenner remains free on bond. The court ordered her to obtain a chemical dependency evaluation before her Sept. 17 sentencing hearing.
Be the first to know
Get local news delivered to your inbox!