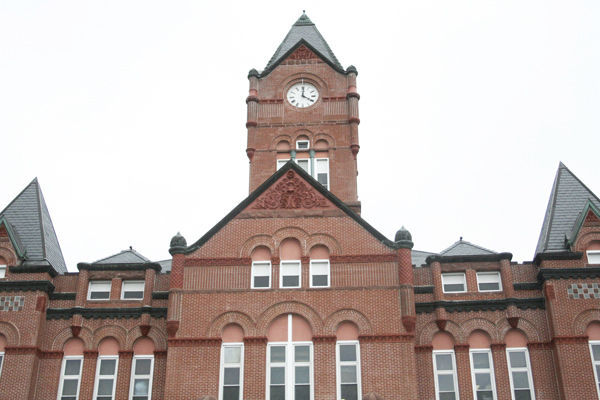 PLATTSMOUTH – An Omaha man who allegedly caused a hit-and-run accident while driving drunk in Cass County will remain in Cass County Jail on a large bond.
Wilbur L. Jackson, 44, appeared in Cass County District Court for several hearings Monday morning. The state has charged Jackson with two felonies and four misdemeanors stemming from an alleged hit-and-run incident in southwestern Cass County on Feb. 3. Jackson is being held in Cass County Jail on a bond of $350,000, 10 percent.
The state has charged Jackson with a Class II felony of driving under the influence of alcohol-fifth offense and a Class IV felony of driving without an ignition interlock permit. Prosecutors have also charged him with a Class I misdemeanor of false reporting and Class II misdemeanors of leaving the scene of an accident-fail to furnish information and reckless driving-second offense. The sixth charge is a Class V misdemeanor of refusal to submit to a preliminary breath test.
The state has attached habitual criminal designations to the charges of driving without an ignition interlock permit and leaving the scene of an accident. If the court determined Jackson was a habitual criminal he would receive a mandatory minimum penalty of 10 years in state prison.
Defense attorney Julie Bear filed a motion to quash Monday morning regarding the habitual criminal designations. That motion will be heard at a later date. Bear told the court she did not want to have Jackson take part in an arraignment hearing until the court listened to the motion to quash.
The state is alleging Jackson was driving drunk in Cass County during the morning of Feb. 3. A Cass County Sheriff's Office deputy received a call from Cass County Emergency Dispatch at 7 a.m. about a Dodge Charger that was in the vicinity of Highway 50 and Church Road near Louisville. The car had allegedly been swerving on Interstate 80 before leaving the interstate at Exit 426 near South Bend.
The deputy attempted to locate the car near the Louisville area but was unable to do so. The same deputy received a second call at 11:06 a.m. about a hit-and-run accident that had taken place on Highway 34 near 334th Street southeast of Elmwood.
A witness said the Dodge Charger was allegedly driving eastbound on Highway 34 when it swerved onto the shoulder and came back on the road. The car allegedly struck another vehicle and pushed it into a cornfield off the highway. The Dodge Charger then turned around and began moving westbound. No one in the car stopped to render aid at the accident scene.
The deputy found the Dodge Charger heading westbound by Eagle at 11:10 a.m. She made a traffic stop just west of Eagle Drive and began interviewing Jackson. He allegedly had a strong odor of alcohol on his breath and told the deputy he had consumed alcohol just one hour earlier.
The deputy asked Jackson if he knew what time it was. He allegedly stated it was 6 p.m. when it was really just after 11:15 a.m. He also believed he was driving in Omaha instead of Eagle.
A chemical breath test conducted at 12:52 p.m. allegedly revealed a blood-alcohol content level of .239. Jackson has been in Cass County Jail since his arrest.
Rescue crews went to the accident scene to check on the victims. A female in the vehicle declined to be transported to a hospital.
Bear asked the court Monday morning to reduce Jackson's bond from $350,000 to $20,000, 10 percent. She said he was employed and was a lifelong resident of Nebraska. She felt authorities could safely monitor him under pre-trial release conditions.
Deputy County Attorney Steven Sunde asked the court to keep the bond at $350,000, 10 percent. He said Jackson was facing his ninth lifetime DUI charge.
"He's done this over and over and over again," Sunde said. "He's a threat to society, and that's why the bond should be left right where it is."
The state enhanced the current charge to a fifth DUI based on Jackson's history over the past decade. He was charged with DUI in Douglas County in January 2010, April 2013, December 2016 and November 2018.
Judge Michael Smith ordered the bond remain at $350,000, 10 percent. He said the recent history of DUI charges concerned him.
Jackson will be arraigned in district court at a later date. Coronavirus concerns have changed schedules for dozens of Cass County District Court cases over the next several weeks.
Be the first to know
Get local news delivered to your inbox!