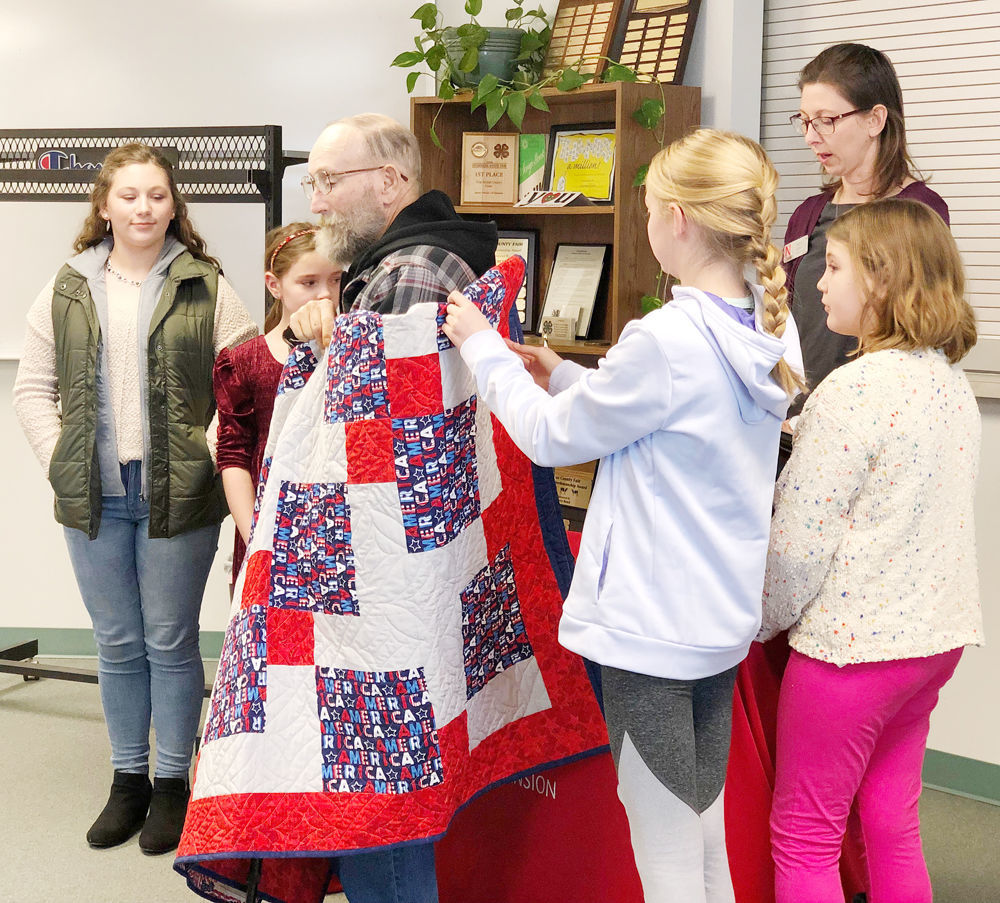 WEEPING WATER – Cass County 4-H members recently honored a Murray resident for his two decades of service to the United States.
Local students presented a Quilt of Valor to Retired Sergeant First Class Terry Kellison at the University of Nebraska Cass County Extension Office on Dec. 27. Cass County 4-H Extension Assistant Tracy Ensor and students Brooklyn Ahrens, Micaiah Price, Marissa Staben and Robyn Malchow participated in the quilt ceremony.
"We are honored to award this Quilt of Valor to Sergeant Kellison," Ensor said. "We hope this quilt will serve as a comfort and reminder of all the people that appreciate his service and sacrifices for our nation's freedoms."
Kellison has lived in Cass County most of his life. He enlisted in the U.S. Army shortly after high school and trained to be a heavy construction equipment technician. During his 20 years of service he and his wife were stationed in Alaska, Hawaii, Florida, Texas, New Jersey, New York, Germany, Korea and Vietnam.
You have free articles remaining.
Kellison earned numerous service awards and decorations during his career. These include the Purple Heart, Bronze Star and Vietnam Cross of Gallantry.
Local 4-H youth pieced together the top of the quilt from patriotic fabric in the summer. A quilt shop owner donated the quilt backing and long-arm machine quilting for students to use to complete the project.
Ensor said this was the first quilt project for several of the 4-H youth. She said they were excited to use their new skills to honor a local veteran.
The quilt was displayed at the Cass County Fair in August. It then joined dozens of other 4-H Quilts of Valor from across the state for a display at the Nebraska State Fair.
The Quilts of Valor Foundation is a national organization founded in 2003 by Catherine Roberts. It is comprised of volunteer quilters from across the United States, including many Nebraska 4-H students. The organization has awarded more than 240,000 Quilts of Valor to service members and veterans.