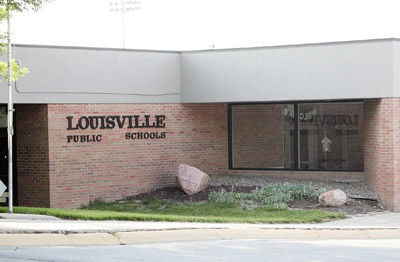 LOUISVILLE – Louisville Public Schools will ask district voters to pass a bond issue this summer that would include a new elementary school and additional vocational technology classrooms.
Louisville Board of Education members unanimously passed a resolution May 18 to ask the Cass County Election Office to hold a special election on July 14. Voters will consider a bond issue not to exceed $30 million for several projects. This list includes a new elementary school, new vocational technology center and safety upgrades at the existing building.
Board members Ashley Christiansen, Kara Habrock, Andy Mixan, Cindy Osterloh, Jon Simon and John Winkler voted for the motion. Winkler said at the meeting that the board incorporated input from teachers, staff, local residents and architectural experts to develop the proposal. He hoped local residents would support the bond at the special election.
"Ultimately, the voters of the community will get to decide if we use this plan to address our needs or not," Winkler said. "We can only do our very best to formulate a plan to address the issues before us, and I think we have done that, so let's let the community decide what they want to do. The decision is ultimately theirs."
Louisville Public Schools incorporates 66.2 miles of land in Cass and Sarpy counties. Louisville, Cedar Creek, South Bend and portions of Manley lie within the school district's boundaries.
The district's student population has grown from 580 students in 2013-14 to 685 in 2019-20. There are 345 elementary school students, 151 middle school students and 189 high school students this year. There are 55 pre-kindergarten students this year, which is one of the largest grade totals in school history.
School officials held several public meetings in November to collect feedback from community members about the proposal. The board has held 47 public events over the past three years on the topic. These have included public forums, teacher/staff input meetings and discussion sessions at regular board meetings.
Winkler said board members wanted to make the best decision they could regarding potential options.
"The board consulted with experts in the field of predicting population growth patterns and the future migration to and growth of a community like ours," Winkler said. "The board enlisted the assistance of teachers and staff to provide their expert advice and professional input on the design of the additions and strategies to address their students' educational needs.
"This was done to create efficiencies and effectiveness that currently don't exist in the current building, and to create a school environment with enhanced outcomes for our kids."
Architects from Omaha-based Alley Poyner Macchietto provided the school board with three options for addressing the student population growth. The first solution featured a smaller series of renovations inside the elementary and middle school portions of the current building. The second option included both renovations and additions at the current site. Both plans would have addressed population growth for no more than ten years.
Architects said a third option – construction of a new elementary school, vocational technology classrooms and renovations of the existing building – would provide Louisville with at least 16-18 years of room to grow. The cost estimate for the plan is $30 million, but board members said they are hoping to take advantage of low interest rates and competitive bids.
"I have done a lot of soul searching on this, and no matter how I adjust the costs to meet our problem and needs I can't get a better number significantly less than what we are proposing," Winkler said. "We can get to any total number, if it's $25 million, $10 million or $15 million, but what are we sacrificing to get there?
"From the input and conversations we have had we don't want to shortchange vocational education, or cram more kids into the lunchroom so they now have 15 minutes to eat, or reduce the new addition to the point that the district will be back in the same predicament in five to ten years and begging for more money.
"The professionals we hired to assist us have advised us for what we want and need this is the best plan of action. We hope to spend less, and the bid environment will hopefully enable us to save money. Do we want to spend several million dollars on portables and call it good?"
Habrock said at November's community input meeting that the district's top priority was constructing a new elementary school building for grades PK-5. It would include a gym that could host many community activities.
The vocational technology center would include additional classrooms for subjects such as welding, culinary arts and medical technologies. Other major components of the bond proposal include an expanded cafeteria, new ventilation systems and a renovated performing arts space in the existing elementary gym.
Board members provided the estimated tax amount for several home valuations with the bond. If the district would spend the maximum amount of $30 million, owners of a $100,000 home would pay $280 in property taxes each year. That breaks down to $23.33 per month.
Owners of a $200,000 home would pay $560 each year ($46.66 per month), and residents in a $250,000 house would pay $700 per year ($58.33 per month). Those living in a $300,000 house would pay $840 each year ($70.00 per month).
Winkler said residential property would be taxed at 92-95 percent of market value, while agricultural land would be taxed at 75 percent of market value. He said the estimated amount of bond taxes for agricultural land would be $16.80 per acre per year. This estimate is based on an $8,000 valuation per acre that is taxed at 75 percent of that value.
Be the first to know
Get local news delivered to your inbox!