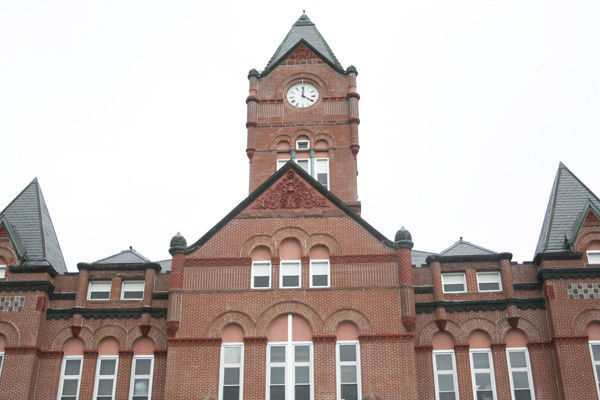 PLATTSMOUTH – A Murray man admitted Monday morning that he was intoxicated when he was involved in a car collision that killed a Murray woman.
Jade R. Gunn, 35, entered pleas to two charges during an appearance in Cass County District Court. He pled guilty to a Class IIA felony charge of motor vehicle homicide while intoxicated and a Class III felony charge of leaving the scene of a serious injury accident without rendering aid.
The state will recommend a prison term of four to five years on the motor vehicle homicide charge with a driver's license suspension of three and a half years. Prosecutors will recommend a prison term of three to four years on the second charge with a driver's license suspension of 15 years.
If the court accepts the plea deal, Gunn would serve the prison terms on a consecutive basis to make the total term seven to nine years. The 15-year license revocation would start once he completes his prison sentence.
Gunn had originally been charged with a Class IIA felony of manslaughter. Prosecutors agreed to switch that charge to motor vehicle homicide while intoxicated as part of the plea bargain.
Deputy County Attorney Steven Sunde told the court Gunn was involved in a two-vehicle rollover crash at approximately 10 p.m. June 30. The collision took place at the intersection of 24th Street and Mynard Road southwest of Plattsmouth.
Sunde said Gunn was traveling southbound in his car at a speed of 45 miles per hour on the gravel surface of 24th Street. Murray resident Tammy M. Martin, 58, was traveling eastbound on the paved surface of Mynard Road at a speed of 40 mph. There is a stop sign located at the intersection that requires people driving on 24th Street to yield to drivers on Mynard Road.
Sunde said the stop sign was visible that night and the weather was clear. Gunn failed to stop and collided with Martin's vehicle. The force of the impact caused both cars to roll over. Gunn's car came to rest in the southeast corner of the intersection, and Martin's vehicle came to rest south of the intersection.
Sunde said witnesses would have testified that Gunn had been drinking earlier in the day. Investigators learned that he had consumed approximately seven beers before driving.
Gunn left his vehicle after a fire started in it. He approached a nearby house to ask him for help to put out the fire. The witness said Gunn did not mention anything about anyone else being involved in the incident.
The person who lived at the house knew Gunn and had seen him before in both sober and intoxicated conditions. Sunde said the witness would have testified that Gunn was intoxicated that evening.
The witness went to the scene and saw Martin was trapped in her car with serious injuries. Gunn then told him he had to leave the scene because he did not want to be charged with driving under the influence.
"Mr. Gunn was fully aware Mrs. Martin was injured in her car. He saw her injuries," Sunde said. "Gunn then repeatedly stated he had to run."
The witness immediately called 911 to request help for Martin's injuries. Sunde said the witness and his wife were both angry with Gunn because they would have called for help sooner if they had known Martin was inside her car.
Emergency workers arrived on scene and extracted Martin from her car. A medical helicopter took her to CHI Bergan Mercy Hospital in Omaha that night with severe head trauma. She remained in intensive care before passing away July 18.
Cass County Sheriff's Office deputies, Plattsmouth fire and rescue members and a Nebraska State Patrol helicopter arrived on scene and searched for Gunn. They were unable to find him that evening. Sunde said a witness would have testified that he saw Gunn walking toward his home at 5:45 a.m.
A CCSO deputy arrived at Gunn's house and spoke with him then. Murray Rescue later transported him to Nebraska Medicine in Omaha for treatment of injuries he sustained in the collision. He was formally charged with two felonies during a court appearance in late August.
Gunn remains free on a bond of $100,000, 10 percent. A sentencing hearing will take place July 27.
Be the first to know
Get local news delivered to your inbox!