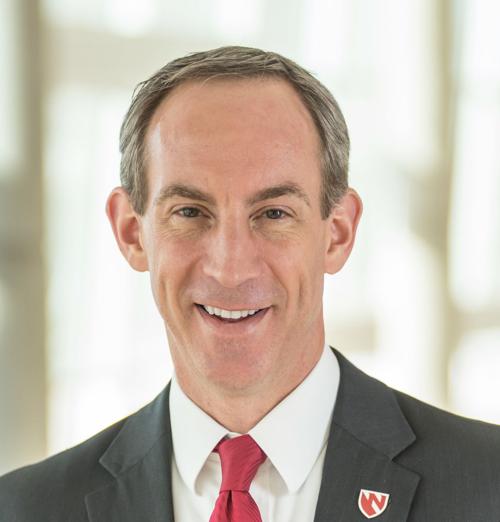 OMAHA – Dr. Kelly Caverzagie, a physician, medical professor and Plattsmouth High School graduate, has been selected to the Board of Directors for the Accreditation Council for Medical Education.
This national board oversees the accreditation process for residency and fellowship training programs and institutions throughout the United States. Through numerous sub-committees, board members also ensure stability with regards to the finances, operations, policies and procedures of the organization. His term is for three years.
After graduating from PHS, Caverzagie graduated from University of Nebraska-Lincoln, then later from the University of Nebraska Medical Center College of Medicine.
He has served as an associate professor in the UNMC Department of Internal Medicine, as well as a physician at Nebraska Medicine.
Caverzagie is the third consecutive UNMC staff member to serve in a board role. Chancellor Jeffrey P. Gold recently completed his three-year term as board chair succeeding Dr. Rowen Zetterman in that position.
"Being selected to the ACGME Board of Directors is a great honor and I'm proud to continue UNMC's strong legacy on this board," Caverzagie said. "Residency and fellowship training is the lynchpin of physician training and the ACGME plays an important role by ensuring that institutions and programs provide an optimal learning environment for these trainees."
"Dr. Caverzagie's depth of knowledge in medical education will serve our nation well as a member of this board," Gold said. "It's a tremendous responsibility and we are honored to continue being a part of ensuring the excellence of graduate medical education to the more than 11,200 residents across the United States."
Caverzagie has already served in many leadership roles for national and state medical education organizations and is currently a co-chair of the International Conference on Residency Education. In 2019, he was elected to the AMA Council on Medical Education.
Caverzagie, who is UNMC associate dean for educational strategy and vice president for education at Nebraska Medicine, also led the UNMC implementation of the College of Medicine's Training the Physicians of Tomorrow curriculum which launched in August 2017.
Debra Romberger, MD, chair of the UNMC Department of Internal Medicine, said being on the board recognizes Caverzagie's expertise in graduate medical education strategies.
"It is exciting that Dr. Caverzagie has been selected for the ACGME Board of Directors," she said. "It is great to have UNMC represented at this level."
The ACGME is a private, 501©(3), not-for-profit organization that sets standards for U.S. graduate medical education (residency and fellowship) programs and the institutions that sponsor them, and renders accreditation decisions based on compliance with these standards.