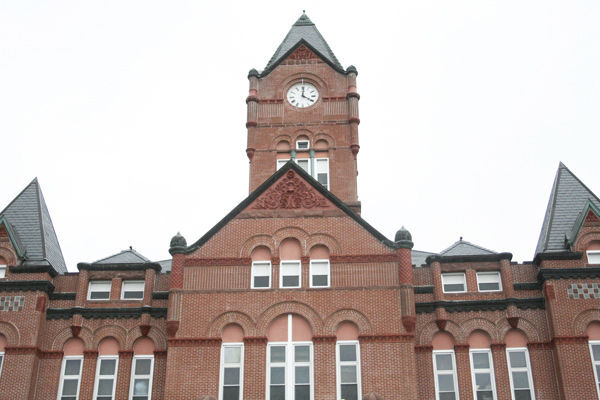 PLATTSMOUTH – A Plattsmouth man who evaded police before being tased in a beanfield will serve time in state prison on three charges.
Jacob H. Mossey, 33, took part in a sentencing hearing in Cass County District Court on Monday morning. Mossey pled no contest in November to Class I misdemeanors of carrying a concealed weapon and obstructing a peace officer. He also pled no contest to a Class IV felony charge of operating a motor vehicle to avoid arrest.
Three people called the Cass County Emergency Dispatch Center on Sept. 23 to report a dangerous driver on U.S. Highway 34. They said the driver had been swerving in and out of both lanes of the highway while heading eastbound. Mossey was the driver of the vehicle when the calls came in shortly after 8 p.m.
A Cass County Sheriff's Office deputy was training a fellow deputy when they received information about Mossey's car. They spotted the vehicle heading northbound on U.S. Highway 75 and attempted to pull it over. The car had its emergency lights blinking and was continuing to serve across both lanes.
Mossey accelerated when the deputies put on the patrol car's siren. The car chase went northbound on Highway 75 until Mossey turned westbound on Waverly Road. His car crashed when it struck a guidewire of a power pole on the south side of the street. He exited the car and began fleeing from the deputies on foot.
Mossey ran through a beanfield before he collided with a barbed-wire fence. He fell backward onto the ground as deputies caught up with him. Deputies used a Taser device to subdue him after he tried to flee again.
Deputies discovered a knife with an eight-inch blade in Mossey's pocket when they arrested him. The knife had a Nazi symbol on it.
Deputy County Attorney Richard Fedde told the court Mossey had a significant criminal history. He was sentenced to prison in Texas for ten years in 2004 for aggravated robbery, and he received a five-year sentence in 2014 for possession of controlled substance and unauthorized use of a transaction device charges.
Fedde asked the court to issue the maximum sentence on all three Cass County charges. He also recommended they run concurrently with one another.
Defense attorney Julie Bear asked the court to issue either a sentence of probation or time served. She said Mossey did not use the knife during the chase and had already spent 110 days in jail.
"His first conviction took place when he was 17 years old," Bear said. "Those Texas sentences, when you reflect on his age and criminal history at the time, are really pretty astonishing. He's never had an opportunity for probation."
Judge Michael Smith felt there were compelling reasons why Mossey could not be placed on probation. He ordered him to serve two years in state prison on the flight to avoid arrest charge and one year on the other two counts. Mossey will serve all three sentences at the same time.