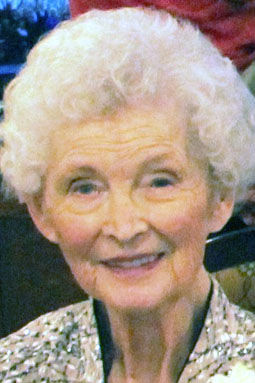 July 23, 1925—December 27, 2019
Marjory Ruth (Horstman) Clements, 94, went home to be with her Lord on Friday, Dec. 27, 2019, in Lincoln, Nebraska, after a brief illness.
She was born July 23, 1925, in Casper, Wyoming, to Alfred and Ruth E. (North) Horstman.
A graduate of Natrona County High School, Casper, Wyoming, she graduated in June 1948 from the University of Nebraska-Lincoln with a master's degree in piano performance.
Marge married Dwight L. Clements on June 8, 1948, in Lincoln, Nebraska, and they resided in Elmwood, Nebraska, until moving to Lincoln in 2013.
Marge was the organist and choir director at St. Paul United Methodist Church, Elmwood, for many years. She taught many piano and organ students for over 40 years. A member of SAI music sorority, Lincoln chapter, American Guild of Organists and American Legion Auxiliary.
You have free articles remaining.
Marge and Dwight enjoyed time with family, traveling, and they spent many winters in Sun City, Arizona. Marge continued to play piano and organ for events and was the pianist for the weekly chapel service at Grand Lodge retirement apartments in Lincoln, Nebraska.
Marge accepted saving faith in Jesus Christ in 1972 and was an avid Bible reader. She was a devoted prayer intercessor, praying for family members and friends daily.
Marjory was preceded in death by her parents; sister, Mary Maxon; and sister-in-law, Betty Clements; and brother-in-law, Gary Clements.
Marge is survived by her husband, Dwight; sons, Greg (Pam) Clements, Robert (Peggy) Clements, Richard (Maechelle) Clements; brother, Robert Horstman, Colorado; sister-in-law, Jane Clements, Minnesota; 11 grandchildren; 24 great-grandchildren; numerous nieces and nephews.
Homegoing service was held Monday, Dec. 30, at St. Paul United Methodist Church, Elmwood. A private family interment was at Elmwood Cemetery before the service.
Memorials in lieu of flowers to People's City Mission, Lincoln, Campus Crusade for Christ (Cru), or Bess Streeter Aldrich Foundation, Elmwood.
Hammons Family Funeral Services of Weeping Water was in trusted with arrangements.
To plant a tree in memory of Marjory Clements as a living tribute, please visit Tribute Store.