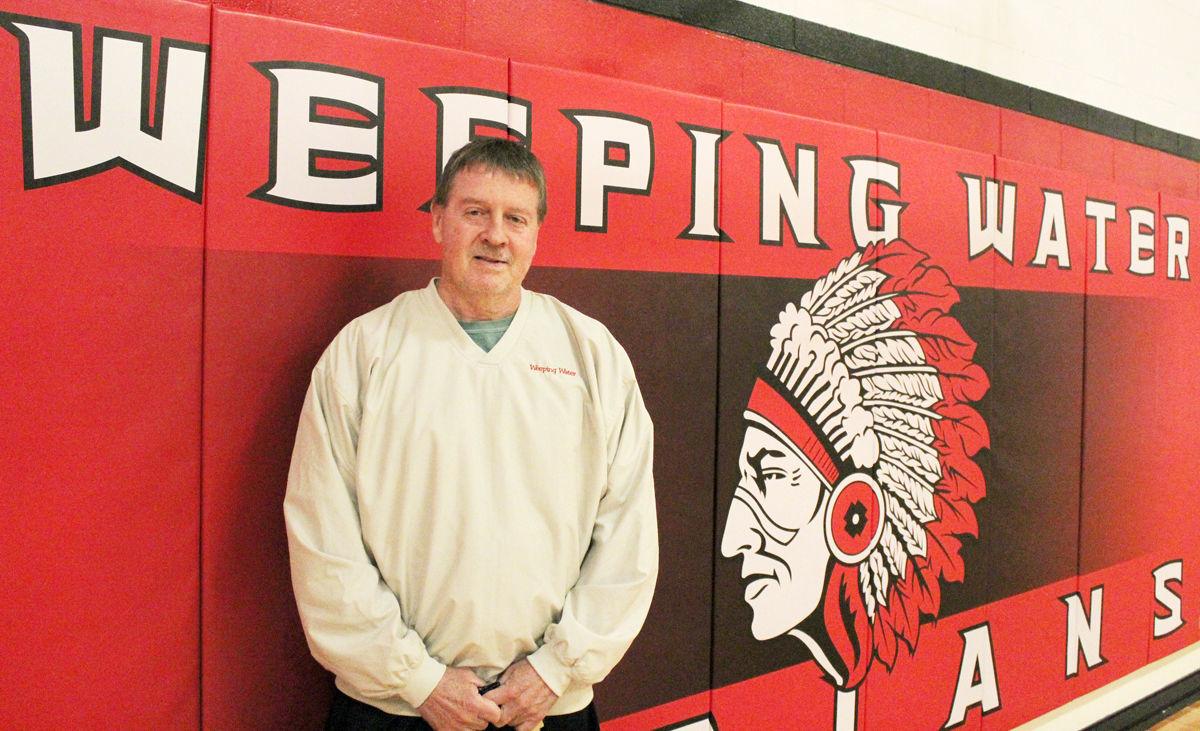 WEEPING WATER – Mike Barrett has spent four decades helping students reach their full potential in both academics and athletics.
The veteran Weeping Water teacher, coach and administrator will take his final steps on that educational journey this spring.
Barrett will retire from Weeping Water Public Schools after 34 years working in the district. He has taught a wide array of social studies classes, coached sports ranging from wrestling to baseball and supervised hundreds of events as the school's athletic director. He said the current stable situation at Weeping Water made it the right time to step aside.
"Our school is in a very good place right now," Barrett said. "We have a great administration, our teachers are fantastic and there's a really positive atmosphere with our students. Everyone is heading in the same direction and it's really exciting to see.
"I knew I was at that point where retirement was a possibility, and when I looked at everything I thought this was a good time to get out. I don't have any worries about what's going to happen after I'm gone. I feel good about being able to pass the baton to the next person, because I know that they're going to be able to keep things moving in that same positive direction."
Barrett grew up in Syracuse and graduated from high school in 1978. He then wrestled at Nebraska Wesleyan University and spent time coaching students at Dawes Junior High in Lincoln. That experience convinced him to explore the possibility of entering the educational field for a career.
"I really enjoyed coaching when I was at college, and at that time, the only way you could continue to coach was to become a teacher, so that's why I got into education," Barrett said. "When I first started out I think I focused more on coaching, but it didn't take too long before I really began to enjoy the teaching part of the job in the classroom.
"It's really rewarding to be able to explain things to students and see them figure it out. It makes you realize that you have a chance to make a positive difference in their lives. I get a lot of satisfaction from that."
Barrett spent two years teaching in York before moving to Weeping Water in 1986. He took over a wrestling program that was struggling with low numbers and soon guided the Indians in a winning direction. Weeping Water secured the district title and had ten state qualifiers in his third year at the helm.
The Indians eventually became one of the top wrestling teams in Nebraska. The school became a fixture at the Class D State Meet and Terry Harms and Trapper Cave claimed state titles in 1995.
The program reached a golden spot in 2000 by winning the Class D team championship. All seven WWHS wrestlers won state matches and Kyle Sorensen, David Holt and Craig Brack earned individual crowns for the Indians that year.
Barrett said he enjoyed coaching wrestling because of the growth he saw from students both on individual and team levels.
"It's a sport that builds a lot of character because you're going into a match one-on-one," Barrett said. "You can't blame anyone else if you don't succeed. If you don't get the results you want, then you have to look in the mirror because it all depends on you and how you perform.
"But having said that, I think we had more of a team-first mentality in wrestling than in any other team sport. Our kids liked being a part of our group because they knew everyone would support each other and give a lot of encouragement. It didn't matter whether you were the best wrestler or the worst wrestler.
"It was important to me to make sure everyone realized that we were going to support each other and be the best teammates that we could be. I think our kids performed better because they knew that they were in a place where they were going to get that support and encouragement."
Barrett spent 18 years as head coach and ended his career with 114 dual victories. The Indians claimed 38 duals in a row at one point and secured many regular-season tournament titles. Barrett earned coaching milestone awards from the Nebraska Coaches Association in 1991, 1996, 2000 and 2004.
He stepped down from his coaching role in 2004 to become Weeping Water's athletic director. The position allowed him to continue teaching while also having some administrative responsibilities. It also ensured he would be able to watch his children in their activities while they were growing up.
"When the chance to become athletic director came up, it wasn't a hard decision at all to leave coaching," Barrett said. "The biggest reason was because I wanted to see my kids. Family is something that always comes first to me, and I did not want to miss seeing my kids playing in their activities."
Barrett has scheduled games and events for freshman, junior varsity and varsity teams for the past 16 years. His duties have also included hiring officials for all activities, making sure there are scoreboard operators and concession stand workers at games and setting up and tearing down equipment. He also speaks with coaches about topics ranging from uniform purchases to student discipline.
Barrett handled those tasks while leading a wide variety of topics in the classroom. He has taught American history, world history, government, introduction to law, psychology, sociology, economics, athletic conditioning, physical education and health at Weeping Water. He has also taken 31 groups of students on annual trips to Washington, D.C., through the Close Up educational program.
Barrett said he has been grateful for the chance to live and work in Cass County. That has helped him enjoy an educational journey that has included many smiles and successful memories.
"Weeping Water means a lot to me," Barrett said. "It's been a huge privilege to be able to be a part of this community. It really is like one big family here. Everyone looks after each other and tries to help each other the best they can. It's been a lot of fun teaching students here."
Be the first to know
Get local news delivered to your inbox!