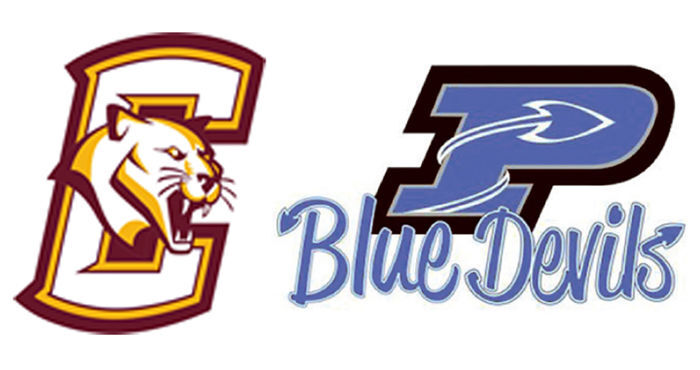 SYRACUSE – Conestoga and Plattsmouth athletes traveled to Otoe County on Friday afternoon for cross country races against multiple schools.
The Cougars and Blue Devils competed in the Rich Ziegler Invite at Syracuse Country Club. Runners from both schools claimed medals at the event.
The Plattsmouth boys highlighted the day with a team championship. The Blue Devils scored 31 points to outpace Lincoln Pius X by ten points. Four PHS runners earned medals and all six athletes finished in the top 28 spots of the 71-person race.
Sam Campin (16:21.71, 3rd) and Kaleb Wooten (16:22.20, 4th) guided the Blue Devils at the meet. Elijah Dix (16:56.09, 10th) and Jacob Zitek (17:03.36, 14th) each captured medals, and Carter Moss (17:09.97, 17th) and Ian Kalagias (17:42.55, 28th) helped the team win the title.
The Conestoga boys placed eighth in the team race with 167 points. Kaden Simmerman, Ethan Williams, Braden Ruffner, Dawson Hardesty, Scott Dufault and Ethan Avidano competed for the Cougars.
Conestoga's Danie Parriott and Plattsmouth's Natalie Briggs captured medals for their schools. Parriott placed sixth in 20:10.82 and Briggs finished 14th in 20:55.26.
The Plattsmouth girls collected seventh place with 108 points. The Conestoga girls had no team score. Jessica Poirier and Stephanie Poirier joined Parriott in the CHS group. Sophia Wehrbein, Ava LaSure, McKenzie Mott, Mikelle Mott and Jolee Wohlers ran alongside Briggs for Plattsmouth at the meet.
Auburn freshman Sydney Binder claimed first place in 19:37.04. She defeated Aurora senior Elena Kuehner by 11 seconds. Wilber-Clatonia senior Tommy Lokken (16:13.74) edged Lincoln Pius X freshman Joe Dustin (16:18.65) for the boys championship.
Lincoln Pius X 27, Aurora 52, Beatrice 53, Ashland-Greenwood 72, Nebraska City 81, Auburn 101, Plattsmouth 108, Syracuse 110, Fairbury 135, Conestoga, Falls City, Thayer Central, Wilber-Clatonia no team scores
1) Sydney Binder (AUB) 19:37.04, 2) Elena Kuehner (AUR) 19:48.55, 3) Jaiden Tweton (AGHS) 19:55.79, 4) Allyson Korus (LPX) 20:07.08, 5) Kat Tvrdy (LPX) 20:08.30, 6) Danie Parriott (CHS) 20:10.82, 7) Ellie Wilkinson (SYR) 20:24.83, 8) Monica Hanus (LPX) 20:40.45, 9) Chloe Schaulis (NCY) 20:40.47, 10) Kaitlyn Oswald (AUR) 20:43.15, 11) Josie Frerichs (BEA) 20:49.78, 12) Maddy Fitzgerald (LPX) 20:48.72, 13) Addison Perrett (BEA) 20:49.78, 14) Natalie Briggs (PLT) 20:55.26, 15) Darby Walsh (AGHS) 20:56.19
Danie Parriott 20:10.82 (6th), Jessica Poirier 25:37.69 (52nd), Stephanie Poirier 28:34.41 (60th)
Natalie Briggs 20:55.26 (14th), Sophia Wehrbein 22:08.02 (29th), Ava LaSure 22:35.91 (34th), McKenzie Mott 24:16.89 (48th), Mikelle Mott 26:12.57 (56th), Jolee Wohlers 26:18.35 (57th)
Plattsmouth 31, Lincoln Pius X 41, Elkhorn Mount Michael 45, Aurora 64, Wilber-Clatonia 68, Nebraska City 101, Fairbury 165, Conestoga 167, Falls City 172, Beatrice 174, Auburn 206, Syracuse 226, Thayer Central no team score
1) Tommy Lokken (WCHS) 16:13.74, 2) Joe Dustin (LPX) 16:18.65, 3) Sam Campin (PLT) 16:21.71, 4) Kaleb Wooten (PLT) 16:22.20, 5) Jack Sorensen (EMM) 16:29.74, 6) Thomas Greisen (LPX) 16:35.61, 7) Dylan Riley (AUR) 16:37.10, 8) Dawson Hoover (WCHS) 16:43.70, 9) Eli Bottom (FCY) 16:54.36, 10) Elijah Dix (PLT) 16:56.09, 11) Cameron Mallisee (EMM) 16:59.66, 12) James Dalton (LPX) 16:59.70, 13) Jude Storch (EMM) 17:00.74, 14) Jacob Zitek (PLT) 17:03.36, 15) Sabir Musa (NCY) 17:04.54
Kaden Simmerman 18:26.25 (36th), Ethan Williams 18:50.83 (41st), Braden Ruffner 18:56.49 (43rd), Dawson Hardesty 19:21.22 (51st), Scott Dufault 20:22.08 (60th), Ethan Avidano 21:07.24 (64th)