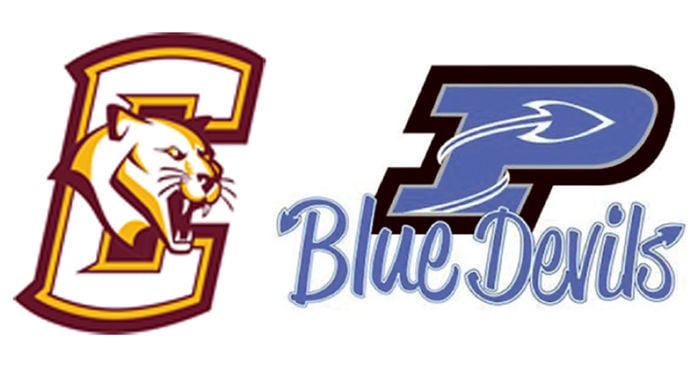 Plattsmouth and Conestoga wrestlers continued their seasons this week with matchups against a pair of eastern Nebraska opponents.
Bellevue East 45, Plattsmouth 33
Plattsmouth traveled to Bellevue East on Tuesday night for a dual with the Chieftains. Bellevue East took advantage of four forfeit victories to finish ahead of the Blue Devils.
Cameron Aughenbaugh, Truett Giles, Cael Nielsen, Bryce Neuin, Hunter Smith and Caleb Laney posted points for Plattsmouth. Aughenbaugh, Nielsen, Smith and Laney all collected pins, Giles registered a major decision and Neuin captured a 5-4 victory.
152 – Dalton Flibotte (BVE) dec. Josh Colgrove (PLT), 7-2
160 – Cameron Aughenbaugh (PLT) pinned James Larson (BVE), 4:36
170 – Truett Giles (PLT) maj. dec. Ashton Evans (BVE), 14-4
182 – Colton Polson (BVE) won by forfeit
195 – Rayden Thompson (BVE) won by forfeit
220 – Dylan Hayes (BVE) won by forfeit
285 – Preston Welch (BVE) pinned Ben Yoder (PLT), 0:09
106 – Cael Nielsen (PLT) pinned Alex Espinoza (BVE), 0:53
113 – Bryce Neuin (PLT) dec. Truman Koehler (BVE), 5-4
120 – Donald Mather (BVE) won by forfeit
126 – Kyrell Jordan (BVE) pinned Dominic Cherek (PLT), 4:53
132 – Daniel DeRosier (BVE) pinned Josh Adkins (PLT), 1:13
138 – Hunter Smith (PLT) pinned Branson Greib (BVE), 1:37
You have free articles remaining.
145 – Caleb Laney (PLT) pinned Jacob Francois (BVE), 5:09
Conestoga 59, West Point-Beemer 18
Conestoga traveled to West Point-Beemer on Thursday night for a dual with the Cadets. Wrestlers squared off in 13 of the 14 weight classes.
Conestoga dominated the dual with a host of convincing victories. Dawson Hardesty, Braden Ruffner, Keaghon Chini, Cameron Williams, Justin Pick, Isaiah Parsons, Owen Snipes and Hunter Thonen pinned their opponents, and Ethan Williams and Jacob Dragon both scored major decisions. Jaemes Plowman registered a 9-6 victory in his matchup.
106 – Dawson Hardesty (CHS) pinned Edward Pena (WPB), 3:46
113 – Ethan Williams (CHS) maj. dec. Jamison Evert (WPB), 11-0
120 – Braden Ruffner (CHS) pinned Ryan Woitaszewski (WPB), 3:19
126 – Keaghon Chini (CHS) pinned Kailey Pena (WPB), 0:56
132 – Cameron Williams (CHS) pinned Dominic Spies (WPB), 1:13
138 – Jaemes Plowman (CHS) dec. Garret Kaup (WPB), 9-6
145 – Jacob Dragon (CHS) maj. dec. Ty Kaup (WPB), 11-1
152 – Justin Pick (CHS) pinned Nathen Kaup (WPB), 0:55
160 – Isaiah Parsons (CHS) pinned Zachary Paasch (WPB), 5:13
170 – Fredrik Spalder (WPB) pinned Dillon Leffler (CHS), 5:21
182 – Owen Snipes (CHS) pinned Nolan James (WPB), 0:46
195 – Hunter Thonen (CHS) pinned Cooper Colson (WPB), 1:36
220 – Joe Rodriguez (WPB) pinned Gage Totilas (CHS), 0:26
285 – David Garcia (WPB) won by forfeit