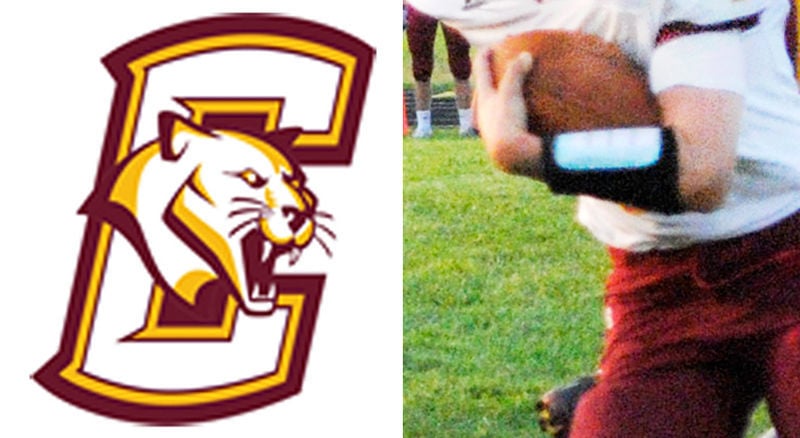 SYRACUSE – Conestoga athletes turned their belief in one another into a big achievement on the football field Friday night.
The Cougars used a patient offense and opportunistic defense to defeat Syracuse 27-8. Conestoga churned out 213 yards against the Rockets and went 5-of-11 on third-down chances. The team short-circuited four Syracuse drives with turnovers and committed just five penalties during the night.
CHS head coach Trenton Clausen said he was proud of the way the Cougars overcame several obstacles before and during the game. The team had forfeited the previous week's contest against Johnson County Central because of injuries and illness. Conestoga was outnumbered against Syracuse but banded together to keep the Rockets from collecting a home victory.
"After sitting out last week due to a limited roster our boys did a great job of controlling what we can control: getting healthy, improving each day and preparing for our next opponent," Clausen said. "They earned the win tonight as a team.
"We took the field with 20 healthy bodies with two boys recovering at home. Our boys were committed to battle all four quarters no matter our roster. Each of them did their part to bring the win back to Conestoga tonight."
Clausen said Conestoga's offensive line and running backs played a key role in the outcome. The Cougars (1-5) wore down Syracuse (0-6) as the game progressed. Jacob Dragon finished with 134 yards and one touchdown on 20 carries, and Tobias Nolting scored twice and gained 33 yards on 13 carries. Keaghon Chini chipped in 51 yards on 11 attempts for the team.
"Our offensive line adjusted to a unique defensive front we saw tonight and allowed our offensive backs some open space to run," Clausen said. "Jacob Dragon came through big for us tonight offensively carrying the ball. The kid puts in great effort in the weight room and it's showing."
Dragon gave Conestoga an early lead with a 33-yard run in the opening quarter. Syracuse struck back with a short touchdown run and two-point conversion, but the Cougars prevented SHS from finding the end zone again.
Conestoga went into halftime up 14-8 after Justin Pick scooped up a fumble and returned it 29 yards for a touchdown. CHS remained ahead in the final two quarters. Nolting capped a third-period drive with a ten-yard touchdown run, and he ended a fourth-quarter series with an 11-yard scamper.
Owen Snipes guided Conestoga's defense with seven solo and seven assisted tackles. Jaemes Plowman made two interceptions and posted three solo and six assisted tackles, and Hunter Thonen generated six solo and two assisted stops. Dillon Leffler made five solo and seven assisted tackles and Pick recovered a pair of fumbles.
Clausen said the game provided life lessons to the team about perseverance and dedication. He said athletes made those traits pay off during all four quarters.
"Our team has the belief that we can compete with any team and it showed tonight," Clausen said. "We knew before the season started that each of our team members' attitudes, actions and words would have to match our belief each and every day, and that's what you saw come to life tonight."
Conestoga     7 7 7 6 – 27
Syracuse       8 0 0 0 – 8
CHS – Dragon 33 run (Thonen kick)
SYR – Syracuse 2 run (run good)
CHS – Pick 29 fumble recovery (Thonen kick)
CHS – Nolting 10 run (Thonen kick)
CHS – Nolting 11 run (kick no good)
Be the first to know
Get local news delivered to your inbox!