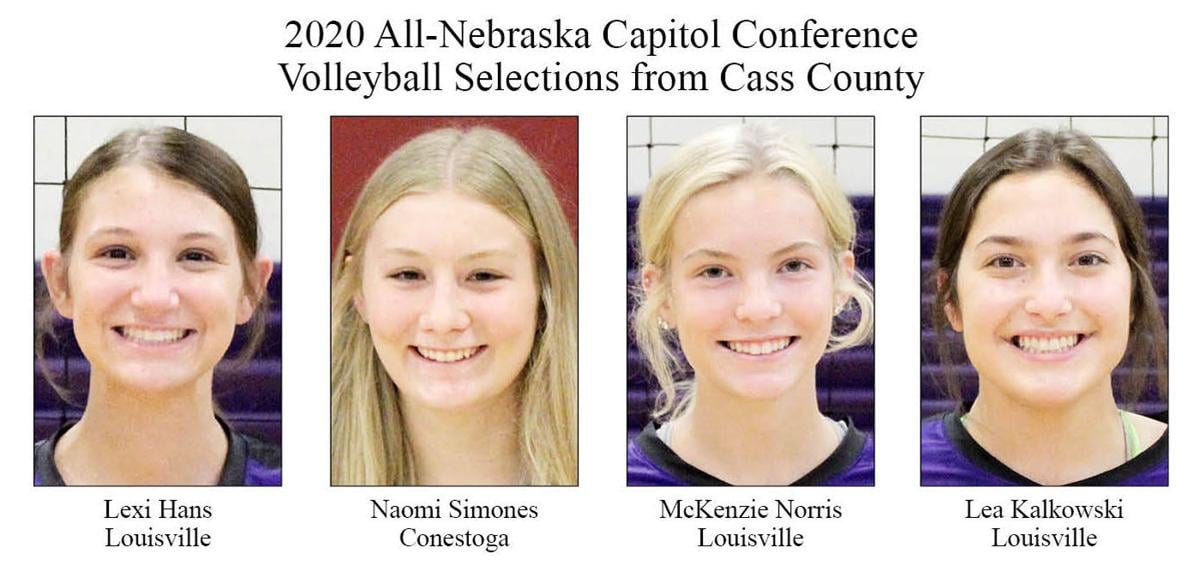 Four Cass County students earned postseason honors this past week for their work in Conestoga and Louisville volleyball jerseys.
Naomi Simones, Lexi Hans, McKenzie Norris and Lea Kalkowski captured Nebraska Capitol Conference volleyball awards. NCC volleyball coaches selected players for first, second and honorable mention teams at their annual meeting.
Hans was named to the league's second team. The LHS freshman ended her successful rookie campaign with team-best totals in kills (273) and digs (243). She chipped in 38 aces, one solo block, 13 assisted blocks and nine assists for the Lions.
Simones, Norris and Kalkowski earned honorable mention accolades. Simones is a senior at Conestoga, Norris is a senior at Louisville and Kalkowski is a junior at Louisville.
Simones led the Cougars with 344 digs and 457 serve receptions. She finished her four-year Conestoga career with 1,430 digs and 1,183 serve receptions. She also collected nine kills, 23 assists and 25 aces for the team this season.
Norris helped Louisville in multiple categories on the court. She produced 186 kills, 226 digs, one solo block, seven assisted blocks and 11 assists. She went 304-of-319 at the service line with 38 aces and a .953 serving percentage.
Kalkowski gave the Lions a boost with her work on the court. She produced 634 assists, 25 kills, 233 digs and seven assisted blocks. She finished 346-of-361 at the service line with 35 aces and a .958 serving percentage.
Volleyball players from all ten NCC schools received votes for postseason honors. Ashland-Greenwood senior Saige Craven and Raymond Central senior Grace Mueller were co-captains of the 2020 teams.
All-NCC Volleyball First Team Selections
Saige Craven – Ashland-Greenwood – Senior
Grace Mueller – Raymond Central – Senior
Jessie Moss – Syracuse – Senior
Nora Wurtz – DC West – Freshman
McKenna Greenwell – Fort Calhoun – Senior
Jess Stander – Ashland-Greenwood – Senior
Carly vonRentzell – Ashland-Greenwood – Senior
All-NCC Volleyball Second Team Selections
Haley Bedlan – Yutan – Junior
Ellie Lienemann – Fort Calhoun – Senior
Chase Andersen – Arlington – Junior
Lexi Hans – Louisville – Freshman
Halle Heiss – Raymond Central – Senior
Lindsey Moss – Syracuse – Junior
Halle Wilhelm – Syracuse – Senior
All-NCC Volleyball Honorable Mention Selections
Kailynn Gubbels – Arlington – Junior
Alexa Edmisten – Ashland-Greenwood – Senior
Brynn Glock – Ashland-Greenwood – Junior
Naomi Simones – Conestoga – Senior
Katie Nelson – DC West – Senior
Ella Hopkins – DC West – Senior
Keira Murdock – DC West – Sophomore
Anna Borner – DC West – Freshman
Kristal Svehla – Logan View/Scribner-Snyder – Senior
Dream Daugherty – Logan View/Scribner-Snyder – Junior
McKenzie Norris – Louisville – Senior
Lea Kalkowski – Louisville – Junior
Shayla Thompson – Syracuse – Junior
Lily Vollertsen – Syracuse – Junior
Autumn Haislet – Raymond Central – Junior
Emaree Harris – Raymond Central – Junior