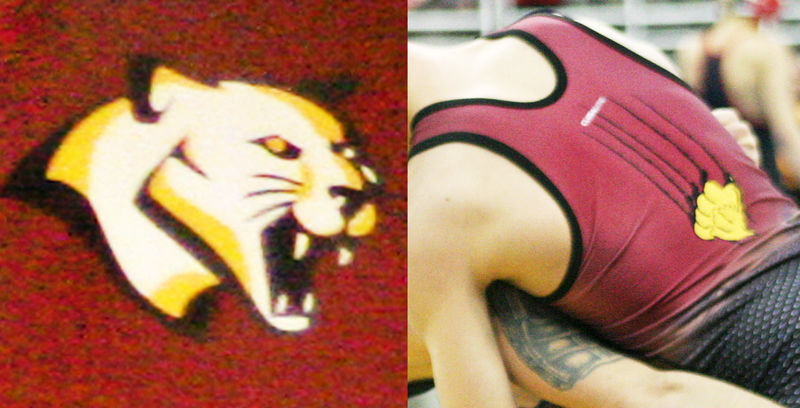 DAVID CITY – Conestoga wrestlers continued their winter schedule Saturday with four duals against stout opponents.
The Cougars traveled to David City for the Monarch-Scout Duals Tournament. Organizers divided schools into a pair of four-team brackets for the initial three rounds of the event. Teams then capped the day with placement duals.
Conestoga finished fourth in its bracket and seventh overall. The Cougars fell to Blair, Milford and David City Aquinas before stopping North Bend Central in the seventh-place dual.
285 – Lance Hume (BLA) pinned Dallas Katzenstein (CHS), 1:47
106 – Jesse Loges (BLA) pinned Asher Koehnen (CHS), 0:32
113 – Luke Frost (BLA) pinned Ethan Gloe (CHS), 3:29
120 – Brink Stawniak (CHS) dec. Karter Scott (BLA), 6-5
126 – Keaghon Chini (CHS) pinned Atticus Dick (BLA), 5:19
132 – Cameron Williams (CHS) pinned Shay Bailey (BLA), 1:46
138 – Carter Plowman (CHS) pinned Josh Rogge (BLA), 3:20
145 – Charlie Powers (BLA) pinned Scott Dufault (CHS), 0:39
152 – Yoan Camejo (BLA) pinned Joe Pape (CHS), 0:19
160 – Dylan Berg (BLA) pinned Jabari Parsons (CHS), 0:52
170 – Dane Larsen (BLA) won by forfeit
182 – Braden Hanson (BLA) won by forfeit
195 – Dexter Larsen (BLA) won by forfeit
220 – Gabe Gaskill (BLA) maj. dec. Gage Totilas (CHS), 9-0
106 – Conner Kohout (MIL) pinned Asher Koehnen (CHS), 0:22
113 – Ethan Gloe (CHS) won by forfeit
120 – Joey Kenning (MIL) pinned Brink Stawniak (CHS), 1:02
126 – Konner Schluckebier (MIL) maj. dec. Keaghon Chini (CHS), 12-1
132 – Eli Vondra (MIL) dec. Cameron Williams (CHS), 7-3
138 – Jack Chapman (MIL) pinned Carter Plowman (CHS), 5:13
145 – Trent Stauffer (MIL) pinned Scott Dufault (CHS), 1:30
160 – Carter Springer (MIL) pinned Jabari Parsons (CHS), 0:32
170 – Christopher Scdoris (MIL) won by forfeit
182 – Thomas Vance (MIL) won by forfeit
195 – Hunter Oborny (MIL) pinned Gage Totilas (CHS), 1:34
220 – Lorenzo Temple (MIL) won by forfeit
285 – Trey Lyon (MIL) pinned Dallas Katzenstein (CHS), 0:54
David City Aquinas 64, Conestoga 9
113 – Jakob Kavan (DCA) pinned Ethan Gloe (CHS), 0:33
120 – Zander Kavan (DCA) dec. Brink Stawniak (CHS), 7-0
126 – Keaghon Chini (CHS) won by forfeit
132 – Cameron Williams (CHS) dec. Noah Scott (DCA), 5-2
138 – Hunter Vandenberg (DCA) tech fall Carter Plowman (CHS), 19-4
145 – Christopher Nickolite (DCA) tech fall Scott Dufault (CHS), 15-0
152 – Jacob Moravec (DCA) won by forfeit
160 – Nolan Eller (DCA) pinned Jabari Parsons (CHS), 0:28
170 – Marcus Eickmeier (DCA) won by forfeit
182 – Michael Andel (DCA) won by forfeit
195 – Paul Buresh (DCA) dec. Gage Totilas (CHS), 6-0
220 – Reilly Miller (DCA) won by forfeit
285 – Coy Meysenburg (DCA) pinned Dallas Katzenstein (CHS), 1:04
106 – Grady Romshek (DCA) pinned Asher Koehnen (CHS), 0:54
Conestoga 42, North Bend Central 39
120 – Ethan Norton (NBC) dec. Brink Stawniak (CHS), 6-0
126 – Ethan Avidano (CHS) won by forfeit
132 – Keaghon Chini (CHS) pinned Zachary Mullally (NBC), 2:57
138 – Cameron Williams (CHS) pinned Jaden Smith (NBC), 1:21
145 – Carter Plowman (CHS) pinned Colin Rhynalds (NBC), 1:49
152 – James Kirschenmann (NBC) pinned Joe Pape (CHS), 0:26
160 – Jake Hunke (NBC) pinned Jabari Parsons (CHS), 0:31
170 – Wyatt Rangeloff (NBC) won by forfeit
182 – Ian Virka (NBC) won by forfeit
195 – Gage Totilas (CHS) won by forfeit
220 – Demarius Bosveld (NBC) won by forfeit
285 – Dallas Katzenstein (CHS) won by forfeit