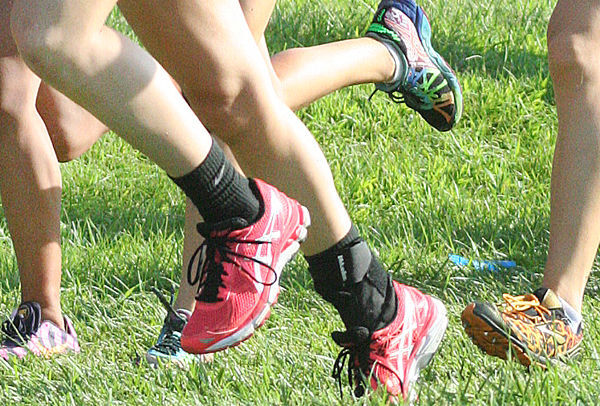 TECUMSEH – Cass County athletes journeyed to Tecumseh Country Club on Friday morning for the Johnson County Central Invite.
Students from Conestoga, Elmwood-Murdock/Weeping Water and Louisville squared off with opponents from Nebraska and Missouri at the cross country meet. Thirteen programs took part in five-kilometer races.
All three Louisville girls who competed during the morning finished in the top 16 spots. Sophie Korytowski (5th, 22:25.30) and Charlee Peacock (8th, 23:24.00) each won medals and Hailey Teller (16th, 24:53.60) placed in the top 20.
Conestoga's Danie Parriott claimed a medal with her performance. She finished sixth in 22:42.10. Elmwood-Murdock/Weeping Water was fifth in team standings with 77 points and Conestoga was seventh with 83 points.
The Louisville boys captured second place in team standings with 41 points. Jaxson Barnes (3rd, 18:46.60), Talon Ball (5th, 18:50.30) and Eric Heard (14th, 19:57.00) led the Lions with medal-winning times. Ty Euans, Scott Blumer and Chase Savage helped Louisville claim the runner-up trophy.
The Conestoga boys finished fifth in team standings with 109 points. Elmwood-Murdock/Weeping Water captured ninth place with 145 points.
Platteview 22, Palmyra 35, Malcolm 59, Bishop Neumann 61, Elmwood-Murdock/Weeping Water 77, Freeman 79, Conestoga 83, College View Academy, East Atchison, Johnson County Central, Louisville, Pawnee City, Yutan no team scores
1) Emily Frey (PLY) 21:02.30, 2) Ashlei McDonald (JCC) 21:40.90, 3) Izzie Clarke (PLV) 22:02.00, 4) Olivia Lawrence (PLV) 22:10.00, 5) Sophie Korytowski (LOU) 22:25.30, 6) Danie Parriott (CHS) 22:42.10, 7) Ava Palm (PLY) 22:53.60, 8) Charlee Peacock (LOU) 23:24.00, 9) Emily Lytle (PWC) 23:36.00, 10) Natalie Darrough (CVA) 23:45.00, 11) Alaina Furasek (NEU) 23:54.20, 13) Grace Schleining (MLC) 24:07.20, 14) Katie Carlson (CVA) 24:12.20, 15) Talisa Buhr (FRE) 24:23.00
Danie Parriott 22:42.10 (6th), Dani Ahrens 26:10.80 (21st), Jessica Poirier 31:20.50 (44th), Shelby Curlo 34:43.70 (48th)
Elmwood-Murdock/Weeping Water Results
Elizabeth Harder 26:27.50 (22nd), Treva Wright 26:56.50 (25th), Sara Kicak 27:04.20 (27th), Bri Ross 28:13.00 (33rd), Ciera Dieter 29:59.10 (39th)
Sophie Korytowski 22:25.30 (5th), Charlee Peacock 23:24.00 (8th), Hailey Teller 24:53.60 (16th)
Malcolm 21, Louisville 41, Platteview 49, Palmyra 64, Conestoga 109, Freeman 115, Bishop Neumann 130, Yutan 132, Elmwood-Murdock/Weeping Water 145, Johnson County Central 166, East Atchison 184, College View Academy, Pawnee City no team scores
1) A.J. Raszler (PLV) 18:03.00, 2) Ty Brockhaus (MLC) 18:13.70, 3) Jaxson Barnes (LOU) 18:46.60, 4) Johnny Boesen (MLC) 18:49.00, 5) Talon Ball (LOU) 18:50.30, 6) Drew Moyer (PLY) 18:50.90, 7) Jacob Schweitzer (MLC) 18:58.20, 8) Joe Brockhaus (MLC) 19:13.20, 9) Ryan Tolliver (PLV) 19:13.60, 10) Chandler Barry (PLY) 19:19.50, 11) Matthew Burbach (MLC) 19:37.20, 12) Karter Nider (PLY) 19:46.60, 13) Tate Ele (MLC) 19:47.70, 14) Eric Heard (LOU) 19:57.00, 15) Wes Havelka (FRE) 19:59.40
Dawson Hardesty 20:29.80 (24th), Braden Ruffner 20:36.20 (25th), Kaden Simmerman 20:52.20 (27th), Ethan Williams 21:21.50 (34th), Trace Widler 22:44.90 (49th), Scott Dufault 23:42.20 (57th)
Elmwood-Murdock/Weeping Water Results
Jackson Flanagan 20:26.80 (23rd), Matthew Cover 20:42.40 (26th), Jaden Tuttle 22:28.50 (47th), Tucker Oehlerking 22:53.90 (51st), Rylan Packett 23:22.30 (56th)
Jaxson Barnes 18:46.60 (3rd), Talon Ball 18:50.30 (5th), Eric Heard 19:57.00 (14th), Ty Euans 20:15.40 (19th), Scott Blumer 20:53.70 (28th), Chase Savage 21:40.00 (38th)