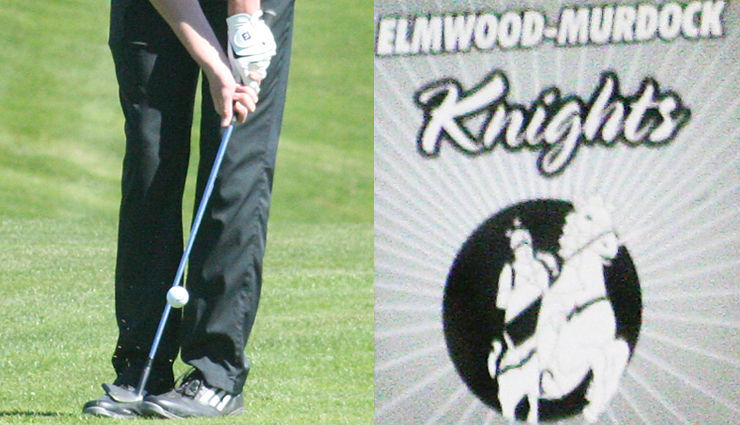 EAGLE – Elmwood-Murdock golfers enjoyed a successful trip to the Palmyra Invite on Wednesday with season-best scores on the links.
The Knights traveled to Woodland Hills Golf Course for a tournament that featured a unique setup. Organizers placed three golfers from each school into gold and silver divisions. Players competed in each division for team and individual awards.
E-M head coach Curt Backemeyer said he was happy with the way the Knights approached the tournament. Nate Lockman, Gus Pope, Jeston Junker and Sam Clements all posted the top rounds of their careers, and Devin Mather and Easton Miller both finished in the top 30 spots in their respective divisions.
"Our first good weather day for an invitational," Backemeyer said. "Nice progress as Nate, Gus, Jeston and Sam all had personal bests."
Lockman (89, 16th), Pope (99, 24th) and Mather (105, 30th) competed in the Gold Division for the Knights. Junker (105, 22nd), Miller (109, 28th) and Clements (111, 31st) represented the school in the Silver Division.
Yutan took home the team championship in the Gold Division and Lincoln Christian won the team title in the Silver Division. Golfers from 15 schools took part in the tournament.
The Knights will play on three straight days this week. The team will travel to Ashland Country Club on Monday for a 4 p.m. dual with Ashland-Greenwood, and athletes will host the Elmwood-Murdock Invite at Grandpa's Woods at 10 a.m. Tuesday. E-M will then compete in the rescheduled ECNC Invite at 9 a.m. Wednesday at Crooked Creek Golf Course in Lincoln.
Gold Division Team Results
Yutan 241, David City 244, Milford 245, Lincoln Lutheran 254, Norris JV 260, Lincoln Christian 276, Elmwood-Murdock 293, Auburn 295, Falls City 297, Southern/Diller-Odell 301, Syracuse 318, Palmyra 340, Friend, Humboldt-Table Rock-Steinauer/Pawnee City, Johnson County Central no team scores
1) Jordan Kracl (DVC) 37-40 77, Isaac Yeackley (MIL) 36-41 77, 3) Zach Ringler (LLHS) 37-41 78, 4) Ethan Zegers (DVC) 37-41 78, 5) Jake Richmond (YUT) 41-38 79, 6) Will Elgert (YUT) 43-38 81, 7) Brady Timm (YUT) 38-43 81, 8) Nate Gabel (NOR) 39-42 81, 9) Cameron Binder (AUB) 40-42 82, 10) Cole Toovey (MIL) 39-44 83
Nate Lockman 46-43 89 (16th), Gus Pope 53-46 99 (24th), Devin Mather 54-51 105 (30th)
Silver Division Team Results
Lincoln Christian 272, Lincoln Lutheran 275, Norris JV 291, Yutan 295, Humboldt-Table Rock Steinauer/Pawnee City 298, Southern/Diller-Odell 306, Falls City 319, Auburn 322, Elmwood-Murdock 325, Milford 328, Friend 329, David City 335, Syracuse 362, Palmyra 378, Johnson County Central no team score
1) Dylan Steider (LLHS) 46-41 87, 2) Daniel Bernhardson (LCHS) 45-42 87, 3) Jude Elgert (YUT) 41-47 88, 4) Alex Beeman (LCHS) 43-47 90, 5) Sam Petersen (YUT) 42-49 91, 6) Ethan Ringler (LLHS) 47-46 93, 7) Nic Knudson (HTRS) 48-45 93, 8) Noah Lundak (NOR) 49-45 94, 9) Tanner Yorges (NOR) 47-48 95, 10) Andy Stalder (HTRS) 48-47 95
Jeston Junker 52-53 105 (22nd), Easton Miller 55-54 109 (28th), Sam Clements 52-59 111 (31st)