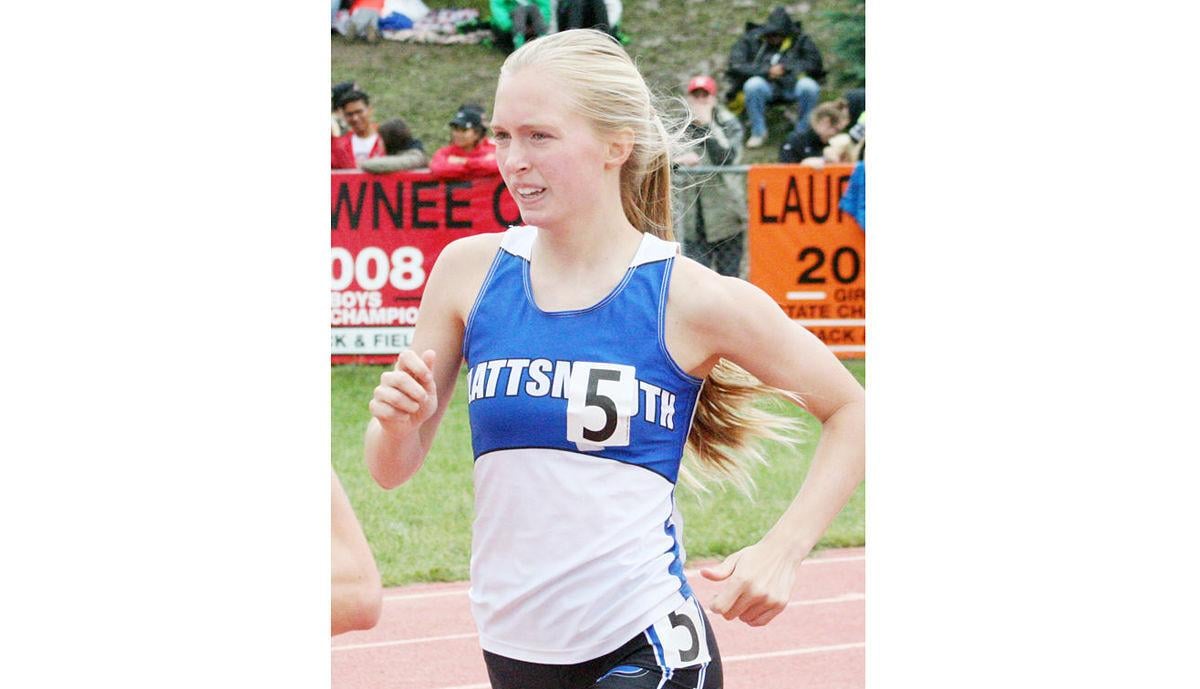 PLATTSMOUTH – Autumn Graham painted many winning scenes for Plattsmouth during her high school days with her work ethic and running talents.
She will look to create the same type of masterpieces as a University of Nebraska-Kearney athlete over the next four years.
Graham announced this week that she would join the UNK cross country and track and field programs. She was the Plattsmouth Female Athlete of the Year in 2016-17 before serving with the U.S. Air Force National Guard for several years. She said she was excited about returning to her running roots with the Lopers.
"I decided to continue my running career at UNK because this past winter I hit a bit of a rough patch in life, and something that has brought me joy since I was a little girl is running," Graham said. "Not knowing how much I could have improved in college has bothered me ever since I graduated high school, so I called coach (Brady) Bonsall to ask if he would let me walk on to the team, and he was very supportive of the idea.
"UNK was my top pick for the schools where I wanted to run at when I was a senior, but the timing hadn't worked out with some of my military duties. Both of my parents and my sister competed for the Lopers in cross country and track, so to be part of the same program is pretty special to me."
UNK head coach Brady Bonsall said he was excited about having Graham in Kearney. The veteran leader of the UNK cross country and track and field programs was familiar with her fast times and overall background.
Bonsall recruited Graham during her senior year and knew her family well. Older sister April Graham ran for the Lopers from 2016-20 and gave the team a spark in several events.
"When Autumn contacted me about joining us this fall, I was very open to the idea," Bonsall said. "She made it clear that she simply wanted an opportunity to contribute, and my gut feeling was that it was worth a shot."
Bonsall felt Graham would help the team in multiple ways. She graduated from basic military training at Joint Base San Antonio-Lackland in December 2017, and she earned distinction as an honor graduate during her time in Texas.
Graham used her intelligence and work ethic with the military for the next several years. She served in Iraq and handled many duties at home bases in Nebraska after that. Bonsall said those leadership skills would make a positive difference for the Lopers.
"That was something I considered a plus," Bonsall said. "It will be an interesting transition for her. She will be a freshman in terms of her understanding our program, Division II and the MIAA, but she also has a life experience that nobody else on our team has. For her to want to take on this challenge at this point tells me that her maturity will be an asset to us."
Graham said her experiences would help her approach running at UNK from a different perspective. Instead of arriving in Kearney straight from high school, she will have a chance to share many life lessons with her new teammates.
"Going through basic training at 18 and then a six-month deployment to the Middle East at 19 helped instill a new level of mental toughness in me that I didn't have before," Graham said. "There aren't a whole lot of things that scare me anymore. The thing that probably scares me the most is that thought of settling in life and not reaching my full potential.
"On my deployment I was exposed to a lot of things that made me realize how truly lucky I am to have all of the opportunities that I do. When I run now, I see it more as a privilege rather than in high school when sometimes I would view it as a chore."
Graham will bring a decorated resume with her to campus this fall. PHS coaches honored her with the 2016-17 Plattsmouth Female Athlete of the Year Award. She helped the Blue Devils achieve successful results in her cross country, basketball and track and field seasons.
Graham was a four-time state cross country qualifier and earned a 12th-place medal as a junior and a 14th-place award as a senior. She broke the 21:30 mark in all four of her state contests, and she posted times of 20:24.10 and 20:17.80 in her final two state races. She helped Plattsmouth win four consecutive district team championships.
Graham led the basketball team as a senior in points (346), rebounds (118), assists (75) and steals (67) before beginning a star-studded track season. She won four medals at the Eastern Midlands Conference Meet and qualified for four events in the Class B State Meet.
Graham earned a second-place state medal in the 3,200-meter relay, a third-place award in the 1,600 meters and a seventh-place medal in the 800 meters. She became the fastest runner in Plattsmouth history in the 1,600 with a time of 5:15.510. She also helped the 3,200 relay team run the fastest time in school history (9:33.278).
Graham earned the Plattsmouth 12-Letter Award at the end of her senior year. She lettered in three sports all four years of high school. She also earned the Nebraska School Activities Association Academic All-State Award multiple times for her work in the classroom.
Graham will major in accounting at UNK. She said she was looking forward to being able to paint positive outcomes during her time in Kearney.
"I am really looking forward to the excitement of competing again!" Graham said. "Even more so now that the odds are kind of stacked against me after not racing for four years. I thrive off of a good challenge, and I plan on doing everything it takes to beat the odds.
"I'm excited to have some very talented teammates to train and race with, and I'm hoping that I will be able to contribute to the team's success."