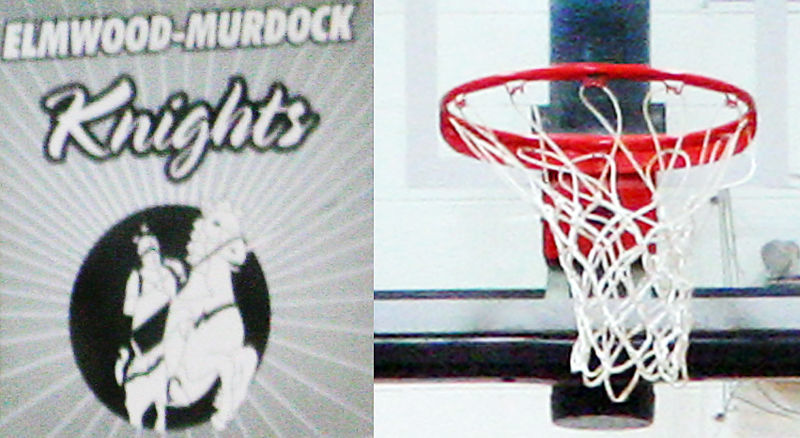 LINCOLN – Elmwood-Murdock athletes smiled with league tournament medals Saturday afternoon after shutting down Yutan's offense on the court.
The E-M girls earned third place in the East Central Nebraska Conference Tournament with a 39-30 victory. The Knights (11-9) limited the Chieftains (13-7) to one of their lowest point totals of the season. Yutan had scored 50 or more points in six previous games.
Fourth-seeded Elmwood-Murdock seized control of the contest in the first half. The Knights raced out to a 12-3 lead and upped the halftime gap to 26-9. Jayden Halferty, Brenna Schmidt and Sydney Anderson helped the team's offense during the first 16 minutes.
Second-seeded Yutan tried to rally in the second half at Southeast Community College-Lincoln. The Chieftains limited Elmwood-Murdock to 13 points after the break but were unable to make up the entire deficit.
Elmwood-Murdock dominated the glass against Yutan during the game. The Knights outrebounded Yutan 28-13 and grabbed 22 defensive rebounds. E-M scored 16 points in the paint and played disciplined defense. The team committed just eight fouls and limited the Chieftains to six free-throw chances.
Halferty helped the Knights with 13 points, four rebounds, two assists and one steal. Schmidt collected 12 points, five rebounds and two assists, and Anderson contributed seven points, two rebounds, three steals and two pass deflections.
Lexi Bacon generated four points, eight rebounds, two assists and one steal for Elmwood-Murdock. Bailey Frahm produced three rebounds, one assist, one steal and one pass deflection, and Paetyn Florell tallied three points, two rebounds and one assist. Katelyn Vogler provided defensive minutes for the squad.
You have free articles remaining.
The Knights evened their season series with Yutan. The Chieftains had defeated E-M 35-21 in the first game of the year in early December.
Elmwood-Murdock will play several times this week. The team will travel to Johnson County Central on Tuesday and Mead on Thursday for 6 p.m. games. E-M will host Conestoga at 3 p.m. Saturday for a makeup game.
Elmwood-Murdock    12 14  5   8 – 39
Yutan                          3   6 10 11 – 30
Anderson 2-5 3-6 7, Bacon 1-1 1-3 4, Florell 1-1 1-2 3, Halferty 4-8 2-2 13, Schmidt 5-8 2-2 12, Vogler 0-1 0-1 0, Frahm 0-2 0-0 0. Totals 13-26 9-16 39.
Davis 4-10 1-2 10, Kerkman 0-0 1-2 1, Josoff 1-6 0-0 3, Lloyd 3-10 0-0 8, Vandenack 2-10 2-2 8, Krajicek 0-2 0-0 0. Totals 10-38 4-6 30.