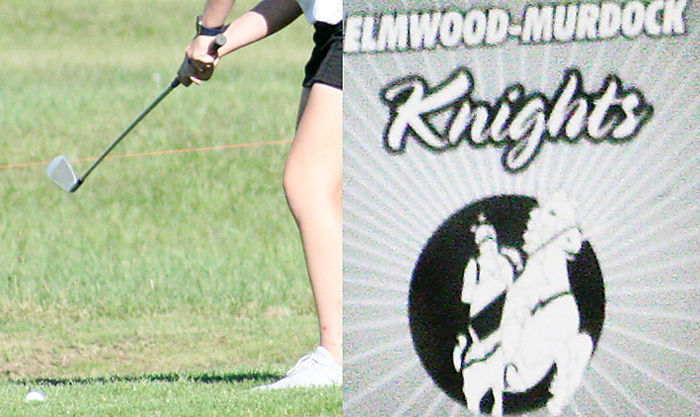 LINCOLN – Rylee Hogue and Elly West capped the regular-season portion of their golfing calendar Thursday with appearances at the Lincoln Christian Invite.
The Elmwood-Murdock athletes traveled to Hidden Valley Golf Club in Lincoln for the tournament. Hogue fired the best round of her career and West played the Hidden Valley layout for the first time.
E-M head coach Curt Backemeyer said he was pleased with both Knights. Hogue secured scores of 47 and 57 to create her total of 104. West collected a score of 163 during her day.
"Rylee had a career-best 104 today and missed a medal by one stroke," Backemeyer said. "It was helpful to compete on this Hidden Valley course as we'll see it again for the district meet on Tuesday."
Hogue showcased significant improvement from her previous round at Hidden Valley in last year's district meet. She cut her score by 28 strokes from that event. She had set her previous career-best mark of 108 at the Syracuse Invite earlier this fall.
Lincoln Lutheran edged Lincoln Christian 400-406 in a close team race. Lincoln Christian's Taylor Van Ostrand ran away from the field with a winning score of 80. Syracuse's Shaylee Staack earned a silver medal with a 94.
Hogue and West will travel to Hidden Valley on Tuesday for the District C-1 Meet. The Knights will compete with Auburn, Exeter-Milligan, Fairbury, Heartland, Humboldt-Table Rock-Steinauer, Johnson County Central, Lincoln Christian, Lincoln Lutheran, Palmyra, Shelby-Rising City, Syracuse and Tri County at the tournament.
Lincoln Lutheran 400, Lincoln Christian 406, Syracuse 422, Lincoln Christian JV 486, Auburn 519, Elmwood-Murdock, Fairbury, Humboldt-Table Rock-Steinauer, Johnson County Central, Omaha Brownell-Talbot no team scores
1) Taylor Van Ostrand (LCHS) 41-39 80, 2) Shaylee Staack (SYR) 49-45 94, T3) Kacy Jones (AUB) 47-48 95, T3) Grace Fahleson (LLHS) 53-42 95, 5) Rachael Volin (LLHS) 47-50 97, T6) Natalie Barrett (LLHS) 50-48 98, T6) Janna DeHaan (LCHS) 51-47 98, 8) Grayson Shirey (OBT) 50-49 99, 9) Emalie Wightman (OBT) 47-54 101, T10) Emaan Khan (OBT) 49-54 103, T10) Katie Frey (HTRS) 49-54 103
Rylee Hogue 47-57 104 (12th), Elly West 81-82 163 (33rd)
Be the first to know
Get local news delivered to your inbox!