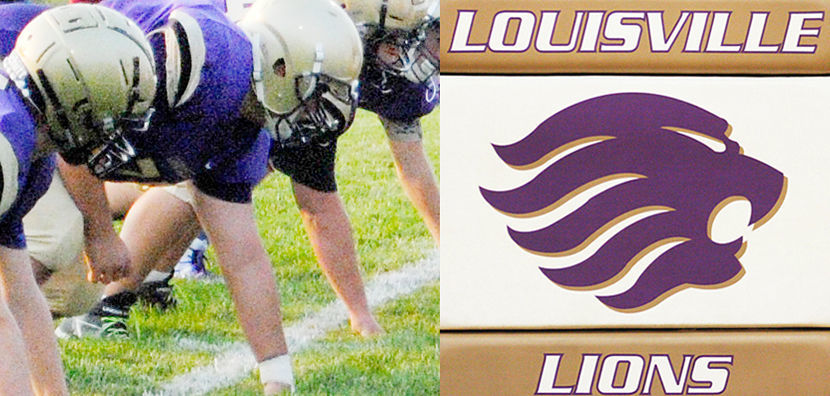 OAKLAND – Louisville faced one of the top teams in Class C-2 on Friday night during a trip to Oakland-Craig.
The Knights remained undefeated with a 54-0 triumph. Oakland-Craig (6-0) showcased a powerful and balanced offense against the Lions (1-5). OCHS collected 228 rushing and 224 passing yards in the game and picked up 22 first downs. Oakland-Craig ran 60 plays from scrimmage during the evening.
The Knights had produced similar results against their other five opponents this season. The team began the year with a 28-0 victory over Crofton and then dominated Hartington Cedar Catholic, Ponca, Syracuse and Tekamah-Herman. Scores of those games were 50-13, 71-20, 60-0 and 58-6.
Oakland-Craig scored its first touchdown from the 8-yard line early in the opening quarter. The team crossed the goal line on scampers of 23 and 18 yards later in the period, and OCHS built a 30-0 lead after Colten Thomsen threw a 45-yard touchdown pass in the second period. The Knights led 46-0 at halftime and added one touchdown after the break.
You have free articles remaining.
Thomsen went 11-of-14 through the air for 207 yards and Ian Lundquist generated 84 rushing yards and three touchdowns on 13 carries. Coulter Thiele caught four passes for 61 yards and one touchdown and ran four times for 39 yards and one score.
Coby Buettner led Louisville's offense with 63 rushing yards on ten attempts. Brady Knott gained 19 yards on nine carries, Talon Ball posted five rushing yards and Harrison Klein had four yards on the ground.
Clayton Buck completed two passes for 15 yards in the game. Klein hauled in a nine-yard reception and Buettner caught a six-yard pass.
Louisville will return home Oct. 11 for a 7 p.m. matchup with Bancroft-Rosalie-Lyons-Decatur Northeast. Parents Night activities will take place at the game.
Oakland-Craig    24 22 8 0 – 54
Louisville             0   0  0 0 –  0