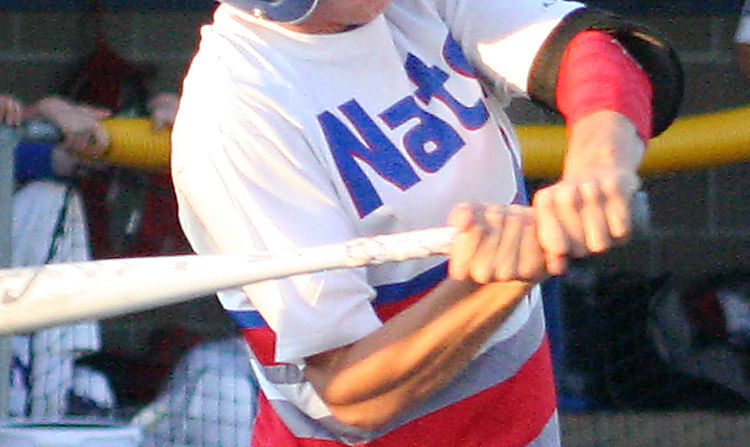 Elmwood-Murdock/Nehawka athletes piled up plenty of runs this week during a pair of doubleheaders at Nehawka Ball Diamond.
E-M/N Juniors 23, Adams 8
Elmwood-Murdock/Nehawka dominated Tuesday night's Junior Legion matchup. The Nationals broke a 2-2 tie in a big way in the second and third innings. E-M/N scored six times in the second inning and tacked on nine runs in the next frame.
Jaxson Spellman drilled a home run in the first inning and belted a triple in the third inning for the Nationals. He finished the evening with three hits and six runs batted in.
Cade Hosier collected four hits and three RBI and Riley Wilson connected on three hits and three RBI. Lucas Anderson and Jayden Widler each added a pair of walks in the game.
Nate Lockman fanned six batters in four innings in his pitching duties. Hosier registered three strikeouts in his lone inning of work.
Adams                                        111 01 – 4 4 2
Elmwood-Murdock/Nehawka   269 5x – 22 19 3
E-M/N Seniors 23, Adams 8
The Senior Legion game followed a similar scenario. Elmwood-Murdock/Nehawka generated ten runs in the bottom of the first inning and went ahead 13-5 in the third inning. The team erased all doubt about the outcome with ten more runs in the fourth.
Jakob Boucher drove in five runs and Owen Snipes delivered four hits and four RBI for E-M/N. Noah Willey had four RBI, Joe Kerns produced three hits and Spellman drew a pair of walks.
Boucher picked up the victory on the mound. He struck out five batters in four innings.
Adams                                          2 0 3  1  3 –  9   9  5
Elmwood-Murdock/Nehawka   10 0 3 10 x – 23 16 5
E-M/N Juniors 13, Tecumseh 3
The Nationals changed the complexion of Wednesday night's game in the fourth inning. E-M/N scored nine runs in the frame to create the final margin.
The Nationals used their patience at the plate to generate many of their scoring opportunities. The team finished the game with 12 walks. Widler and Wilson each walked three times and Spellman and Will Bauder each walked twice. Kerns and Lockman contributed the team's final two walks.
Hosier, Widler, Lockman and Logan Lutt posted hits in the game. Lutt had one run and three RBI, Wilson collected two runs and two RBI and Lockman scored once and drove in two runs. Widler touched home plate three times and Hosier and Bauder each had one run and one RBI.
Spellman and Kerns each scored twice and drove in one run. Tucker Oehlerking chipped in one RBI for the Nationals.
Kerns gave E-M/N five innings on the mound. He struck out four batters and surrendered just one walk during the evening.
Tecumseh                                   102 00 –  3  7 1
Elmwood-Murdock/Nehawka    013 9x – 13 4 3
Tecumseh 13, E-M/N Seniors 8
Eli Waring and Samuel Buss played key roles for Tecumseh in the Senior Legion matchup. Waring led the team with one single, one double, one home run and five RBI. Buss chipped in two singles, one double, two runs and one RBI.
The teams were knotted up at 8-8 before Tecumseh went ahead in the fifth inning. The visitors collected 16 hits during the evening and finished with five doubles, one triple and one home run.
Willey paced Elmwood-Murdock/Nehawka's attack with one single, one triple, two runs and four RBI. Snipes posted one double, two singles, one run, one walk and two RBI, and Jakob Boucher tallied one single, one walk, one sacrifice fly and two RBI.
Austin Boucher scored twice after one walk and one hit-by-pitch. Spellman and Kerns each walked and scored once, Cameron Spiegel posted one single and Tyler Fox had one single and one run. Lane Fox walked and scored once and added one sacrifice on offense.
Tecumseh                                     220 412 2 – 13 16 3
Elmwood-Murdock/Nehawka     102 500 0 –   8  9  4