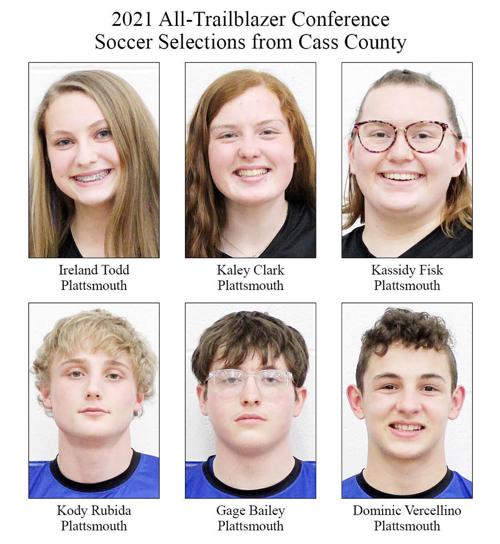 PLATTSMOUTH – Trailblazer Conference coaches have presented awards to six Plattsmouth soccer players for their work this season.
Ireland Todd, Kaley Clark, Kassidy Fisk, Kody Rubida, Gage Bailey and Dominic Vercellino were named to TBC postseason squads. Trailblazer Conference coaches chose girls and boys from Beatrice, Nebraska City, Platteview, Plattsmouth and Ralston for the teams. Fellow conference member Wahoo does not sponsor girls and boys soccer programs.
Todd and Clark were both named to the TBC girls first team, and Fisk collected a spot on the TBC second team. Todd led Plattsmouth's scoring attack this season with 11 goals. Clark produced one assist and helped the Blue Devils with her work across the field. Fisk played both goalkeeper and defender for PHS and used her strong leg for many goal and free kicks.
Rubida was named to the TBC boys second team. Bailey and Vercellino were both honorable mention selections. Season statistics for the Plattsmouth boys team were not available.
2021 All-Trailblazer Conference Girls Soccer Selections
Carmen Dudley – Ralston – Senior
Mia Loffer – Platteview – Senior
Abby Ware – Beatrice – Senior
Natalie Dudley – Ralston – Senior
Ireland Todd – Plattsmouth – Freshman
Ashley Stehlik – Platteview – Senior
Addy Timmerman – Beatrice – Senior
Mack Holthus – Beatrice – Senior
Eve Drummond – Platteview – Sophomore
Kaley Clark – Plattsmouth – Junior
Raquel Skerston – Ralston – Junior
Gabby Behrends – Nebraska City – Sophomore
Ally Kuhl – Platteview – Senior
Kassidy Fisk – Plattsmouth – Senior
Linda Humble – Beatrice – Senior
Emma Middleton – Platteview – Junior
Gracie Murphy – Ralston – Sophomore
Olivia Kohl – Platteview – Sophomore
Mariah Hargrave – Ralston – Junior
Sarah Price – Beatrice – Senior
Katherine Luther – Nebraska City – Senior
Dylen Ritchey – Ralston – Freshman
Mya Bartman – Nebraska City – Senior
Avery Gaertig – Beatrice – Junior
2021 All-Trailblazer Conference Boys Soccer Selections
Jackson Fluckey – Platteview – Senior
Connor Cargile – Platteview – Senior
Jose Diaz – Ralston – Sophomore
Jeremy McKee – Ralston – Senior
Gael Ibarra – Ralston – Sophomore
Bennett Crandall – Beatrice – Senior
Rodolfo Cuevas – Beatrice – Senior
Connor Kelley – Beatrice – Senior
Mikah Ruiz – Nebraska City – Junior
Marco Palacios – Nebraska City – Junior
Andres Pro – Nebraska City – Junior
Francisco Rodriguez – Nebraska City – Junior
Cesar Serna – Ralston – Junior
Emmanuel Pacheco – Ralston – Sophomore
Josh Padilla – Ralston – Freshman
Hugo Olvera – Ralston – Freshman
Devin Smith – Beatrice – Senior
Connor Freitag – Beatrice – Senior
Colt Dittbrenner – Beatrice – Senior
Aidan Riha – Platteview – Junior
Kody Rubida – Plattsmouth – Senior
Dominic Hobbs – Platteview – Freshman
Tucker Orwig – Platteview – Freshman
Federico Maccari – Nebraska City – Senior
Jesse Rodriguez – Nebraska City – Senior
Evan Oltmans – Beatrice – Senior
Kevin Santos – Ralston – Junior
Baltazar Hernandez – Ralston – Sophomore