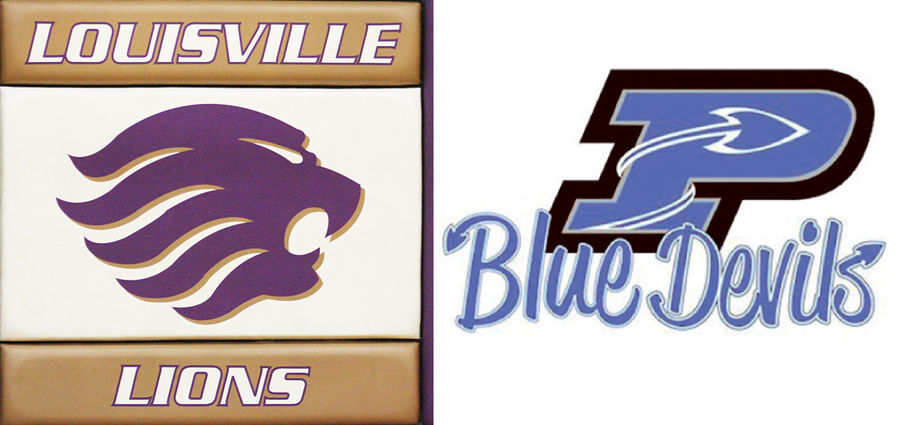 PLATTSMOUTH – The Plattsmouth boys turned their defensive intensity into a winning ingredient Tuesday night against Louisville.
The Blue Devils held the Lions to just ten second-half points in a 59-44 victory. Plattsmouth kept Louisville from establishing an interior scoring attack and forced LHS to take many contested shots.
Louisville (7-4) began the game with rock-solid offense. The team made a large portion of its shots and finished the first quarter ahead 24-17.
Plattsmouth erased that lead over the next eight minutes. Hayden Stromsodt led a scoring attack that created a 34-34 deadlock at the break.
The Blue Devils (4-3) took over the contest in the second half. The team went on a 15-9 run in the third quarter and limited Louisville to one point in the fourth period.
Stromsodt led Plattsmouth with 25 points, 12 rebounds, five blocks and two assists. He went 12-of-15 from the floor during the game. He grabbed three offensive and nine defensive boards.
Owen Prince collected five points, six rebounds, six assists and one steal for Plattsmouth, and Jude Wehrbein provided seven points, five assists, one rebound and one steal. Kevin Winscot chipped in two points, three rebounds, one block and two assists, and Adam Eggert tallied six points, two assists, two steals and one block.
Dakota Minshall posted four points, two assists and one rebound, and Sam Campin had three points, three assists, one rebound and one steal. Jack Alexander scored five points, Austin Sohl tallied two points and one steal and Braden Widick dished out one assist.
Individual statistics for Louisville were unavailable.
Plattsmouth will resume the season Friday with a 7 p.m. home game against Elkhorn. The team will then travel to the Mid-America Center in Council Bluffs for a Saturday game in the MAC Shootout. The Blue Devils will face Glenwood at 5:30 p.m.
Louisville had been scheduled to play Syracuse on Friday night, but coronavirus concerns caused the game to be postponed. The Lions will travel to Syracuse for a makeup game at 7:30 p.m. Monday, Feb. 15.
LHS had also been slated to play Fort Calhoun on Jan. 12. That game has been postponed to 7:30 p.m. Thursday, Feb. 4, at Fort Calhoun.
Louisville's next scheduled game will take place on Tuesday, Jan. 19. The team will travel to DC West to play the Falcons at 5 p.m.
Louisville        24 10   9   1 – 44
Plattsmouth    17 17 15 10 – 59