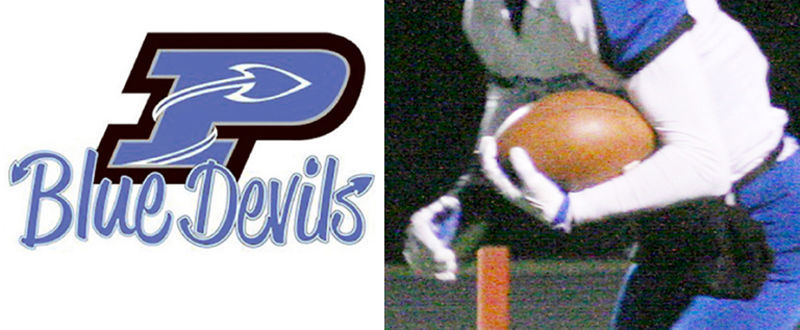 OMAHA – Plattsmouth athletes knew they would likely have to win Friday night's district game against Omaha Gross to qualify for the state playoffs.
The Blue Devils ensured their season would continue with a dominant display against the Cougars.
Plattsmouth defeated Omaha Gross 38-7 at Omaha Bryan Stadium. PHS turned the game's outcome in a blue-and-white direction during the second quarter. The team snapped a scoreless tie with 28 points in the period.
Plattsmouth (4-5) maintained pressure on Omaha Gross (3-6) after the break. The Blue Devils scored once in the third quarter and tacked on a field goal in the final period. Plattsmouth surpassed the 30-point mark for the third time this season.
Hunter Adkins helped the Blue Devils with his passing abilities. He went 7-of-10 for 143 yards and two touchdowns in the game. Caleb Laney hauled in two passes for 60 yards and one touchdown, and Adam Eggert collected three receptions for 41 yards. Logan Blotzer made a 19-yard touchdown grab and Wynstyn Martin-Morrison posted one 13-yard reception.
Plattsmouth gained 334 yards on the ground against Omaha Gross. Connor Pohlmeier boosted that total with 141 yards on 21 carries. He scored once for the Blue Devils.
You have free articles remaining.
Christian Meneses generated 79 yards and one touchdown on 13 carries, and Eggert ran the football five times for 75 yards and one touchdown. Martin-Morrison had 27 yards on four carries, Tanner Baxter gained seven yards and Adkins added five yards.
Martin-Morrison, Oscar Hinton and Tim Prokupek all registered sacks for Plattsmouth, and Adkins and Ryan Oatman each snagged interceptions. Meneses caused one fumble and Brayden Zaliauskas recovered the loose football.
Meneses, Hinton, Martin-Morrison, Prokupek, Andrew Rathman and Colton Rankin all made tackles for loss. Eggert tallied five solo tackles, Zaliauskas made three solo and five assisted plays and Adkins posted four solo and four assisted tackles.
Meneses had two solo and five assisted tackles and Prokupek made two solo and three assisted plays. Hinton, Rathman, Pohlmeier and Dalton Baumgart all had two solo tackles and Jim Barnard compiled one solo and four assisted stops.
Samuel Prokupek went 5-of-5 on extra-point kicks and drained one 30-yard field goal. Carmelo Gonzalez tilted the field in Plattsmouth's direction with his work on special teams. He averaged 51.6 yards on seven kickoffs.
Plattsmouth will be the 12th seed in the Class B playoffs. The Blue Devils will travel to fifth-seeded Omaha Roncalli (7-2) for a 7 p.m. game Friday. The winner will face either fourth-seeded Grand Island Northwest (8-1) or 13th-seeded Lexington (4-5) in the quarterfinals.
Plattsmouth      0 28 7 3 – 38
Omaha Gross    0  0 7 0 –  7