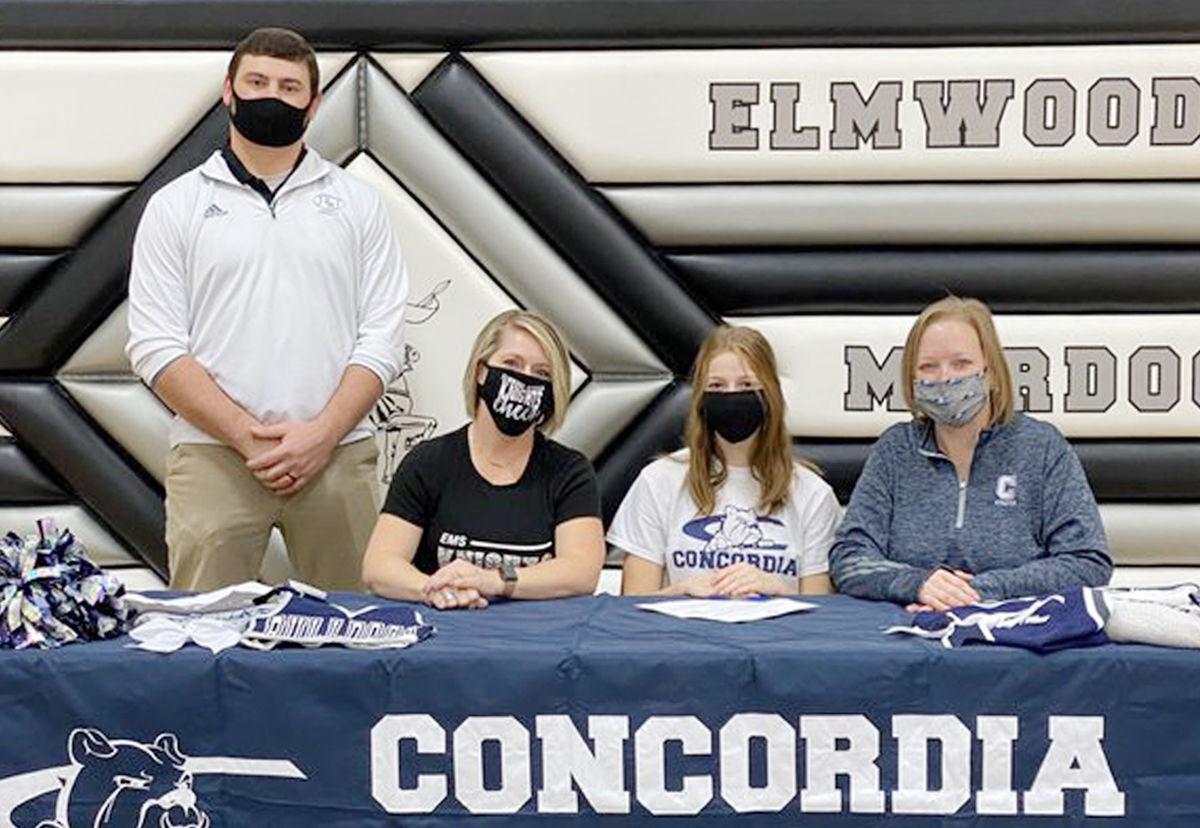 MURDOCK – Bre Romero has provided constant support to her classmates at Elmwood-Murdock on the cheerleading sidelines over the past three years.
E-M students were able to return the favor Nov. 19 by cheering her on with her college choice.
Romero signed a letter of intent to join the Concordia University competitive cheer program. The Great Plains Athletic Conference school travels across the Midwest each year for multiple cheer contests. The Bulldogs are scheduled to take part in seven events in the 2020-21 school year.
Romero said she was happy with the chance to continue her favorite activity at Concordia.
"It's a good school for counseling, which is what I want to get into, and a couple of my friends have gone there and said they really like it," Romero said. "I love the campus and the small-town feeling you get from being there, and it was a place where I could continue cheering too."
Elmwood-Murdock cheerleading coach Casey Clements said Romero has made a positive impact for the Knights with her work ethic and attitude. Romero has traveled to many football and basketball games and has helped E-M win state recognition in cheerleading contests.
"Bre has been a member of our varsity squad for three years, emerging as a leader during her junior year as a co-captain," Clements said. "Bre has a very strong work ethic and strives to achieve the goals she sets for herself and her squad. She enjoys being able to help others and encourages them to work hard and be their best. I am so proud of her achievement in and out of the classroom."
Elmwood-Murdock fans have watched Romero at dozens of games and activities in her career. Members of the E-M spirit squad deliver cheers during every timeout and quarter break at home football and basketball games. Athletes have traveled to many events outside of Cass County to watch their classmates perform on the field and court.
The Knights have also enjoyed success in the competitive realm. Romero helped Elmwood-Murdock earn third place in a pair of categories at the 2020 Nebraska State Cheer and Dance Championships in February. The Knights collected honors in the Class C-2 Game Day Division and Class C-2 Non-Tumbling Division.
Romero said it has been fun to represent the school at all of the different activities.
"It's the best feeling when you're able to lead cheers in front of a crowd," Romero said. "It's something that's really exciting for me."
Romero has also generated top-notch achievements in other activities. She has been involved in cheerleading, volleyball, band, play production and track and field at Elmwood-Murdock. She has played trumpet in district music contests and has filled roles in district one-act play productions at the school.
Romero has earned many academic awards at Elmwood-Murdock. Her name has been on the E-M Honor Roll numerous times and she has pocketed the Elmwood-Murdock Silver Scholar-Activity Award. She is planning to major in psychology at Concordia.
Clements said she is confident Romero will continue to enjoy successful outcomes in her new collegiate home.
"The opportunity to continue to cheer on a competitive squad at the next level with Concordia is well deserved!" Clements said. "Although I am sad to see her time with Elmwood-Murdock cheer end, I know she will thrive there. She has earned this opportunity and will do amazing!"
Be the first to know
Get local news delivered to your inbox!