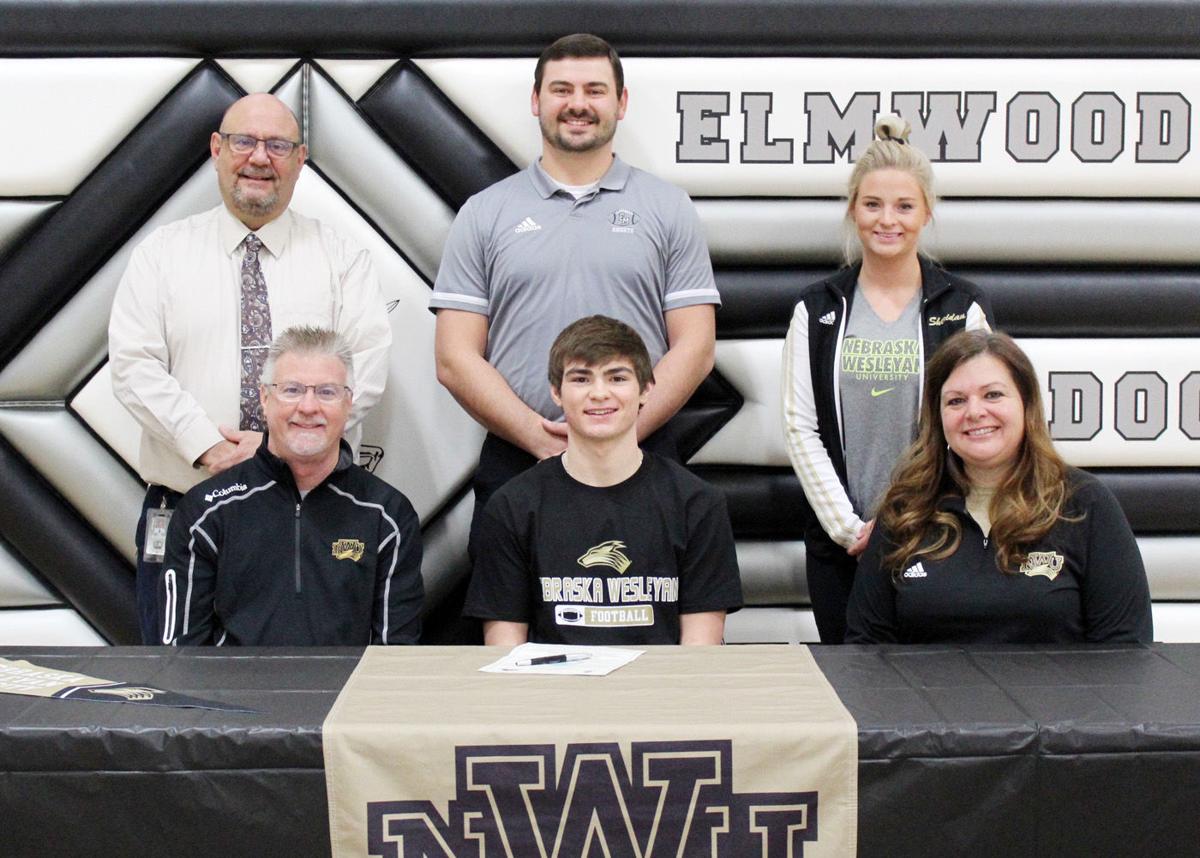 MURDOCK – Drake Spohr is planning to use his knowledge of physics and engineering to become a valuable member of the workforce in the future.
He has mastered the physics of football well enough to secure a spot on a college team.
Spohr signed a letter of intent Wednesday morning to play football at Nebraska Wesleyan University. The All-State honoree said he was excited about being a part of the Prairie Wolves program.
"I love the football program and everyone associated with it," Spohr said. "It's that simple. It's a great program and a great school, and it was a pretty easy recruiting process. I'm really looking forward to going there."
"Drake's going to do really well there," Elmwood-Murdock head coach Lance Steffen said. "He's one of the hardest workers I've ever seen and he's become a great leader. I think there are a lot of good things in store for him."
Spohr was a driving force in Elmwood-Murdock's 8-2 season this past fall. He completed 35 passes for 763 yards and 17 touchdowns as the team's quarterback. He also ran 163 times for 1,703 yards and 30 touchdowns.
You have free articles remaining.
Spohr guided E-M's defense with 44 solo and 61 assisted tackles. He collected 15 tackles for loss, recovered two fumbles, made one interception and blocked one field-goal attempt.
Spohr ended his varsity career with 2,834 rushing yards and 1,166 passing yards. He produced 20 touchdowns through the air and 52 on the ground. He had 3,584 all-purpose yards in passing, running, receiving and kick returning.
He compiled 132 solo and 191 assisted tackles as a Knight and made 38 tackles for loss. He also made one interception, recovered three fumbles and blocked three kicks in his career.
Spohr became Elmwood-Murdock's all-time leader in single-season rushing yards and touchdowns scored this fall. He also rose to the top of E-M's career charts with 368 total points. He broke Tyler Rosenow's former mark of 334 points from 2003-06.
Spohr said NWU coaches have not placed him at a specific position yet. He said he would be fine being in any spot on either offense or defense.
"It's definitely a nice feeling to know that they'll do their best to put me on the field," Spohr said. "I trust their judgment. They'll put me where I fit best on the team and I'll be happy to go and play there."
Spohr has been involved in football, basketball, track and field, SkillsUSA and rodeo at Elmwood-Murdock. He has been a member of multiple academic honor rolls at E-M and has earned many school and community awards.
Spohr is planning to major in both physics and pre-engineering at NWU. He would like to obtain a bachelor's degree in physics and pursue a master's degree in engineering after graduation.