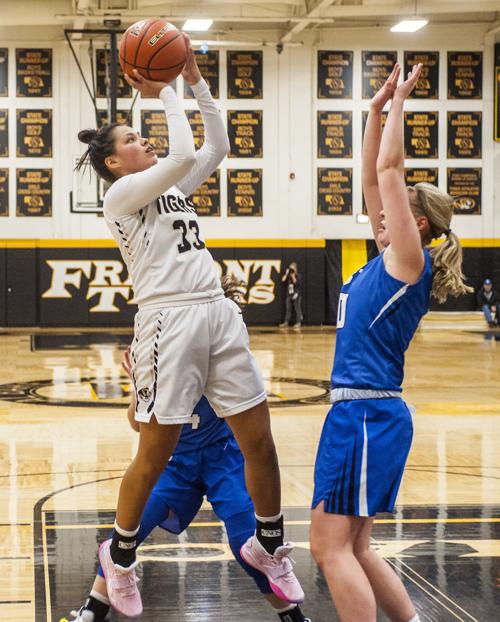 Lincoln East calls them markers, those wins that could help define a season.
The Class A No. 3 Spartans hit a marker Saturday evening at Fremont High School.
After trailing by 12 in the third quarter and in a tough environment, East stormed back, using a fourth-quarter burst to rally past No. 4 Fremont 65-59.
The Spartans went on a 17-2 run that began in the final seconds of the third quarter, hit a trio of threes and then turned to their signature zone-press defense to create turnovers late.
"This was a top-five game in the state, which was so important to us and we wanted it so bad, and it just showed in that fourth quarter how bad we wanted it," East senior Taylor Searcey said.
East coach Dennis Prichard said his team didn't do a whole lot different in the final eight minutes. He said he thought his players were more patient than earlier in the game, and they made sure to not rush shots.
East (10-1) also held a potent Fremont offensive attack to six fourth-quarter points.
"We went back to our zone press … so we did change that in the fourth quarter and that got us some turnovers, "Prichard said. "I thought the kids, once they hit some shots they came back with a lot of energy defensively."
East trailed 53-44 after the third quarter, but it was quickly 53-53 after Haley Peterson, Delaney Roberts and Olivia Kulger hit back-to-back threes. The Spartans took their first lead of the game on a layup from Peterson.
The Spartans hit 6 of 7 field goals in the fourth quarter, but also created multiple turnovers. None were bigger than a pair created by Searcey late in the game. The senior and Valdosta State recruit had a steal at mid-court and intercepted a ball a couple of possessions later. Both times, Fremont (11-3) had a chance to tie or get closer.
Searcey, who had a team-high 14 points, also had a key rebound off her own missed free throw in the final seconds.
"She's a winner," Prichard said. "She's one of those kids that coaches talk about, you want kids that want to win and she hates to lose. It has nothing to do with coaching or really what we did. It's just inside some kids and it isn't in others, and she's got it."
Peterson had 13 points, Kugler had 12 and Briley Hill had eight, including some key buckets in the first half to keep East in the game.
Fremont had success breaking East's press in the first half, which led to some easy baskets. Sophomore Taylor McCabe also got loose. The Division I recruit hit four threes and finished with 21 points.
"I think a team like Lincoln East, they're definitely not going to go away, even if their down double digits, they're going to keep working it," Fremont coach Kelly Flynn said. "They were playing with a lot of confidence, and they're playing like a team that was in the state semifinals last year."
Lincoln East boys 83, Fremont 62
Carter Glenn had a game-high 25 points to lead the Spartans, while Jett Janssen chipped in 22.
East and Fremont were tied at 39 before the Spartans scored 26 points in the third quarter.
Caden Curry led the Tigers with 19 points. Micah Moore and Mossimo Lojing had 11 each.
Lincoln East 12 12 20 21 — 65
Lincoln East — Haley Peterson 13, Olivia Kugler 12, Delaney Roberts 6, Taylor Searcey 14, Briley Hill 8, Skylar Kreifels 7, Kylie Johnson 2, Charley Bovaird 3.
Fremont — Sydney Golladay 8, Taylor McCabe 21, Lexie Glosser 1, Bella Keaton 6, Sarah Shepard 2, Charli Earth 10, Macy Bryant 11.
Lincoln East — Glenn 25, Janssen 22, Dak 14, McPhail 11, Spethman 5, Henrickson 4, Adams 2.
Fremont — Curry 19, Moore 11, Lojing 11, Richmond 6, Millard 5, Sintek 3, Gifford 3, Ross 2, Mendoza 2.
Be the first to know
Get local news delivered to your inbox!