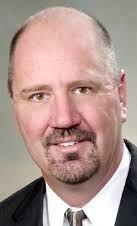 In this year's race for Dodge County register of deeds, two challengers — Michelle Growcock and Terry Synovec — will look to unseat incumbent Carol Givens in the May 15 primary election.
The Fremont Tribune spoke with all three Republican candidates about each of their platforms and qualifications for the position.
Carol Givens
Incumbent Carol Givens said her extensive experience and innovative use of technology have defined her tenure in the position.
"The obvious qualification is my experience and the real estate knowledge I have gained over the past 25 years," she said. "I take a sense of pride in having the knowledge and experience to put the public at ease when they have a question concerning their real estate."
Givens began working with title insurance and as a Realtor in 1973, and then became deputy register of deeds. She has been register of deeds since 1992.
According to Givens, one of her biggest accomplishments during her time as register of deeds has been the digitization of records and her work designing the current register of deeds website that allows for a number of electronic filings.
"I'm the first register of deeds in this office to computerize all the documents and design a website to use that computerization, and pick a software and office procedures to make it user-friendly. I am quite proud of that," she said.
Givens also addressed talk of combining the register of deeds with the Dodge County assessor, which would effectively eliminate the position of register of deeds within the county.
"If we proceed in that direction, you need people trained that know what they are doing with legal descriptions and to match that with the assessor's office," she said. "On one hand I can't see the point of wanting to eliminate a position I'm holding, but on the other hand, if it goes that direction I am the only one that has the experience to make it a smooth transition."
Michelle Growcock
Michelle Growcock is the vice president of lending for Fremont First Credit Union, and says her 35 years of experience within the mortgage lending industry makes her an ideal candidate to head up the register of deeds office.
"I have worked with different title companies here in Fremont and am very familiar with mortgage documents and practices," she said. "I collaborate really well with the title companies, I've been working with them for a number of years and I think that is really important in this position."
Growcock says that the residents of Dodge County deserve a "hands-on" register of deeds and vows to be just that if she is elected to the position.
"I truly believe that we need a hands-on register of deeds, someone that will be there to help the citizens and be able to help them with any problems they may have," she said.
Growcock is also focused on bringing more efficiency to the office, by way of continued digitization of records and services.
"Streamlining processes to increase efficiency will be a top priority, all while serving the public in a very courteous and professional manner," she said. "If you are looking for a very conscientious, detail-oriented hard worker with integrity, I would love to bring my qualifications and knowledge to the office."
She also addressed the issue of merging the register of deeds office with the assessor's office, saying she would work to do what is best for the citizens of Dodge County.
"I am going to learn the office and if it goes down the road further and shows that the register of deeds and the assessor's office can be combined, if I feel that is the best move for the county, I will do the best I can to make that happen," she said.
Terry Synovec
Terry Synovec is a former member of the Dodge County Board and is the owner of 30 Bowl in Fremont.
Synovec is running on a platform that you don't often see in political races. He wants to eliminate the position he is campaigning for and merge the office with the Dodge County assessor's office to save the county money.
"I'm not sure we need the register of deeds and that is actually the platform I am running on," he said. "I believe that it is really technology driven and once we get all the deeds scanned and online, so they are easily accessible to every taxpayer, we can eliminate the office."
Synovec served on the Dodge County Board and was a member of the finance committee, security committee and technology committee during his time there. He also has served on the Fremont Area Chamber of Commerce board, and the Fremont Planning Commission.
Synovec says that by digitizing all records related to the register of deeds office and eliminating the position he believes he can save the county a substantial amount of money.
"I want everything online to make it easy for the public, which mostly includes construction people, realtors, bankers, to make that easily accessible to them," he said. "Once that process is complete, we need to merge the offices and save the county a quarter of a million dollars."
Synovec says that out of 93 counties in Nebraska, 80 no longer have a dedicated register of deeds office, and that his goal is to move the county forward by merging the office with the Dodge County assessor's office or county clerk's office.
"We are still going to have to keep records, but we need to move forward," he said. "If I can do that with the assessor's, I'm hoping I can make that happen if I am elected. Otherwise, I will work with the county clerk and maybe merge it that way."