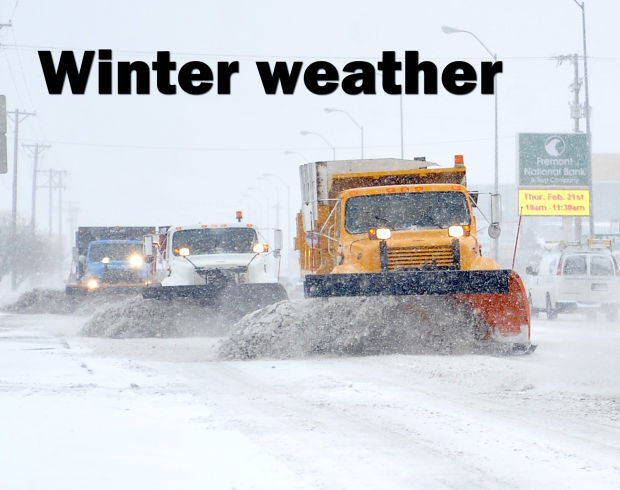 Temperatures will be a little warmer this week.
But don't dismiss the cold weather precautions.
That's the advice of a meteorologist with the National Weather Service, Omaha/Valley.
"It's not going to be quite as cold as it has been these past several days," said lead meteorologist Byron Miller.
"But still — it is wintertime."
Area residents can expect cold temperatures on Wednesday night.
"It looks like Wednesday night would be the coldest temperatures around the area — zero to 10 below," he said. "Otherwise, temperatures generally zero to 10 above for lows."
High temperatures will be mostly in the 10- to 20-degree range through the week through Friday.
"It does look like it will turn warmer on the weekend," Miller said.
High temperatures probably will be in the 20s on Saturday and potentially in the lower 30s by Sunday.
"But we do have a weather disturbance moving through the region on the weekend that could bring some rain and snow to the area," Miller said.
With such things in mind, Miller recommends that residents take precautions.
"Have a winter survival kit in your vehicle," he said. "Make sure your vehicle is in good condition. Have appropriate clothing with you — hat, gloves, normal winter stuff."
In dressing for extremely cold weather, the NWS advises wearing:
Three layers or more of clothing (including 1 insulating) on the top half of the body. The outer layer/coat should keep out wind.
Two layers or more of clothing on the bottom half of the body.
Warm hat.
Face mask.
Gloves.
Waterproof boots.
The weather service warns residents to guard against hypothermia, a health hazard that occurs when the body temperature drops too much.
Of the 1,300 people killed by hypothermia each year – most are senior citizens, according to the National Institute of Aging, but some are children and young adults.
Signs of hypothermia can include:
Confusion.
Sleepiness.
Difficulty speaking.
Stiff muscles.
Shivering.
If you're trying to help someone who may have hypothermia:
First, call an ambulance.
Lie close to the person and cover both of you with thick blankets.
Don't rub the person or handle him or her roughly.
"Everyone needs to be careful," the weather website states. "Some medicines, problems with circulation, and certain illnesses may reduce your ability to resist hypothermia.
"As you age, your body becomes less efficient at letting you know when you are too cold. In addition, older people tend not to shiver effectively, one of the ways the body warms itself up."
To update your winter car survival kit, make sure it has:
Jumper cables: flares or reflective triangle are great extras;
Flashlights: Replace the batteries before the winter season starts and pack extras;
First aid kit: Also check your purse of bag for essential medications;
Baby, special needs gear: If you have a baby or family member with special needs, pack diapers and any special formula or food;
Food: Stock non-perishable food such as canned food and a can opener, dry cereal and protein rich foods like nuts and energy bars;
Water: Have at least 1 gallon of water per person a day for at least three days;
Basic toolkit: Pliers, wrench, screwdriver;
Pet supplies: Food and water;
Radio: Battery or hand cranked;
Cat litter or sand: For better tire traction;
Shovel: To dig out snow;
Ice scraper: Even if you usually park in a garage, have one in the car;
Clothes: Make sure you dress for the weather in warm clothes, gloves, hat, sturdy boots, jacket and an extra change of clothes for the cold;
Warmers: Pack extra for body, hand, feet;
Blankets or sleeping bags: If you get stranded in traffic on a lonely road, you'll be glad to have it;
Charged cell phone: Keep a spare charger in your car as well.
Area residents might appreciate that temperatures aren't forecast to be as frigid as they have in recent times.
"We don't have the extreme minus 15 to minus 25 temperatures which have been around the region over the weekend in the past few days," Miller said.
The National Weather Service has a host of cold weather safety tips at http://www.nws.noaa.gov/om/cold/before.shtml