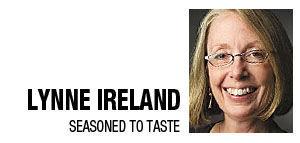 Many a suitor has asked a would-be Valentine, "What is your heart's desire?" Undying affection, patience, humor, these all would be good additions to the list. But our first response is often more material. And when those materials are edible, what our heart desires is often not good for us.
Rich cheese, sugary sweets, masses of meat, liters of liquor — these "heart's desires" can be "heart's detriments" in excess.
So we are especially glad to share a favorite, relatively healthy desire that would make a Valentine's gift that keeps on giving goodness.
It's possible to have one's chocolate cake and eat lightly, too, in the form of chocolate genoise. "Genoise" literally means "Genoa-style," but who knows if this type of spongecake originated in the Italian city Columbus called home. This cake relies on the puffy volume of well-beaten eggs and very little flour or fat for its airiness.
This butter-free chocolate genoise uses the "warm method" in which eggs and sugar are warmed in a mixing bowl over low heat before whipping.
The absence of butter reduces the shelf life of the cake as well as its fat and calories, but the cake freezes beautifully if you don't eat it the day it's baked. (Fat chance.)
The cake is moist and fudgy and, topped with fresh raspberries and drizzled with tart raspberry or other fruit coulis, it's decadent without being deadly.
The technique for this cake may be new and the instructions may seem long, but don't be daunted. All the whisking and folding produces a cake that will satisfy many hearts' desires — in more ways than one!
Chocolate Genoise
2/3 cup firmly packed Dutch-process cocoa powder
1 teaspoon instant coffee powder
2/3 cup water, boiling
1 teaspoon pure vanilla extract
4 egg yolks
1 cup granulated sugar
6 egg whites, at room temperature
¾ cup cake flour, sifted twice
Pinch of salt
Preheat oven to 350 degrees. Line the bottom of a 10-inch spring form pan with parchment paper and spray lightly with a vegetable coating spray. Place the cocoa powder and instant coffee powder in a small bowl. Pour the boiling water over the cocoa powder and coffee and whisk gently to dissolve. Whisk in the vanilla. Set aside to cool.
Combine the egg yolks and ½ cup of the sugar in a large metal or other heatproof bowl. Place the bowl in a large sauté pan filled halfway with simmering water and whisk continuously until the sugar crystals are dissolved and the mixture thickens and is warm to the touch, about 2 minutes. Be careful when heating the egg yolks, as they will scramble if left unattended or if they become too hot.
Remove the bowl from the water and beat the yolk mixture with the whisk attachment of a mixer set on high speed until it doubles in volume and the bowl is cool to the touch, 3 to 5 minutes. Using a balloon whisk or a large rubber spatula, fold the cocoa mixture into the yolk mixture. Set aside.
Place the egg whites in a large, grease-free bowl. Using a mixer set at medium speed, beat until foamy. Increase the speed to high and beat until soft peaks form. Add the remaining ½ cup sugar, 1 tablespoon at a time, and continue beating until stiff, glossy peaks form.
Sift the cake flour and salt together and, using a balloon whisk or a large rubber spatula, gently fold it into the cocoa-egg yolk mixture. Then fold one-third of the egg whites into the batter to lighten it. Finally, gently fold in the remaining egg whites. Spoon the batter into the prepared pan.
Bake the cake in the preheated oven until puffed and firm, and the top springs back to the touch, or until a thin wooden skewer inserted in the center comes out clean, 18 to 25 minutes. Be careful not to overbake. Remove from the oven and let cool for about 5 minutes on a wire rack.
Remove the pan sides and slide the cooled cake off the pan bottom. Peel the parchment paper from the bottom of the cake and cool completely. Cut into slices to serve on a pool of fruit coulis, garnishing with bit of fresh fruit or a dusting of cocoa or powdered sugar. Or wrap the cooled cake well and freeze for up to 1 month.
Cut into 16 pieces, the cake has 97 calories and 1.8 grams of fat per serving. Cut into 8 servings doubles the calorie and fat count, but the cake is still far lower in both than most.
Fruit coulis
1 pound fresh or frozen strawberries, blackberries, raspberries, peaches, nectarines or 1½ pounds papayas or mangoes
1 tablespoon granulated sugar (optional)
2 tablespoons complementary liqueur (see below)
2 tablespoons freshly squeezed lemon juice if using peaches or nectarines
Thaw fruit if frozen. Peel and pit fruit as necessary; place in a food processor or blender. Puree fruit, then pass it through a fine mesh sieve to remove any seeds. Sweeten the puree with sugar if it is too tart, then stir in the liqueur. Stir in lemon juice to prevent peaches/nectarines from discoloring.
Liqueur/fruit suggestions: Grand Marnier with strawberry, nectarine or raspberry; Framboise with raspberry; Chambord with blackberry; peach brandy or Amaretto with peach; Grand Passion or dark Jamaican rum with papaya or mango. Makes 2 cups; can be frozen up to 2 months.
Source: Jill O'Connor, "Sweet Nothings"