Board of Supervisors gives go ahead for first Lincoln Premium Poultry chicken houses in Dodge County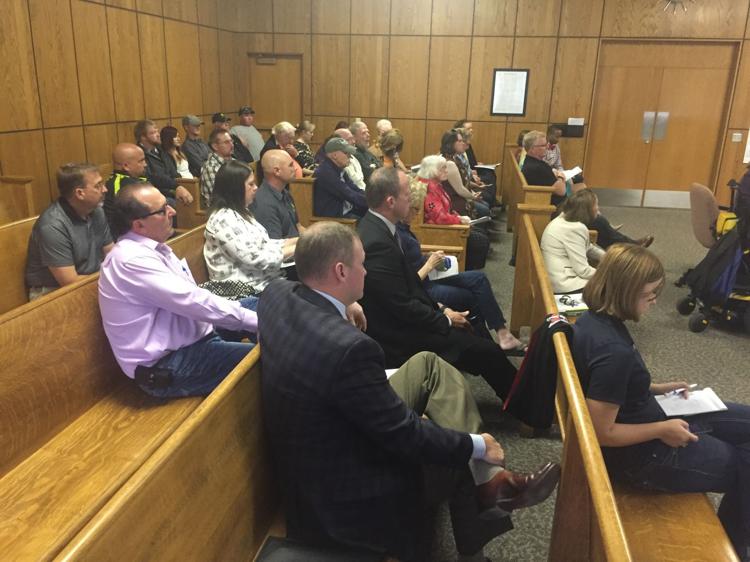 The Dodge County Board of Supervisors during its Wednesday morning meeting gave approval for the first Dodge County farmer to construct Lincoln Premium Poultry chicken houses.
Following in suit with the Planning Commission's unanimous 8-0 vote of recommendation, the Board approved the request of John and Connie Snover, as well as Colton Schafersman, of 1232 County Road 19 in Hooper, to obtain a conditional use permit for a new livestock feeding operation containing 300 to 900 animal units.
Schafersman, a sixth-generation farmer, said the plan is to erect four chicken barns total – three hen barns and one rooster barn. As of now, the plan is to have 60,000 birds on site or 600 animal units, which is considered a medium-sized animal feeding operation, said Andy Scholting, general manager and president of West Point's Nutrient Advisors.
Since the age of 10, Schafersman said that the Snover's – his grandparents' – farm has been the place where he's worked. If he wasn't' playing football or busy at school, he was there tending to the land. While speaking during a public hearing, he discussed how approval of the chicken growing operation will diversify his family's means of income and provide opportunities for future generations of farmers in his family.
"This farm has been in our family for more than 125 years, and I take immense pride in that," Schafersman said. "With this permit I will now not only be able to secure my future on this farm, but perhaps a seventh generation with my son, too."
Where the barns would be located on his property would be virtually unnoticeable from the surrounding roads, he said.
"I, myself, will live four miles to the west and will be the only one able to see it," he said of the barns, which will house chickens used for processing at the proposed Costco Poultry facility south of Fremont. "… We have been working with Nutrient Advisors out of West Point consulting closely to work through the (Nebraska Livestock Siting Assessment) matrix, and also working with them on my nutrient management plan to responsibly monitor the (chicken) litter from the barns."
The matrix is a practical tool for county officials to use to help determine whether to approve a conditional use permit or special exception application. It produces quantifiable results based on the scoring of objective criteria according to an established value scale. Schafersman scored 100 points on the state matrix, and a passing score is 75, Scholting said.
In terms of environmental impact, Scholting said that the 900-acre plot of land is ideal to house the chicken growing operation.
"He's at a great place in terms of environmental impact," Scholting said. "He has deep soils, he has good distance from water; the runoff from his farm needs to travel over 4 miles before it would enter Maple Creek at approximately 1 ½ miles east of Highway 77."
While the conditional permit was issued, numerous concerns were raised from citizens encompassing the Greater Fremont and Dodge County area.
Numerous issues were raised regarding possible high nitrate levels in soil from chicken litter, damaged air quality, water pollution and homes near the property in question losing value.
Meeting attendee Denise Richards highlighted concerns regarding property owners living near these chicken operations.
Citing a case in Roanoke, Virginia, Richards spoke about the issue.
"Study after study shows that degradation in air quality, which reduces quality of life in an area surrounding a CAFO (confined animal feeding operation) will have a measurable, direct and statistically significant negative affect on property values. The loss in property value can affect tax assessments, and therefore a county's revenues which stresses local government."
Richards said that she knows this is the first of many farmers coming forward requesting conditional use permits to house chickens on property, and that her and others will continue coming to speak against it.
"We will come here to protest every application, for every chicken, hog and cattle facility, because that is our right as an American citizen," she said. "And as much as you probably don't like it, you will have to listen to us because that is your job. You chose this job but we did not choose this fight."
Julie Hindmarsh, also in attendance, spoke about how although this one particular farm may be able to support the chicken operation, others will not. The environmental and public health concerns, she said, should be more closely analyzed before making a decision.
"I have to commend the applicant – you have the farm land to dispose of this litter (chicken poop, feathers, feed and other materials), but not all of your applicants will," Hindmarsh said. "The poster child comes first, that's the way industry works.
"The thing that you need to know, though, is that this is industry, this is not agriculture. And as industry, this chicken manure is a waste product that should be regulated. And this is what you as county supervisors need to seriously consider when you look at the quantity of waste that all these chicken barns – not just this one – will produce."
In regard to nitrate produced by chicken litter, with the 900 acres included in Schafersman's nutrient management plan, first year nitrogen availability that his operation will produce is 300 tons.
"That's a fairly small amount," Scholting said. "… First year available nitrogen will only require 40 acres of an average corn crop to utilize that nitrogen."
Walt Schafer, project lead for Lincoln Premium Poultry, said that while Shafersman may be the first request, several other farmers are coming right behind him. These farmers, Schafer said, are making between a $2 million and $8 million investment to have these chicken operations on their land.
"One of the most critical pieces of our project when we got started was figuring out whether we could get the farmers and growers to do this," he said. "And what we found was that there was overwhelming support from the farming community to do this. If you look at our list today, we have over 100 percent recruitment on our total needs and we continue to get applications every day."
Schafer said that Lincoln Premium Poultry will continue doing its due-diligence in regard to the project.
"We will have our detractors that I'm sure will come before you when we are back up here saying the same things, and we will continue to teach, show and demonstrate just as we have through this entire project that we will do the right thing, and quite frankly folks, the farmers I've met here don't need to be told to do anything," he said.
"They live on the land, they own the land and they've been here for many, many generations. They are sophisticated business people and I don't tell them what to do, I tell them what we need and in the end, these folks make up their minds and do what's right."