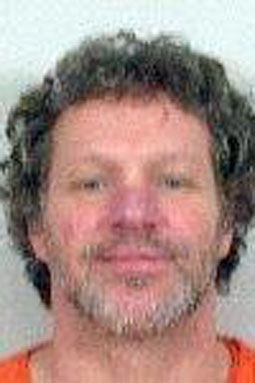 An Indiana man was sentenced to three years in prison on Monday for stealing a pickup truck, trailer and tires, and for fleeing from a Nebraska State Patrol officer during a traffic stop in Fremont in August 2016.
Scott Rector, 47, was charged with four counts related to the incident, including obstructing a peace officer. Three of the counts yielded two-year sentences to be served concurrently while the fourth count added another year. He will also face nine months of post-release supervision.
Rector and an accomplice, Dustin Wilson, were driving the stolen pickup truck, which was pulling the stolen trailer and a load of stolen tires, on Aug. 20, 2016, when the Nebraska State Patrol pulled them over in Fremont for an insecure load violation, according to a police affidavit.
Sergeant Gerald Schmidt became suspicious that the pickup truck, trailer and tires were stolen. While calling the truck's owner to confirm the theft, Rector and Wilson fled the scene and managed to escape. They were arrested at a later date.
The incident had several victims from across Nebraska. The truck was stolen from Shamrock Nursery in O'Neill; the trailer was stolen from Subway Motors in Milford; and the license plates were stolen from Fieldwise LLC in Ewing, according to a police affidavit.
Rector pleaded guilty to the charges but was given prison time instead of probation largely due to his lengthy criminal history, which Dodge County Attorney Oliver Glass said dates back to the 1980s and "spans over various jurisdictions and states."
Additionally, Glass said that the co-defendant, Wilson, who got probation for the crime, proffered with the state and claimed that, while driving through Iowa after escaping the scene, Rector indicated that he wanted to commit "more crimes and more thefts" before returning to Indiana.
Glass argued that the charges be served consecutively, which could have put Rector in prison for 6 years, but Rector's lawyer told District Court Judge Geoffrey Hall that Rector had family and a possible job opportunity waiting in Indiana, and that a concurrent charge would allow him a chance to pursue a more worthwhile career while under post-release supervision. He added that Rector "had no real desire" to stay in Nebraska after his sentence.
Hall ultimately decided to sentence Rector to concurrent two-year sentences on three of the charges with an additional year for the fourth charge served consecutively. But he also had a message for Rector.
"You're a bad thief. Your record speaks loudly. You need to get into a different line of work," Hall said. "(Your lawyer) says you don't want to be in Nebraska. Here's a news flash. The people of Nebraska don't want you here either."
Rector said that the position waiting for him in Indiana was "the first actual real job opportunity I've had in a while."
"Talk is cheap," Hall said. "Show us what you can do. Quit wasting your life."
In news from Monday's District Court hearings:
Ethan Vesely, 22 of Omaha was sentenced to 18 months in prison for possessing methamphetamine, which were discovered in an August 2017 traffic stop in Fremont.
Victor Alas, 30, pleaded no contest to felony charges of possessing methamphetamine. Alas was found with the drugs in January, after the Fremont Police Department was dispatched to a Burger King in response to complaints of a suspicious vehicle. There, officers, found Alas in a vehicle along with drug paraphernalia.
Daniel Fowler, 28, pleaded guilty to charges of delivery of a controlled substance—morphine—and to child abuse charges. The charges are related to an incident in October where Fowler sold morphine pills to a confidential informant for $150 in a parking lot while his nine-year-old daughter was in the car during the transaction. His sentencing is scheduled for April 30, but he plans to submit an application for drug court.