Riding the rising tide of interest in crime scene investigations nationwide, a new Forensics class was added to the Fremont High School science curriculum at the beginning of the 2019-2020 school year.
From 2000-2015 "CSI: Crime Scene Investigation" was one of the most popular television programs in the United States. During that same time period, at least seven CSI spin-off shows became popular, including "CSI: Miami," "CSI: New York," "Law & Order" and "Criminal Minds."
Combine that with the increased frequency of forensic science classes sprouting up at higher levels of education in recent years, FHS science teacher Velyda Demuth said the time was right to add the new course to the school's current curriculum.
"This is a topic that is gaining interest nationwide at both the high school and college levels," said Demuth, "so we wanted to offer a course that looked a little different than our current choices and also keep up with what other schools are offering."
Demuth, who teaches the new forensics class at FHS, said she's been working toward adding this course to the science curriculum for the last two years. The forensics class received board approval in March.
"I had suggested this class as a new course offering for several reasons," Demuth said. "I have always had a personal interest in forensic science and when I discuss aspects of forensics in A&P, students usually want to know more. We were wanting to expand our course offerings and everyone was on board with trying an 'Intro to Forensics' type of course."
This new course is all about the science behind solving crimes, Demuth said. So far this quarter, Demuth said the class has solved a "classroom murder" through interviews and piecing together evidence as a group.
Also, Demuth said the class learned how to collect evidence from clothing, analyzed principles of eyewitness testimony and learned how to take and identify fingerprints.
You have free articles remaining.
Most recently, Demuth said students in her forensics class collected and analyzed hair samples through microscopic examination — as well as using chemistry — to identify unknown toxins. She said her students are currently analyzing and identifying shoe and tire imprints.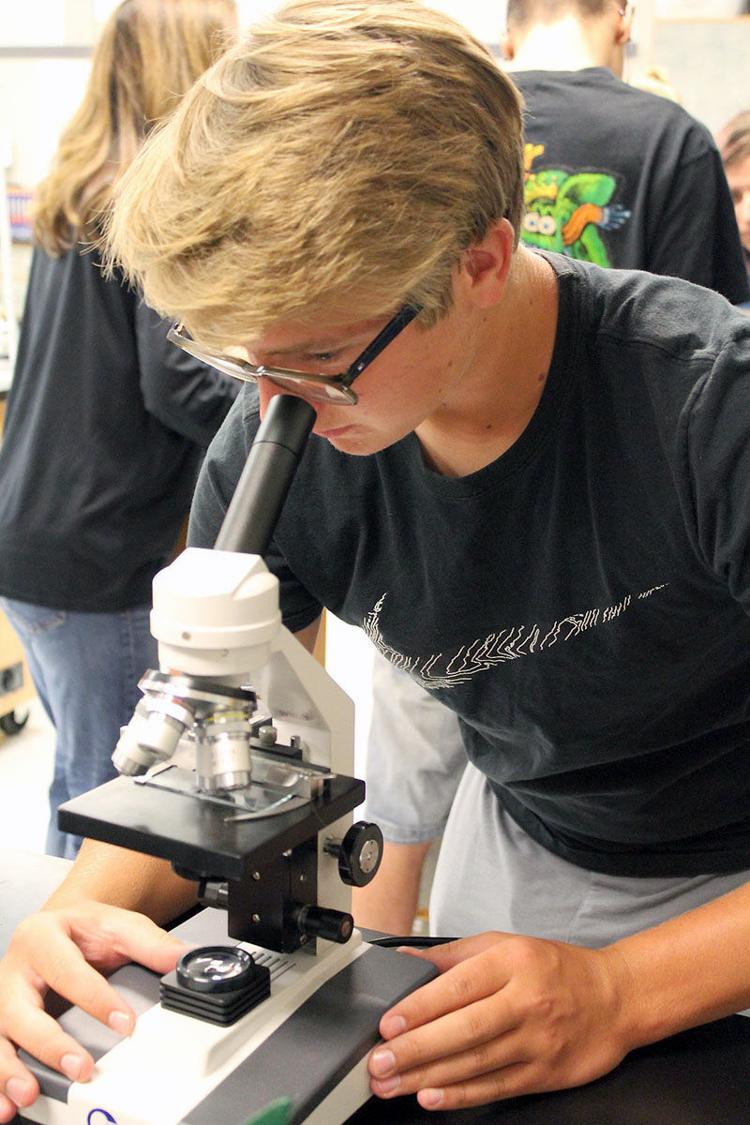 "We will be learning how to lift latent prints, collect and type blood, analyze blood spatter patterns, identify bones and interpret bone markings, analyze and identify types of trace evidence like hair, handwriting, toxins and materials under the microscope," Demuth said. "Lastly, we'll study the stages of decomposition and time of death through insect activity. Our final project will be to develop a crime scene that other students in the class can solve using the techniques they've learned."
The first quarter forensics class at FHS consists of 24 students and Demuth said they have spent most of their time watching videos, participating in case studies (in pairs and in small groups), practicing using forensic techniques (through labs) and some note taking.
"I think the fact that forensics encompasses all the sciences makes it a really cool topic," Demuth said. "I love the emphasis on problem-solving, too. Every single thing we're learning is working toward solving a crime at the end of the quarter, so there isn't really any information that won't be directly used. I hope that also keeps kids engaged."
Senior Kaylee Kavan, who considers crime scene investigation a possible career choice, said she's really enjoying the first-year class at FHS.
"My favorite part of the class is getting to learn about true crime and problem-solving on our own," Kavan said.
Five weeks into the new school year, Demuth said she's been pleased with the new forensics course so far, but that she has big ideas for the future.
"I really enjoy trying new things and love the interest that students have in the topic," Demuth said. "I have great students in this class who are OK being my 'guinea pigs' this first time through. I think it will be a lot easier after I've done it a few times. I'm already thinking of things I will do differently the next nine weeks, but it's been fun so far."