One year after Fremont High School science teacher Dave Sellon's Environmental Life Science classes prepared a plot and planted the seeds for a new prairie grassland, a total of 18 native Nebraska plants, grasses and wildflowers are now in full bloom in the courtyard between the world languages hallway and the journalism room.
Sellon, who teaches the ELS classes at FHS, said the prairie grassland project was a success.
"I am pretty satisfied with the project," he said. "I think the students got a lot out of the planning and planting. The plot looks nice, so I have had quite a few kids ask about it this year. I am hoping that it generates interest in the class."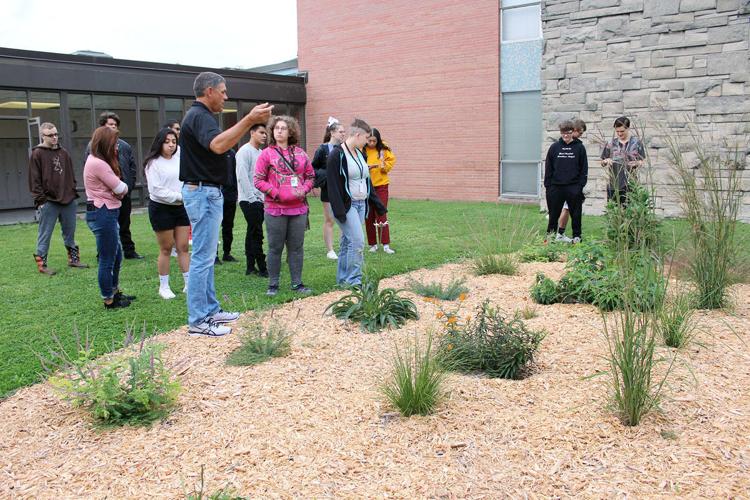 To initiate the project, Sellon said his first, second and third quarter ELS classes planned and prepped the plot last year. He said the fourth quarter ELS class ordered the plants and planted them (in the plot) last May.
Then, during the summer months, Sellon said he tended to the plot by pulling weeds and watering the plants.
You have free articles remaining.
"It took a while for the plants to get roots established," Sellon said. "I came over (to FHS) in June to pull weeds and water the plants a few times. All the plants survived the summer and are looking good. I know the students involved are proud of how it turned out."
The prairie grassland project at FHS originally was designed to help students learn about plant identification and biodiversity Sellon said.
"The purpose was to get the students outside actually doing some science," Sellon said. "I hope that the project helped them understand the importance of biodiversity and that we can all do small things to benefit the planet."
This year, Sellon said he plans to have his Environmental Life Science classes maintain the plot by pulling weeds. He said his classes also will study various bugs that use the flowers.
Future plans for the prairie grassland at FHS, Sellon said, could involve adding another plot that would include a few more flowering plants for the butterflies.
"We are talking about adding an extra plot that would focus more on native flowering plants that would benefit more pollinating insects," Sellon said. "I hope that my students can eventually learn the importance of maintaining biodiversity on the planet."