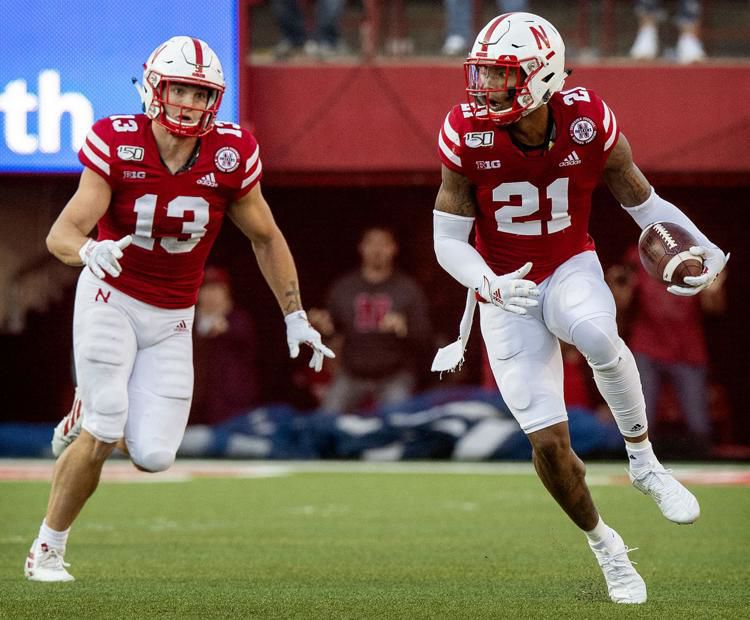 Lamar Jackson had just made arguably the biggest play of his career on Saturday at Memorial Stadium, securing an interception against Northwestern with one minute remaining in regulation that simultaneously snuffed out a promising Wildcats drive and gave the Huskers the ball back.
That, of course, led to a game-winning field goal as time expired and a 13-10 victory in a crucial division game.
So when Jackson went to the turf with the ball at the 50-yard line, he popped up and … well, pretty much did nothing. No flexing, no celebrating, no demonstrating of any kind. This from a guy who's notoriously exuberant on the field, both when his coaches and teammates want him to be and, occasionally, when it can get in him in trouble. He got benched last season for celebrating too much.
He knew, this time though, that even though he made a critical play, he also missed one.
"I really didn't celebrate because I knew what I should have did," Jackson said. "When I was on the ground, I was looking at everybody looking (back) at me disappointed. I'm like, 'Dang, what just happened?'"
What happened was Jackson cut his return back toward the middle of the field instead of following what looked like a building convoy of teammates up the left sideline. Jackson and his teammates say he should have scored.
Secondary coach Travis Fisher saw the gap opening, too.
Northwestern wide receiver Riley Lees had the best chance at Jackson around midfield, but JoJo Domann looked like he was lining up a block attempt.
Jackson heard all about it after the game.
"The teammates roughed him up pretty good — they let him know, 'Hey, the sideline was wide open.' We have to take that and score on defense,'" Fisher said.
Consider it progress, though, that this is the nature of the quibble. Nebraska's senior cornerback didn't score after he made a play that redefined the afternoon and a play that very well could have kept the Huskers squarely in the race for the Big Ten West Division as a Saturday showdown with unbeaten Minnesota waits this weekend.
"Getting a turnover when things matter, that's a huge play in the growth of a team and a defense," defensive coordinator Erik Chinander said Wednesday. "To make a big play when it really matters, not just make one when you're up 43-8 or whatever."
Indeed, Jackson's interception was only the second takeaway the Blackshirts have forced in Big Ten play. He felt he should have had another pick earlier in the game, when he read a slant route and got his hands up, only to have the ball sneak between them.
"That's the one I really wanted, just because that really showed some athleticism," Jackson said. "Went up and tried to grab it, I actually got two hands on it and it went through my hands, so that kind of killed me a little bit because I felt it go through my hands."
This is all part of the continued evolution of Nebraska's secondary. The group, like the Husker defense as a whole, has been solid this fall outside of a humbling night against Ohio State and a rough fourth quarter against Colorado.
"We're a resilient group and a good, close-knit group," Jackson said. "We've got good leadership from coaches, from players, from other leaders. We've just got a good team, we've got a collective group that wants to win and wants to succeed and wants to see this place do big things."
It's a group that is getting contributions from multiple places. One safety, junior Marquel Dismuke, was the Huskers' defensive back of the game, according to head coach Scott Frost, while sophomore Cam Taylor-Britt has brought stability to the safety position since junior Deontai Williams' season-ending shoulder injury. Dicaprio Bootle has been solid opposite Jackson at corner and slid into the slot in some sub-package situations against Northwestern, bringing Braxton Clark into the fold at corner, too.
Before an upcoming bye week, one more sturdy test awaits for Jackson and the secondary on Saturday in a Gophers receiving corps that features the trio of Tyler Johnson, Rashod Bateman and Chris Autman-Bell. They've combined for 1,117 yards (62 catches) and 12 touchdowns already this fall.
"At the end of the day, this is a team that's undefeated and … also a team that's on our side of the conference, so of course it's a big game," Jackson said. "It's a huge game. If we get this one going into the bye week, it would be tremendous for the group, for the team, for everything.
Be the first to know
Get local news delivered to your inbox!