In 1962, Nebraska voters approved amendments to the state constitution changing how representative districts to the only one-house legislative body in the country should be apportioned to a combination of population and area.
Three years later, after a vote of the Legislature following the reapportionment amendment, six senators were added to the 43 that had been in existence since the unicameral began in 1937.
The Legislature has remained at 49 senators ever since, despite the state growing by more than a half-million people over the next five decades.
Under a proposed amendment (LR279CA) to the state constitution introduced by Speaker Jim Scheer of Norfolk, voters could be asked to give the Legislature permission to increase the number of state senators.
"I think if we're growing, and have grown over the last 60 years, at some point in time, those numbers do have to grow," Scheer said.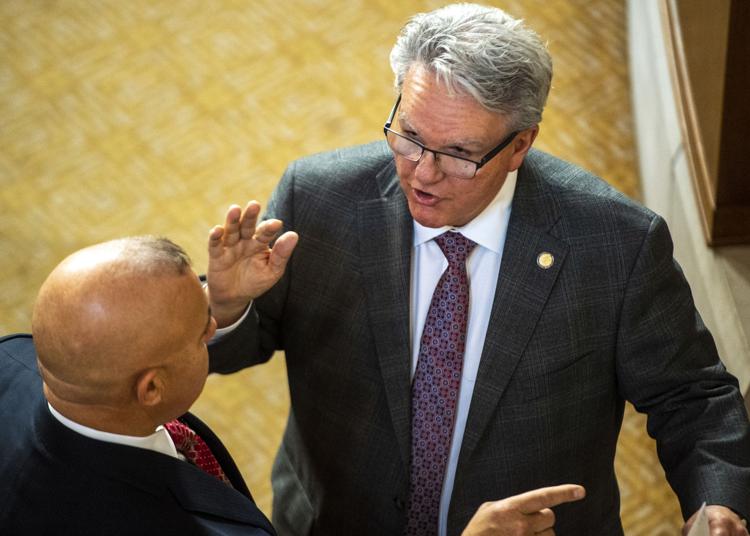 His proposal would require the approval of 30 state senators for the amendment to appear on the general election ballot. A successful vote to change the constitution would give the Legislature permission to add up to six additional senators to its roster, capping the body at 55 members.
A vote to increase the size of the Legislature would require just a simple majority of 25 senators.
The speaker, who will finish out his second term this year, said the plan could benefit both urban and rural areas of the state and ensure better representation.
Adding new districts in areas where the population has grown could reduce the number of constituents represented by a single district, Scheer said, giving those people more access to their elected representative.
And in less-densely populated areas, where legislative districts can span hundreds of miles, the shifting of boundaries to accommodate new districts elsewhere could make it easier for a state senator to regularly appear in more parts of their district.
Scheer said he would intend for the Legislature to remain an odd-numbered body.
"I don't think the legislative body ought to let the executive body break their tie," he said. "That just doesn't make sense."
Longer terms sought
Another constitutional change (LR280CA), introduced by Sen. Justin Wayne of Omaha, would allow state senators to serve an additional four-year term, up from the two four-year terms they are restricted to under state law.
Wayne said an additional four-year term could help lawmakers seeking to build coalitions to tackle big issues such as property tax reform and overhauling the school aid formula.
"Sometimes it takes more than eight years to get something really moving through the body," he said. "Doing some of these things over an eight-year period is difficult when we're a part-time Legislature."
You have free articles remaining.
The Omaha lawmaker, who will seek a second term this year, said losing seasoned and experienced lawmakers every two years because of term limits also slows progress in the Legislature.
The legislative session begins Wednesday, when 49 state senators convene in the Norris chamber of the Capitol. 
More than 120 bills, resolutions and constitutional amendments were introduced Wednesday, including:
RURAL HEALTH TRAINING PROGRAM: A bill (LB761) from Sen. Myron Dorn of Adams would allocate 50 cents of every motor vehicle registration to the Simulation-in-Motion program at the University of Nebraska Medical Center, which trains first responders and other medical professionals in rural areas throughout the state.
NAMING THE COURTYARDS: Scheer introduced a bill (LB758) that would name the four recently renovated courtyards for the artists who helped create the state Capitol. The northeast courtyard would be named for architect Bertram Goodhue; the southeast courtyard for Hartley Burr Alexander, who developed the inscriptions and themes found throughout the building; the southwest for mosaic designer Hildreth Meière; and the northwest for Lee Lawrie, who created the stone carvings and sower that sits atop the dome.
MENTAL HEALTH SCREENING AT PRISONS: Sen. Steve Lathrop of Omaha introduced a measure (LB786) that would require the Department of Correctional Services to screen inmates for serious mental illnesses such as schizophrenia, bipolar disorder, major depression or obsessive compulsive disorder, as well as developmental disabilities and traumatic brain disorders. The corrections department would also need to screen inmates kept in restrictive housing for more than six months during any 12-month period for mental illnesses and provide an annual report to the Legislature.
ANONYMITY FOR WINNERS: Nebraska Lottery winners who collect $300,000 or more could keep their identities private under the state's public-records laws under a bill (LB798) introduced by Sen. Tom Brandt of Plymouth.
TAX DEDUCTION FOR HIRING FELONS: Employers who hire individuals previously convicted of a felony would reduce their share of income taxes paid by 65% for the first 12 months of employment, under a bill (LB805) by Wayne. The total deduction could not exceed $20,000.
NO TAXES ON SOCIAL SECURITY, RETIREMENT: Two proposals, one (LB806) by Wayne and another (LB819) by Sen. Tom Brewer of Gordon, would eliminate or gradually draw down the taxes on Social Security benefits and retirement benefits collected by Nebraska residents.
TAXING BOTTLED WATER, CANDY: Sen. John McCollister of Omaha introduced a bill (LB810) imposing a sales tax on bottled water, soft drinks and candy. The bill would allow the governor to suspend collection of the tax on bottled water for 60 days in areas affected by a natural disaster or civil defense emergency. The funds generated would go to the Nebraska Health Care Cash Fund.
EMINENT DOMAIN ELECTION: Brewer sponsored a bill (LB823) requiring cities and towns to hold a special election prior to the use of eminent domain to clear the way for construction of electrical transmission lines by out-of-state third parties.
SPINAL MUSCULAR ATROPHY SCREENING: Sen. Robert Hilkemann of Omaha introduced a bill (LB825) adding spinal muscular atrophy, a genetic disorder that affects the nervous system, to the list of 32 diseases hospitals screen for in newborns.
SPEED LIMITS: Towns and villages with fewer than 500 residents could alter the speed limits if a stretch of road was deemed hazardous by the city council or village board, under a proposal (LB830) by Sen. Steve Erdman of Bayard.
INDOOR USE OF E-CIGS: Sen. Dan Quick of Grand Island introduced a bill (LB840) that would prohibit the use of electronic smoking devices indoors.
INDIGENOUS PEOPLE'S DAY: A bill (LB848) by Lincoln Sen. Patty Pansing Brooks would rename Columbus Day to Indigenous People's Day.
AMERICAN SIGN LANGUAGE: Lincoln Sen. Anna Wishart introduced a bill (LB839) recognizing American Sign Language in Nebraska, and allowing for students to earn foreign language credits in classes that teach it.
From pomp to protest: Photos from the first day of the Legislature