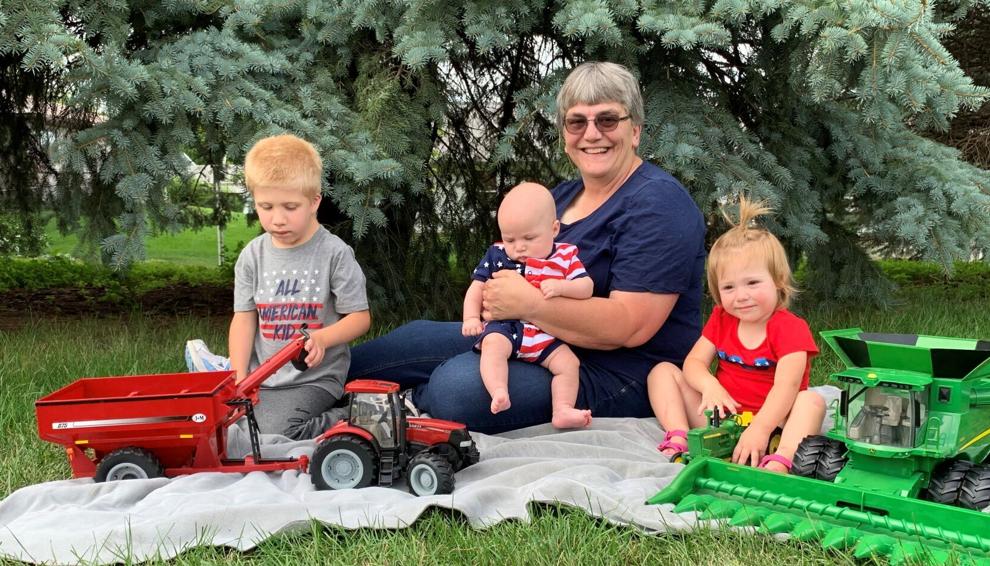 I have spent my entire life in agriculture! Growing up on a Nebraska family farm, we raised corn, soybeans, alfalfa, cattle and hogs. Lots of things have changed through the years, but the passion to grow and raise quality agricultural products remains. Today, my husband Jim and I farm north of Wakefield, Nebraska. Our three kids are grown, and we are enjoying our grandchildren.
As multigenerational farmers, sustainability is always at the top of our minds. We have used the no-till method of soil preparation on our fields for over 25 years and are proud of our soils. No-till means we do not till the soil before planting which reduces erosion and retains water and nutrients. This practice has proven to be good for our soil.
The corn we grow is used to produce both fuel and food! Our corn is sold and delivered to an ethanol plant near Jackson, Nebraska, where it is processed into ethanol – a renewable fuel. A coproduct of ethanol is distillers grain, which is a protein-rich livestock feed. The soybeans we grow are sold to a local elevator, then processed into soybean meal for livestock feed and soybean oil. The oil is used for cooking oil and biodiesel – another renewable fuel. They are finding more and more uses for soybean oil. You can find soybean oil in tires, car upholstery, carpet backing, artificial turf and many other places. 
Farmers have many choices when choosing which seeds to plant. For the past 30 years, GMO seeds have been part of that decision. As a CommonGround volunteer, I often find myself answering questions about GMOs. Here are a few of my answers.
A: A GMO is a genetically modified organism used in a breeding process known as genetic engineering. This process takes a gene found in nature and transfers it from a plant or an organism to another plant to improve that plant. This technology has allowed us to develop insect resistance, drought and herbicide tolerance, and disease resistance in plants, as well as enhancing nutritional content of plants.
GMOs can also reduce food waste due to slowing down the natural decay process in fruits and vegetables. There are currently ten plants that benefit from this breeding process, including corn (field and sweet), soybeans, canola, alfalfa, papaya, squash, cotton, sugar beets, potatoes and apples.
Corn, for example, has been genetically engineered to add a protein to the green plant tissue, so when the European Corn Borer (a common pest in corn) takes a bite of the tissue, it dies. Therefore, farmers do not have to utilize an insecticide for that pest. Farmers typically do not like to use an insecticide on their fields because it not only kills the harmful pest but also may kill beneficial insects. By planting GMO corn, we are targeting specific problems while protecting the environment.
A: YES! GMOs are safe to eat. There have been over 1,700 studies done on the safety of GMOs and all have proven them to be safe. In order for GMOs to be available commercially, they must each go through (and pass) extensive tests administered by the Food and Drug Administration, U.S. Department of Agriculture, Environmental Protection Agency and others.  
In the nearly 30 years since GMO technology has been used in crops, it has not caused or contributed to a single illness or death. We need to remember that a GMO is not an ingredient in the food we eat. It is a breeding process that is used to insert a desirable trait into a plant for a specific reason.
To better illustrate this concept, the papaya industry was saved using genetic engineering to protect the plant from the ringspot virus, which was wiping out the papaya industry.   
Q: Why do farmers grow GMO crops?
A: Farmers use this technology to protect the environment. GMOs help us produce more yield while using less insecticides and herbicides. Each GMO solves a problem for the farmer, like protecting crops from a destructive insect, or helping the plant mature with less water. Two of the newest GMOs were designed to help with food waste. The Arctic® Apple and the Innate® Potato were developed to reduce browning when cut, for example.
Lunz family recipe
If your family is like mine, we love a good dip for a snack or appetizer before dinner. This "Scooper Beef" recipe is one of our favorites.
Scooper Beef
Ingredients:
2 lbs ground beef
2 packages taco seasoning with ¾ cup water
2 (8 oz) packages cream cheese
½ cup milk
4 Tbsp diced green chilies
1 cup chopped tomatoes
1 cup finely chopped onions
1½ cup finely chopped lettuce
1 bottle mild or hot taco sauce
2 cup grated cheddar cheese
Instructions:
In a skillet, brown ground beef and drain. Add taco seasoning with water to the beef and cool.
In a separate bowl, mix cream cheese with milk until creamy.
Spread cream cheese mixture on a large plate or tray. Spread ¾ of the cooled beef over cream cheese. Save part of the beef.
Sprinkle with green chilies, tomatoes, onions and lettuce. Sprinkle the taco sauce over this, and then sprinkle cheese and add remaining beef over the top.
Serve with corn chips or tortilla chips to scoop off the plate. Enjoy this dish as a meal or an appetizer.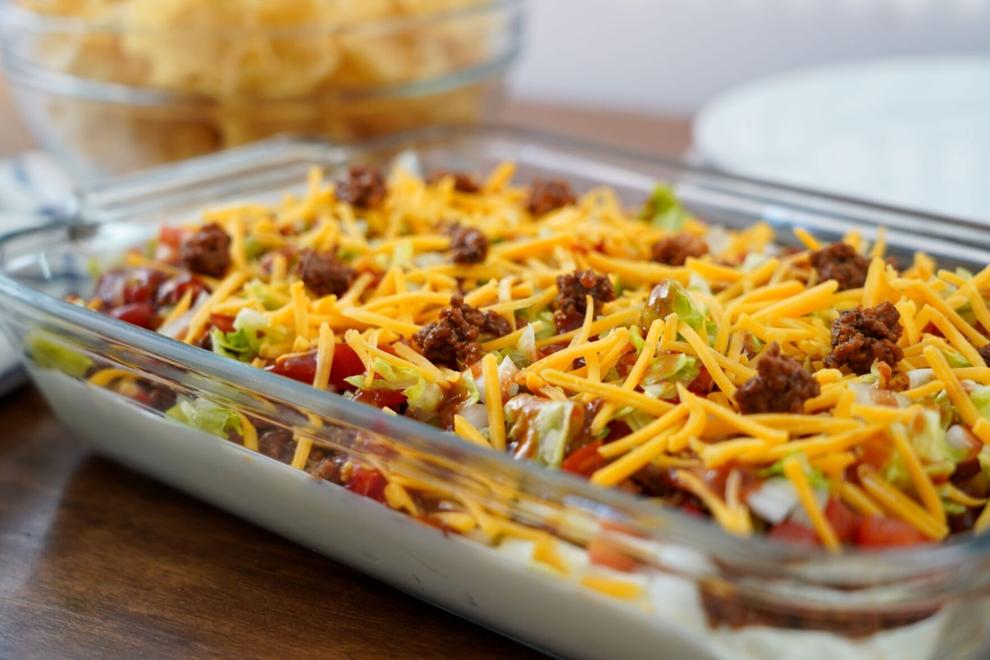 ---
This content was produced by Brand Ave. Studios. The news and editorial departments had no role in its creation or display. Brand Ave. Studios connects advertisers with a targeted audience through compelling content programs, from concept to production and distribution. For more information contact sales@brandavestudios.com.